In Myanmar (Burma), Buddhist animosity toward an ethno-religious Bengali Muslim minority, the Rohingya, has led to massive violence.
The Rohingya, who number some 1.3 million people, less than five percent of the country's population, live mainly in Myanmar's far western Rakhine State, adjacent to neighboring Muslim Bangladesh.
Most were stripped of their citizenship under a 1982 law enacted by the military junta that used to rule Myanmar, and they have suffered decades of repression under the country's Buddhist majority.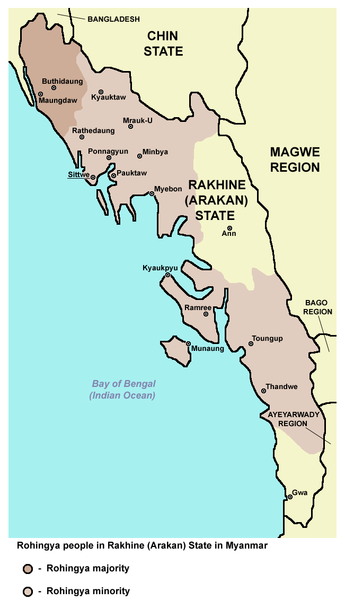 Indeed, the term "Rohingya" is itself highly contested within Myanmar, because it is perceived as a claim of indigenous ethnic status by a community most Buddhists regard as immigrants from Bangladesh, and who link their arrival to the first British incursion into Burma in 1824, and whom they therefore prefer to refer to as "Bengali."
 "Location and lack of integration have helped to fuel views of Rohingya as illegal immigrants and made them more susceptible to false portrayals as a rapidly growing existential threat to Buddhist Burmese culture," said Dan Sullivan, a senior advocate at the humanitarian organization Refugees International.
In Southeast Asia, both Western and internal colonialism have been instrumental in the legal and political construction of indigeneity and its application to specific populations, according to Oona Paredes, a cultural anthropoogist at the National University of Singapore.
Indigenous concepts of indigeneity typically diverge widely from state definitions, especially where territorial sovereignty is at stake, she contends. We can see this being played out in Myanmar today.
The Rohingya population has seen its rights progressively eroded, and its gradual marginalization from social and political life. This has become particularly acute since anti-Muslim violence in Rakhine State in 2012.
Disenfranchisement prior to the 2015 elections severed the last link with politics and means of influence, and an increasing sense of despair has driven more people to consider a violent response.
Now, an armed resistance is giving the military more reasons to oppress them, leading to a massive exodus of Rohingya into Bangladesh.
On August 25, militants from the Arakan Rohingya Salvation Army (ARSA) attacked police posts and an army base, killing more than a dozen. In response, the Myanmar military began destroying entire villages, aided by Buddhist vigilantes, supportive of the monk-led extremists called the 969 Movement, accusing the ARSA of "extremist Bengali terrorism."
Some observers allege this to be a campaign of "ethnic cleansing" carried out by Burmese security forces.
Earlier this year, the United Nations set up a special commission to investigate an ARSA attack on police posts last October. The ensuing military operations caused 85,000 Rohingya to flee to Bangladesh.
Bangladesh is itself poor and overcrowded and has been reluctant to take in more displaced Rohingya. Around 400,000 already lived here before the exodus. This new influx could soon add another 270,000 refugees.
The ARSA was formed from remnants of earlier movements, including the Arakan Rohingya Islamic Front (ARIF) and the Rohingya Solidarity Organization (RSO). Arakan is the former name of Rakhine State.
The insurgents are led by a committee of Rohingya émigrés in Saudi Arabia and commanded on the ground by Rohingya with international training and experience in modern guerrilla war tactics. They enjoy considerable sympathy and backing from Muslims in northern Rakhine State.
Muslim states are taking notice.
Pakistani Foreign Minister Khawaja Muhammad Asif expressed "deep anguish" at the continuing violence."
Protesters in Indonesia, the world's largest Muslim country, demanded that their government put pressure on Myanmar.
Foreign Minister Retno Marsud visited Myanmar and urged Daw Aung San Suu Kyi, the civilian leader of the country, to end the ongoing violence.
But, though the country's nominal leader, she has little control over the military. The armed forces are run by Commander-in-Chief  Min Aung Hlaing.
In the Russian republic of Chechnya, tens of thousands poured into the streets in a government-sanctioned protest against what its leader, Ramzan Kadyrov, called Myanmar's "genocide" against the persecuted Rohingya minority.
A senior leader of Al Qaeda's Yemeni branch has called for attacks on Myanmar authorities in support of the Rohingya. Khaled Batarfi called on Muslims in Bangladesh, India, Indonesia and Malaysia to support their Rohingya Muslim brethren against the "enemies of Allah."
Turkey's President Tayyip Erdogan, who is current head of the Organization for Islamic Cooperation, said he would raise the issue at the United Nations General Assembly in New York later this month.
Due to her stance, Suu Kyi has come under fire for failing to speak out against the mass killings and displacement of Rohingya, particularly given her previous image as a champion of human rights.
Now she has gone further. In a phone call with Erdogan, Suu Kyi claimed that Myanmar is the victim of a "huge iceberg of misinformation" that was being distributed to benefit "terrorists" She added her government was fighting to ensure "terrorism" didn't spread over the whole of Rakhine state.
Aung San Suu Kyi won the Nobel Peace Prize in 1991 for her decades-long campaign against Myanmar's military junta, but now many critics have called for it to be revoked.
Henry Srebrnik is a professor of political science at the University of Prince Edward Island.