Aficionados of classical European architecture are bowled over by Konstanz, the southern German city adjacent to the Swiss border. Niederburg, its oldest neighborhood, is a revelation, an open air museum of building styles ranging from Renaissance to Gothic.
During World War II, a profusion of historically important buildings in Germany were destroyed by Allied bombing raids. Konstanz was spared due to its close proximity to neutral Switzerland. The Allies feared that stray bombs might cause collateral damage to Swiss buildings and kill civilians. So while historically priceless neighbourhoods in cities like Frankfurt and Hamburg were largely obliterated, Konstanz survived the war intact. As a result, a stroll through the old city is a journey through the history of European architecture.
Here is what I saw as I wandered through its crooked streets and paused in front of its gabled facades:
The Altes Rathaus, or old town hall, is a splendid example of a Renaissance-style structure. Built in the 15th century, it has been through numerous renovations. It looks fairly new, yet exudes a sense of timelessness.
The Hohes Haus, or Tall House, is a medieval highrise, circa 13th century. Decorated with bright frescoes, and distinguished by the pointed arches of its upper windows, it's a marvel of craftsmanship and attention to detail, for which Germany is renowned.
The ornate neo-Renaissance imperial post office, finished in 1891, is now the head office of a major bank. Grand and imposing, it stands across from the railway station, whose neo-Gothic tower is a reminder of  Konstanz's commercial links with the Italian city of Florence.
The Rosegarten Museum, housed in a medieval guild house, contains cultural and artistic artifacts from the Lake Konstanz area, which encompasses Switzerland and Austria.
Aside from its eye-catching buildings and spacious central cobblestone square, Konstanz is best defined by its sedate lakeside promenade and its fleet of white pleasure boats. As I strolled along the tree-shaded promenade, I could see the majestic snow-capped Swiss Alps. Zurich, the Swiss banking city, is only 70 kilometres away.
Watching over the harbour is a revolving statue of Imperia, inspired by a legendary Middle Ages courtesan whose services were enjoyed far and wide. Erected in 1993, the statue stirred controversy at first, but people got used to it and appear to take it in their stride today.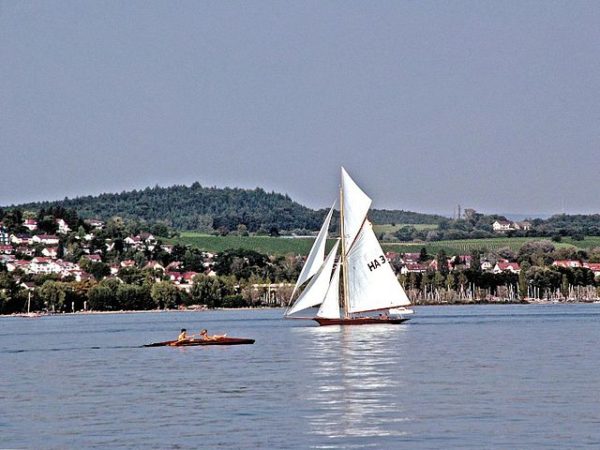 One of the city's chief attractions is Lake Konstanz, the largest body of water in Europe after Lake Balaton in Hungary and Lake Geneva in Switzerland. A serene alpine lake fed by the snow melts of the Swiss Alps, it's 63 kilometres in length and 14 kilometres at its widest point.
Thanks to its southerly location, Konstanz's climate is comparatively mild, and outdoor activities here are the norm. Cyclists can ride around the lake on a 270-kilometer trail and bathers can enjoy the lake's soothing waters.
Less athletically-inclined visitors may take boat rides to the nearby island of Mainau and the village of Meersburg.
Mainau, maintained as a garden island, is ablaze with flowers starting in March. The tulip beds and the sprays of deep purple, pink and white ornamental rhododendrons are spectacular. The rose gardens are equally impressive. Dahlias and exotic potted plants are visible during the warmer summer months.
The arboretum, with its collection of trees, is a sight to behold. And the paths are tailor-made for relaxing walks.
Mainau's butterfly house is aflutter with hundreds of iridescent winged creatures, which nibble on banana bits and orange slices.
The paradisiacal flower park was founded by Lennart Bernadotte, a Swedish aristocrat related to Count Folke Bernadotte, a United Nations mediator assassinated in Jerusalem in 1948.
Meersburg, close to Mainau, is a quaint but commercialized village filled with a profusion of half-timbered buildings, cafes and souvenir shops. Its hilltop castle, the oldest inhabited one in Germany, dominates the town and is open to visitors.
Tags: Konstanz