I
n what was widely seen as a "farewell" trip, the outgoing chancellor of Germany, Angela Merkel, paid a two-day visit to Israel late last week and this week.
I
t was her seventh and last official visit during 16 years in office. Merkel, 67, currently leads a transitional caretaker government. She will remain in office until a new one can be formed following a national election in which her conservative Christian Democratic Union Party turned in its worst performance in years. She was originally scheduled to arrive in Israel in August, but postponed her visit as the United States, Germany and other allied countries unilaterally pulled out their troops from Taliban-controlled Afghanistan in a chaotic withdrawal. Merkel nurtured and advanced Germany's special relationship with Israel against the backdrop of her country's Nazi past and its central role in the Holocaust.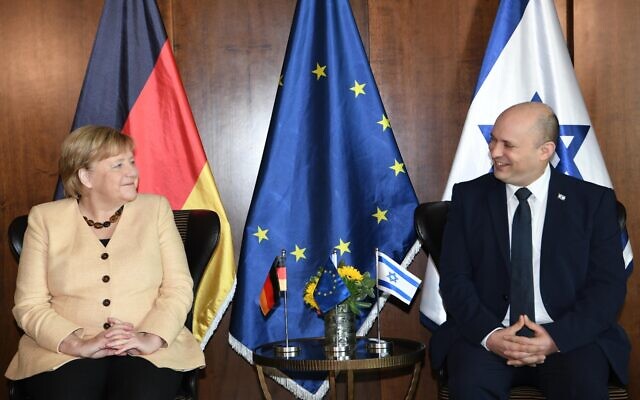 Describing her as "a dear friend of Israel" and calling her "Europe's moral compass," Israeli Prime Minister Naftali Bennett credited Merkel with fostering still stronger and closer ties with the Jewish state. One of Bennett's predecessors, Ehud Olmert, said she was a splendid symbol of Germany's "sensitivity" toward Israel. "I think she represents this moral sensitivity, more than any other (German) leader," he told German reporters on the eve of her arrival. West Germany, as it then known, established formal diplomatic relations with Israel in 1965 after a decade of low-key informal relations during which Bonn funnelled tens of billions of dollars worth of reparation payments to Holocaust survivors and secretly sent military supplies to Israel. Israel's historic rapprochement with West Germany was orchestrated by David Ben-Gurion and Konrad Adenauer. It was vehemently opposed by Menachem Begin, a Polish Holocaust survivor and the leader of the opposition in parliament. In a Knesset debate over this contentious issue, Begin said, "Every German deserves to die … their hands are covered with Jewish blood … Therefore, there is neither absolution nor forgiveness, and no normal relations will ever be possible between us." Shortly afterward, contrary to Begin's expectation, West Germany's first ambassador to Israel, Rolf Pauls, arrived in Tel Aviv to present his credentials. From that point onward, bilateral relations flourished in a variety of fields ranging from cultural exchanges to scientific cooperation. As the decades passed, Israel's ties with West Germany and reunified Germany thrived, despite some bumps along the way. Tensions flared when Israel learned that top-of-the-line German tanks would be sold to Saudi Arabia, that companies in Germany had sold Iraq dual-use equipment with military capabilities, and that Germany's ties with Iran had been upgraded. Germany's lucrative mercantile interests in the Arab and Muslim worlds notwithstanding, Merkel was dedicated to preserving Israel's security.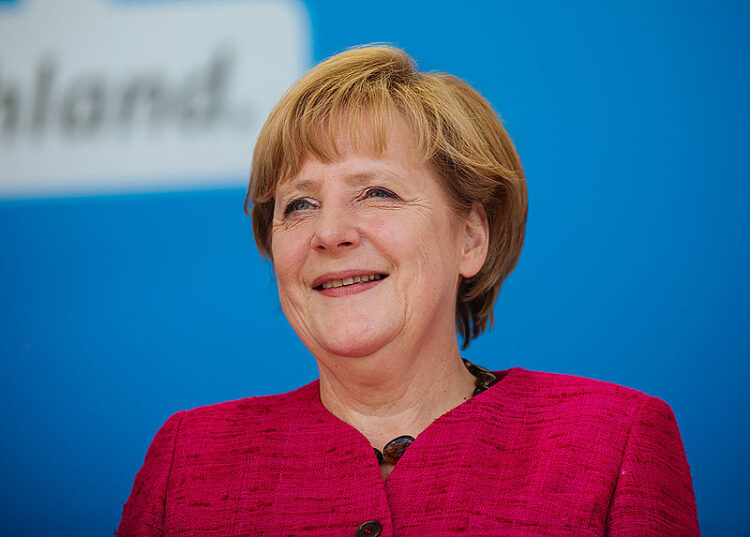 In a speech to the Knesset on March 18, 2008 marking the 60th anniversary of the birth of Israel, she said, "Here of all places I want to explicitly stress that every German government and every German chancellor before me has shouldered Germany's special historical responsibility for Israel's security. This historical responsibility is part of my country's raison d'être. For me, as German chancellor, Israel's security will never be open to negotiation." During her current visit to Israel, Merkel reiterated this iron-clad credo, saying that Germany is morally and historically committed to Israel's existence. "Israel's security will always be of central importance and a central topic for every German government," she said before visiting the Holocaust memorial at Yad Vashem in Jerusalem. Saying she felt "moved" by Israel's trust in Germany, she added a realistic caveat: "trust always has to prove itself." Praising Merkel's unwavering support of Israel, Bennett said she has "paved the way for Germany's continuing commitment to Israel's security, which we value greatly." Germany, Israel's largest trading partner in Europe, has sold Israel Dolphin submarines and patrol vessels on very favorable terms in recent years. In his talks with Merkel yesterday, Bennett said that Israel wants to purchase three more Dolphins to its fleet of six submarines. Last December, Israel took delivery of the first of four German-made patrol vessels that will guard its coast and its growing offshore natural gas industry, which Hezbollah leader Hassan Nasrallah has threatened to bomb and which Hamas attempted to strike in the last cross-border Gaza war with Israel. Israel's chief of staff, General Aviv Kohavi, said the ships would "assure our strength at sea and in naval operations." They are equipped with missile defence systems and launching pads for attack helicopters. Israel and Germany have conducted joint military exercises for the past few years. "We have a very intense partnership with the Israelis," said German spokesman Thorsten Weber in 2020. "We work closely together. German soldiers are being trained in Israel." On another front, Germany has lambasted the pro-Palestinian Boycott, Divestment and Sanctions movement. In 2019, the Bundestag passed a bill condemning it as antisemitic. The legislation was proposed by Merkel's party. Merkel, however, has broken ranks with Israeli right-wing leaders by supporting Palestinian statehood. As she said during her current visit, "We sometimes disagree on questions such as whether there should be a two-state solution with the Palestinians, but we agree, I think, that there must always be a vision of a lasting democratic Jewish state of Israel." She added, "I think that on this point, even if at this stage it seems almost hopeless, the idea of a two-state solution should not be taken off the table, it should not be buried … and that the Palestinians should be able to live securely in a state." In keeping with her vision of two states for two people, Merkel said that Israeli settlement construction in the West Bank is unhelpful and an obstacle to peace. Merkel also reiterated Germany's support for reviving the 2015 nuclear agreement with Iran  — a position Israel staunchly rejects. Since Israeli-German relations have always been framed and defined by the Holocaust, Merkel has been consistently attentive to its historical importance.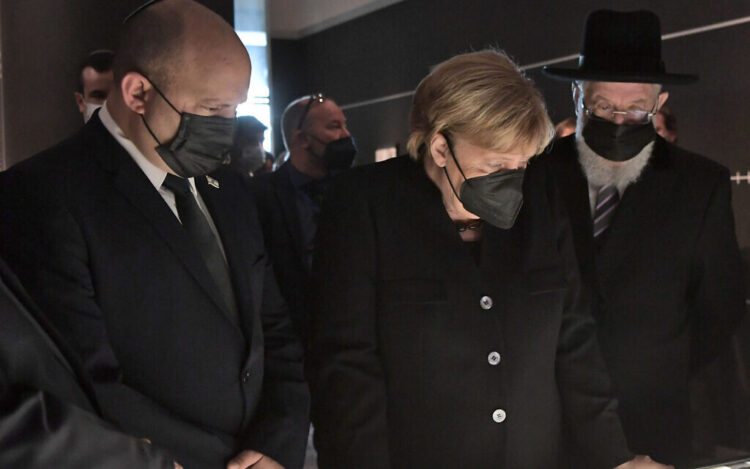 In 2015, Merkel visited the Dachau concentration camp, becoming the first German chancellor to do so. Visiting Auschwitz-Birkenau in 2019, she said she felt "deep shame" at what Germans had done to Jews during the Nazi interregnum from 1933 to 1945. "Remembering the crimes … is a responsibility which never ends," she declared. "It belongs inseparably to our country. To be aware of this responsibility is part of our national identity." Several days before her latest visit to Israel, Merkel's government announced that Germany would contribute an additional $662 million to help Holocaust survivors, some of whom are in financial distress. Earlier this year, Germany recognized 27 "open ghettos" in Bulgaria and Romania, thereby enabling survivors to receive compensation payments. By all accounts, there are 240,000 Holocaust survivors around the world today. Since 1952, Germany has given them, and the state of Israel, $80 billion worth of reparations. Merkel has been a vocal opponent of antisemitism, which has been on the increase in Germany of late. During her tenure, a special envoy charged with monitoring and combating antisemitism was appointed. And after a heavily armed neo-Nazi tried to storm a synagogue in Halle on Yom Kippur two years ago, the German government gave the Jewish community an extra $26 million to meet its security needs. Germany claims that 90 percent of antisemitic incidents are perpetrated by right-wing extremists. But critics claim that most of them have been carried out by Muslims and that the German government has downplayed these attacks out of fear of being labelled Islamophobic. Merkel's decision to admit more than one million Muslim migrants and refugees since 2015, mainly from Syria, Iraq and Afghanistan, has tarnished her legacy in the eyes of many Jews in Germany. It seems clear that Merkel's well meaning generosity was a function of her desire to make amends for Nazi crimes against humanity. The repercussions have been disastrous. The majority of Muslims who have lived in Germany since 2015 were raised and educated in countries that demonized and marginalized Jews. One must wonder whether they have brought these intrinsically anti-Jewish attitudes, tropes and values to their new home in Germany. A Muslim asylum seeker who arrived in 2015 was involved in the deadliest Islamic terrorist attack in German history — a 2016 car-ramming incident at a Christmas market in Cologne in which 12 people were killed. Last month, a Syrian refugee was arrested on suspicion of planning to attack a synagogue near Dusseldorf. The inflow of  masses of Muslims into Germany within so short a time has polarized Germans, particularly in the eastern states. This has produced a backlash, giving rise to the emergence of the far-right-wing Alternative for Germany Party.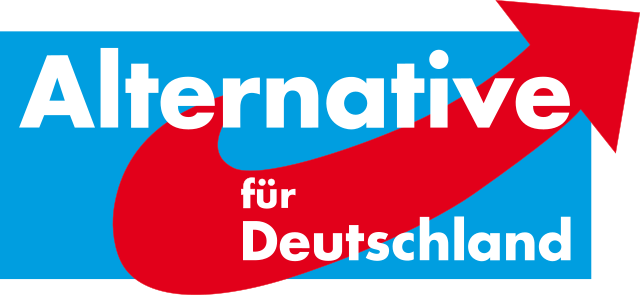 The AfD, which was Germany's third largest party until the most recent federal election, professes to be pro-Israel and supportive of the "Judeo-Christian and humanist foundations of our culture." And although the AfD has a handful of Jewish supporters, it is regarded as an extreme nationalistic party beyond the pale. Radicals within its ranks have voiced outright antisemitic sentiments and denounced the memorialization of the Holocaust. The emergence of the AfD, plus the considerable enlargement of Germany's Muslim population, will be seen by some as the unfortunate and damaging outcome of Merkel's misguided domestic policy.