One of the most enduring antisemitic stereotypes prevalent in the United States was badly dented after it entered World War II. This anti-Jewish calumny claimed that Jews shirked military duty and that Jewish soldiers sought cushy jobs far from the front lines.
It was all a lie, of course.
More than half a million Jewish men and women enlisted in or were inducted into the U.S. armed forces after Japan bombed Pearl Harbor. Of these, 150,000 joined the army's Air Corps, which had a mortality rate of 70 percent, the highest in the services.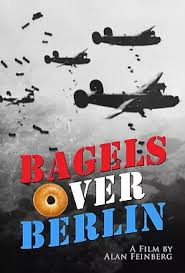 Bagels Over Berlin, an informative documentary by Alan Feinberg recently broadcast by the PBS network, examines this topic through interviews with Jewish veterans of the corps. Young Jewish Americans who served in the corps became pilots, bombardiers, gunners, radar operators and instructors.
They knew they were putting themselves in harm's way. Eleven thousand Jews were killed in combat and 40,000 were wounded.
Fired up by patriotism, Jews flocked to induction centers to enlist. "Everyone made a dash to join," says Jerry Gersten. "We were all ready to go," recalls Stanley Gray.
Norman Lear, who would become a famous television producer, was eager to serve. "I had more to prove because I was a Jew," he says.
Morton Israel flew 35 missions, never expecting to survive. Marty Mertz brought along matzoh as a good luck charm. One Jewish pilot, having received rock-hard bagels in the mail, dropped them into the void during a bombing raid of Berlin.
Irwin Stovroff threw away his dog tag, embossed with the letter H (Hebrew), after being captured by the Germans. His German interrogator turned out to be a man who had lived near him in Buffalo, New York.
Like some veterans, Art Jenkins suffered from battle fatigue, or post-traumatic stress, after being demobilized.
All of them served their country to the best of their ability, carved out fruitful careers after the war and more or less demolished the asinine myth that Jews are not fighters.