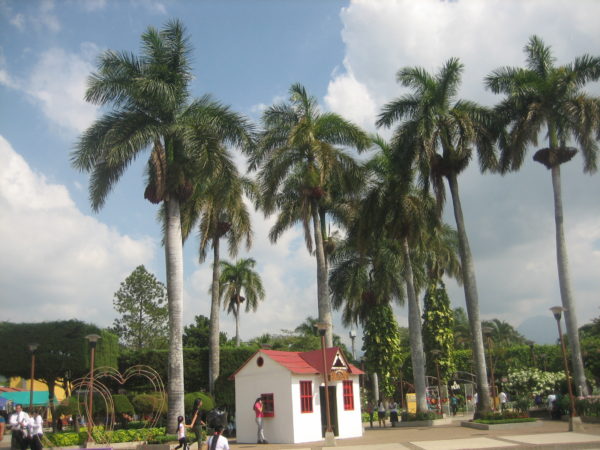 F
ed up with Toronto's bitterly cold winter this year, I was more than ready for a warm-weather vacation down south. Nicaragua beckoned, but I passed because it was torn by political instability yet again.
H
aving already been to Mexico, Guatemala, Costa Rica and Panama, I pivoted toward El Salvador, the smallest, most densely populated and least visited country in Central America — a pint-sized nation bordering the Pacific Ocean famous for its magnificent mountainous scenery, brooding volcanos, sedate coffee plantations, rustic towns and great surfing.
Tourists avoided El Salvador during its civil war from 1980 to 1992, but started returning after a peace agreement was signed. Still, I was a little nervous. Was it really safe? Should I take the risk? El Salvador has been under travel advisories for quite a while. Its per capita homicide rate is second to none. Gang violence has skyrocketed. Violent crime — sexual assault, armed robbery, carjacking and kidnapping — is a serious problem. All these problems have prompted some Salvadorans to head north to the United States. For a while, I thought of cancelling my trip, but reconsidered after a local guide I thought of hiring, an American expat, assured me in an email that El Salvador poses no threat to foreign travellers. Having spent 10 days there this past February, I can attest to his claim. El Salvador, population six million, 21,000 square kilometres in size and roughly as big as Vermont, is as safe and peaceful as any Central American nation I've visited. Crime is certainly a problem, but tourists can stay completely clear of it by avoiding dangerous urban neighborhoods and exercising sound judgment. So, yes, optics do not favor this stunningly beautiful country, which offers a traveller an eclectic mix of sights and a wide variety of vivid and memorable experiences, particularly in the realm of eco-tourism. Despite its advantages as a destination, El Salvador's poor international image continues to be at variance with the facts on the ground. Getting there is easy. The direct flight from Toronto to El Salvador, via Avianca Airlines, takes about five hours. El Salvador's airport, a Central American hub, is surprisingly large, spotlessly clean and ultra-modern. The drive into San Salvador, the capital, takes 45 minutes.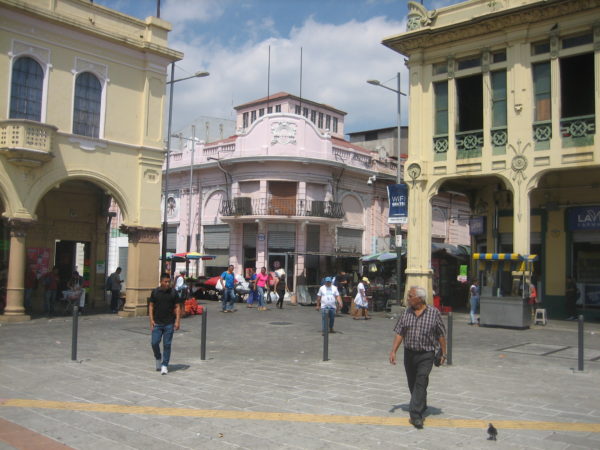 Happily enough, it was sunny and in the low 80s the morning after my arrival. The dry season, which runs from November to April, had yet to run its course. My local guide, Robert Perry Broz Moran, the owner of Gringo Tours, suggested we should start with a stroll through San Salvador's old colonial district, which comprises a sliver of this bustling city of 2.4 million inhabitants.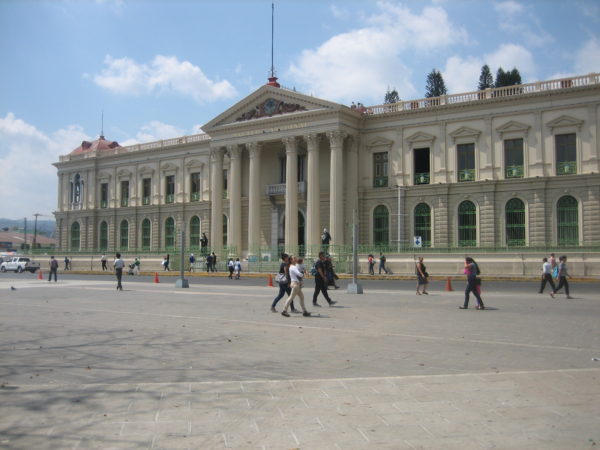 As my daughter and I walked across Plaza Barrios, an enormous central square, we reached the National Palace, a 105-room ornate building with mosaic floors and cultivated gardens. Formerly the seat of government, the palace is open to the public, though it is currently being renovated.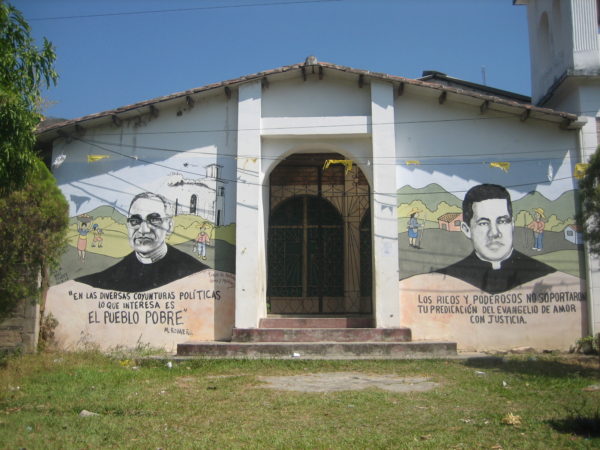 The Metropolitan Cathedral houses the tomb of Oscar Romero, the socially-conscious, outspoken archbishop whose assassination by a right-wing death squad triggered the outbreak of the civil war. Last year, the Vatican conferred sainthood on Romero, making him the country's first saint. San Salvador was convulsed by an earthquake in 2001. Some buildings, like the French Renaissance-style National Theater, have been refurbished. The atmospheric Central Market,
brimming with vendors hawking fresh fruit and vegetables, clothes and household goods, is close by.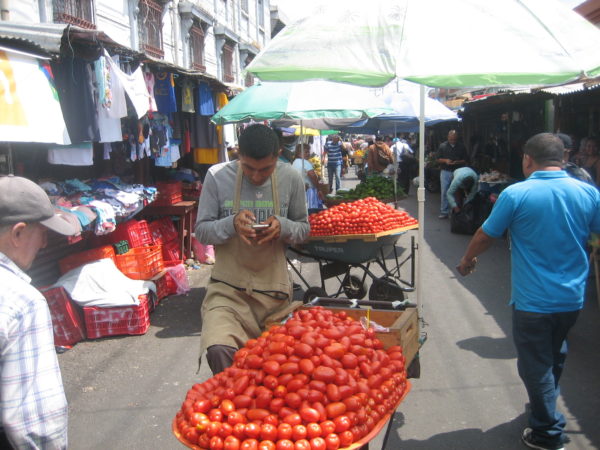 The National Artisan Market, located on the other side of the city, is a rich repository of locally-produced handicrafts and trinkets, notably embroidered zippered purses, miniature landscape paintings and fancy leather belts.
The Zona Rosa, in San Salvador's ritzy San Benito district, is filled with sleek malls, cosy cafes and elegant brand-name shops, none of which are affordable to the vast majority of Salvadorans.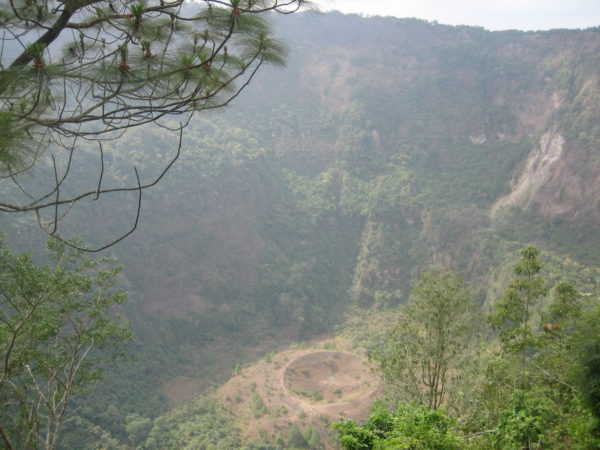 San Salvador, which enjoys a relatively temperate climate the year round, is a short distance from the Boqueron volcano, which last erupted in 1917 in a terrifying two-hour explosion of ash and red-hot lava. As we drove toward the volcano, I saw dried lava fields on the side of the road. Midway up the mountain, a coffee plantation zone, we pulled into the Miranda Cafe and Restaurant. Sitting under the shade of a sour orange tree and enjoying a vegetarian meal, we took in panoramic views of the lush Zapotilan valley and the 1,400 metre-high Guazapa volcano. At 1,893 meters above sea level, Boqueron is a popular national park with majestic stands of pine trees, a profusion of wild flowers, thickets of tropical vegetation and a maze of hiking trails. With its cool, clean air and vistas of dense virgin forests, Boqueron is a heavenly place. The volcanic crater, 1.5 kilometres in circumference and 558 meters deep, is a sight to behold.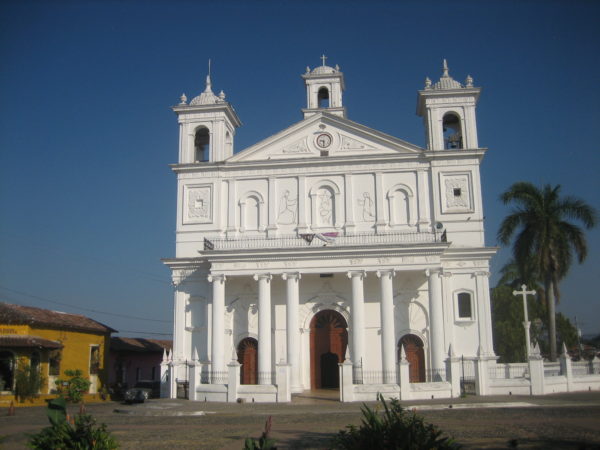 Panchimalco, a sleepy town some 20 kilometres southeast of San Salvador, is typical of El Salvador inasmuch as it is inhabited mainly by Indigenous people and mestizos, the descendants of Spaniards and Indians. Dotted with quaint art galleries, it's the site of a lovely white-washed church, one of El Salvador's oldest. It was built in the 16th century, several hundred years before El Salvador obtained independence from Spain.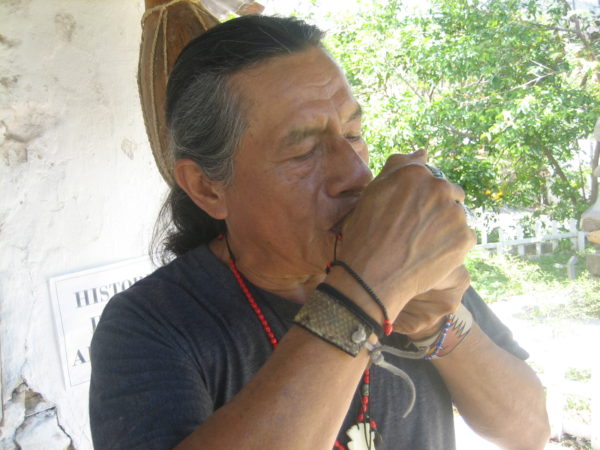 We were introduced to Roberto (Chac) Peres, a local musician and folklorist who's fluent in Nahuat, an Indigenous language spoken by a dwindling number of Salvadorans. As we sat in his shop in a simple cabin, he performed an array of bird calls on a musical instrument that resembled a woodwind recorder.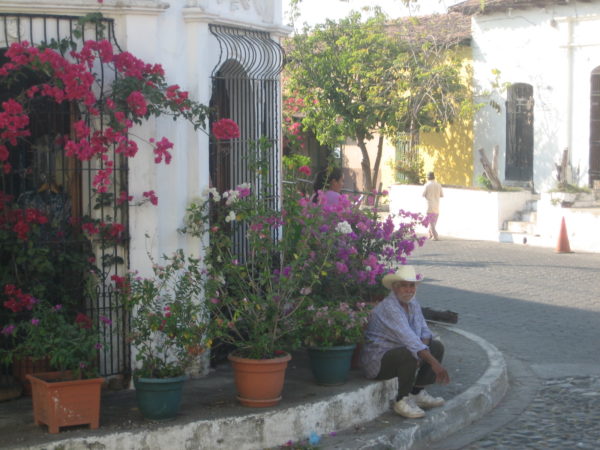 Suchitoto, a charming colonial town north of San Salvador, was the next stop on our itinerary. It's near Cinquera, a dry tropical forest nature reserve.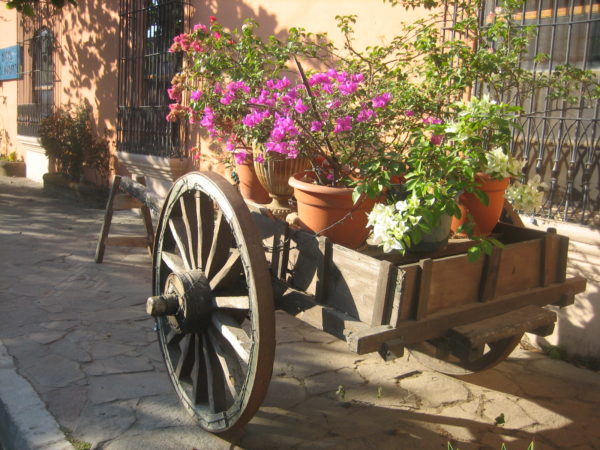 On an unusually hot day, with the temperature in the 90s, we spent nearly a full day hiking in its rough mountainous terrain. We walked by towering laurel, mango and eucalyptus trees, brushed by ferns and bushes, and listened to birds from parakeets to manakins.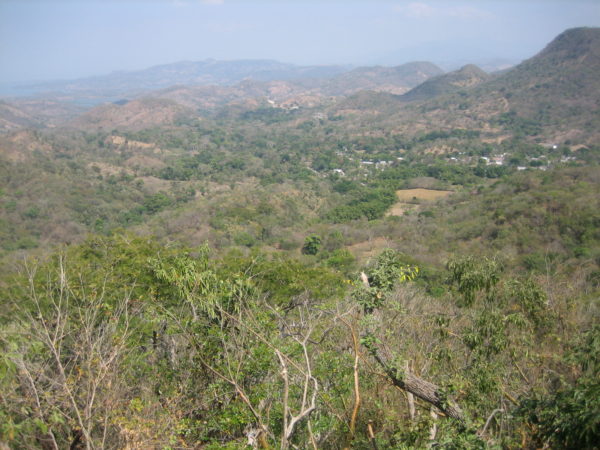 From an observation tower on a summit, we saw a distant misty mountain range in Honduras. Changing into a swimsuit, my daughter waded into a pool beneath a waterfall to savor its refreshingly cold water. During the civil war, Cinquera — the largest reserve of its kind in El Salvador — was temporarily held by rebels battling government forces. The detritus of that war, from shallow trenches to unmarked graves, is still in evidence. Later that day, we visited Los Torcios, a deep ravine that turns into a raging waterfall during the rainy season. Assisted by a local guide, my daughter hiked into the ravine, enjoying every minute of it.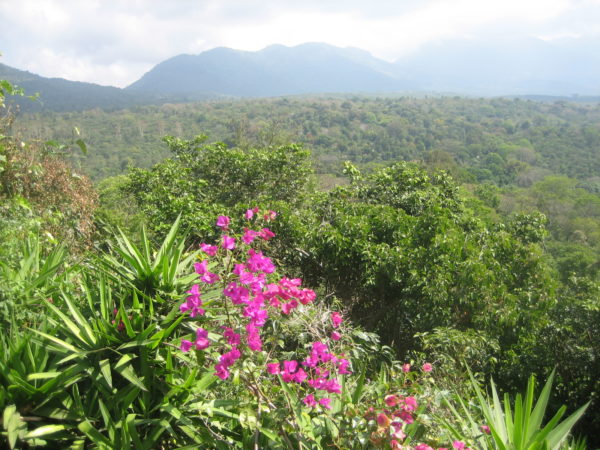 On the third day of our tour, we embarked on the Ruta de las Flores, arguably El Salvador's premiere tourist attraction. Wending past picturesque villages and countless coffee
plantations high in the green mountains in the western half of the country, it's must-see territory. Our first stop was at Joya de Ceren, a Mayan village destroyed by a volcanic eruption about 1,400 years ago. El Salvador's only UNESCO World Heritage site, it was discovered in 1976 and consists of several roped-off outdoor viewing galleries of the ruins of communal buildings.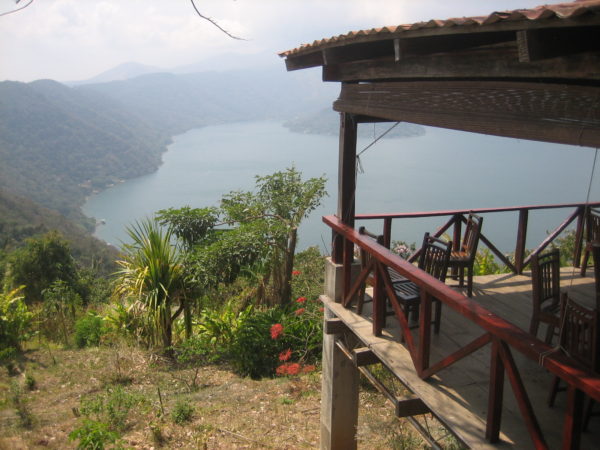 Coatepeque, an oval-shaped crater lake six kilometres wide and 120 meters deep, is nestled on the eastern slope of the Santa Ana volcano, the rich soil of which supports coffee plantations. High above it is Cerro Verde, a national park 2,000 meters above sea level that is staked out with hiking trails.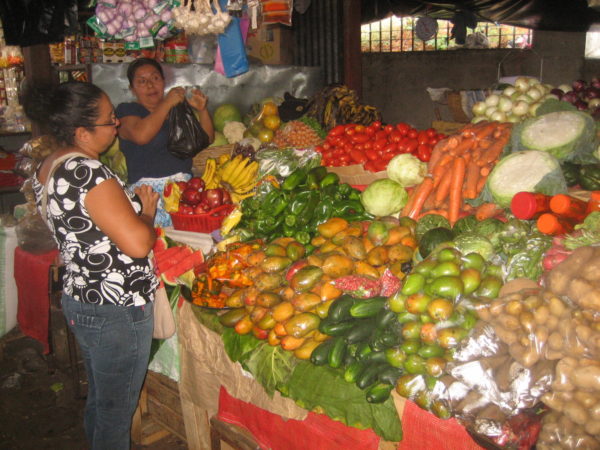 We drove into four towns along the route, Conception de Ataco, Apanaca, Juayua and Nahuizalco, all of which seemed plucked from the 19th century in terms of their quaint architecture and cobble-stone streets.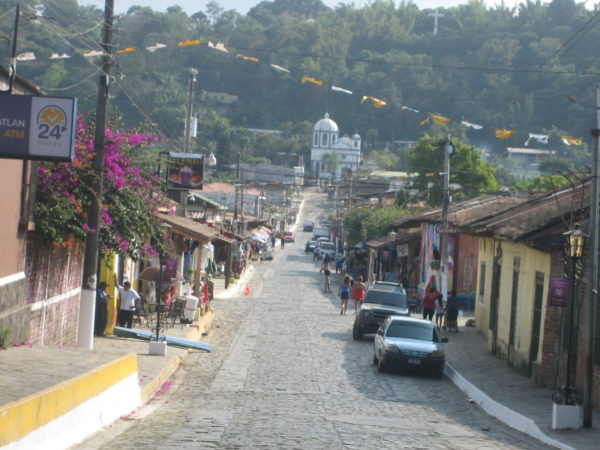 Nahuizalco, in particular, is noted for its Sunday outdoor market.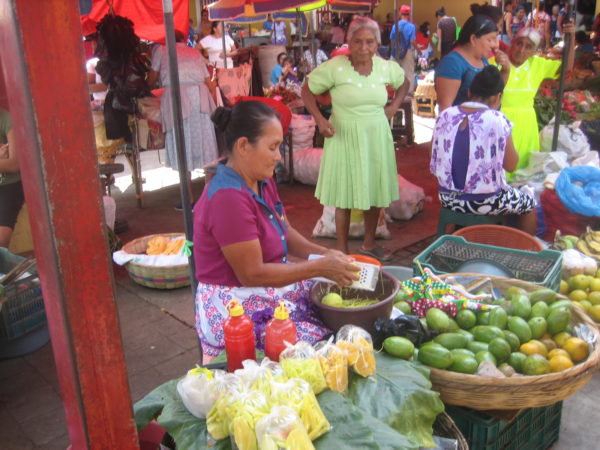 A drive along the Ruta de las Flores would be incomplete without a visit to a working coffee plantation. I spent two hours at the El Carmen facility in Conception de Ataco and enjoyed every minute of the tour, learning how a lowly, unprocessed coffee bean is converted into an aromatic and exportable bean.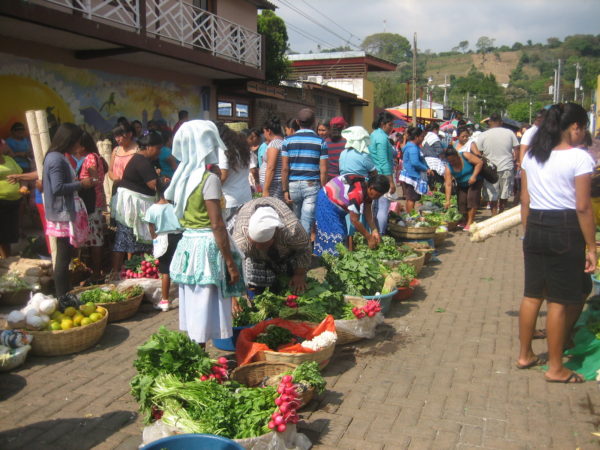 Toward the end of our trip, we drove south from San Salvador to the Pacific coast. Passing sugar cane and bean fields, we saw pickup trucks, doubling as communal taxis, carrying loads of men, women and children standing in the back pressed close to each other. It's clear that car ownership still eludes many Salvadorans.
In the village of Bara de Santiago, we boarded a boat for a tour of a mangrove swamp. Amid a tangle of tropical hardwood trees, we spotted flocks of birds from kingfishers and herons to egrets and pelicans, some of which took to sudden flight in a flutter of wings. Unexpectedly, we glided by a cayman sunning itself in the narrow channel.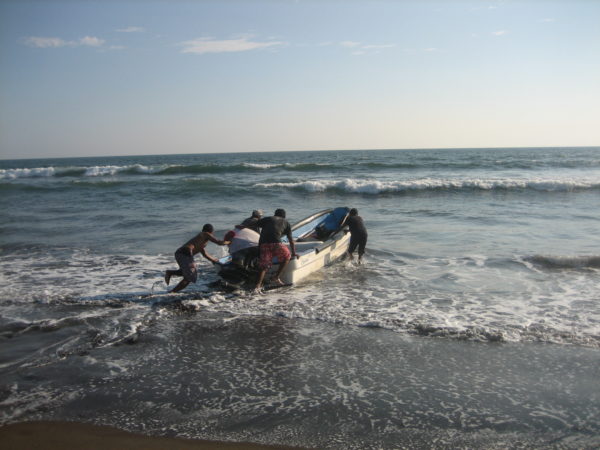 On our last two days, we relaxed in a hotel in El Zonte, a village close to the pounding surf of the Pacific Ocean. Walking on the black sand beach, we watched a group of fishermen pushing their rowboat into the water and intrepid surfers catching the biggest waves and trying to ride them toward shore.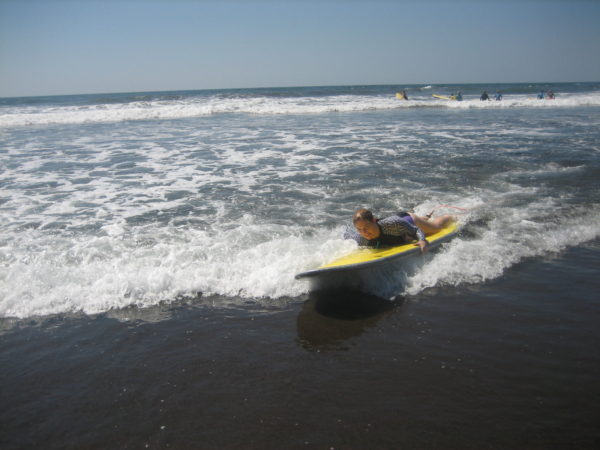 These were among the precious moments we savored in El Salvador, which is still struggling to close the gap between its less than positive image and its vibrant self.