Once again, Recep Tayyip Erdogan is shooting from the hip, creating a diplomatic crisis with one of Turkey's most important neighbors.
The volatile and authoritarian Turkish president did it again this week when he denounced Israel as a "terror state," reiterated his allegiance to the Palestinian cause and downgraded Turkey's loveless relationship with Israel, at least temporarily.
The irascible Erdogan was reacting to the deaths of 60 Palestinians from the Gaza Strip on May 14, the 70th anniversary of Israel's statehood. Most of them were shot by Israeli forces as they tried to breach Israel's security fence along the internationally-recognized border. They were taking part in the March of Return, a so-called "peaceful" series of weekly mass protests orchestrated by Hamas, the ruling authority in Gaza.
Hamas, which rejects Israel's very existence and a two-state solution, has blood on its hands. During the second Palestinian uprising, Hamas dispatched suicide bombers to Israel, leaving a horrendous trail of death and destruction. Since then, Hamas has diverted scarce resources to wage war against Israel, much to the detriment of ordinary Palestinians.
The March of Return was launched on March 30. As its name implies, it was a public relations campaign to promote the "right of return" — the right of Palestinian refugees to reclaim their properties in what is now Israel and demographically convert the Jewish state into a Muslim state by means of the womb.
As polls suggest, the vast majority of Jews in Israel supported Israel's defence of its sovereignty, though some asked whether Israel had used disproportionate force to repel Palestinians rushing toward the fence. Still, what country would remain passive in the face of an invasion by stealth aimed at undermining its national essence and integrity?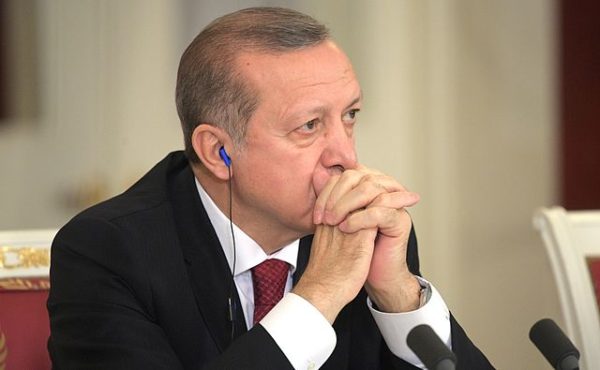 Erdogan — an ardent supporter of Hamas whose Islamist-style Justice and Development Party has been chipping away at Turkey's secular character for the past 16 years — cannot understand Israel's legitimate rationale for defending its border from its enemies. Or maybe, with general elections due on June 24, he is cynically playing to his conservative Islamic base.
Erdogan unloosed his stream of anti-Israel invective only two years after Turkey's reconciliation agreement with Israel. "Israel is wreaking state terror," he said. "Israel is a terror state. We will continue to stand with Palestinian people with determination."
On May 18, at a special meeting of the Organization of Islamic Cooperation in Istanbul, Erdogan sharpened his attack on Israel by comparing it to Nazi Germany. "There is no difference between the atrocity faced by the Jewish people in Europe 75 years ago and the brutality that our Gaza brothers are subjected to," he claimed in a grotesque comparison. "I will say openly and clearly that what Israel is doing is banditry, brutality and state terror."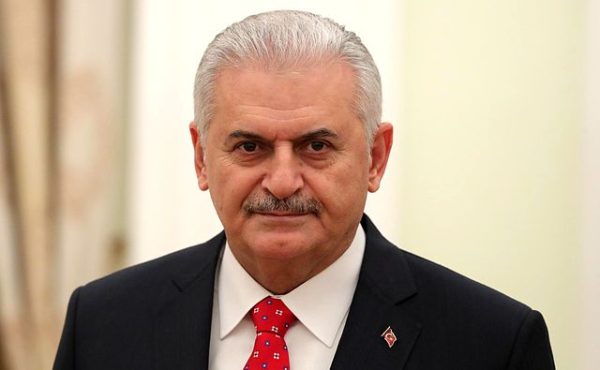 Turkish Prime Minister Binali Yildirim was on the offensive, too. He urged Islamic countries to reassess their ties with Israel. "Islamic countries should without fail review their relations with Israel," he said in parliament. "The Islamic world should move as one, with one voice, against this massacre."
Turkey's deputy prime minister, Bekir Bozdag, declared a three-day mourning period in honor of the "martyred" Palestinians, many of whom were Hamas operatives under orders to break through the fence. As Mahmoud al-Zahar, a senior Hamas official, correctly said, "This is not peaceful resistance."
In rapid succession, Turkey recalled its envoys in Israel and the United States, Israel's chief ally, and expelled Israel's ambassador in Turkey, Eitan Naeh "for a while." Israel, giving Turkey a taste of its own medicine, told Turkey's consul in Jerusalem, who's accredited to the Palestinian Authority, to leave. Turkey, in turn, ordered Israel's consul general in Istanbul, Yossi Levi Safari, out of the country.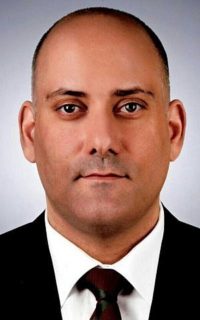 Meanwhile, at the airport, Naeh was inappropriately subjected to a strict security screening. The spectacle was witnessed by Turkish journalists, who had been invited to record the event. It reminded observers of a juvenile incident in 2010 during which Israel's deputy foreign minister rebuked Turkey's ambassador to Israel by deliberately seating him on a low chair.
By way of retaliation, Turkey's charge d'affairs in Tel Aviv, Umut Deniz, was summoned to the foreign ministry in Jerusalem for a dressing-down, which was witnessed by members of the local press.
In a riposte, Israeli Prime Minister Benjamin Netanyahu blasted Erdogan, whom he described as one of Hamas' "biggest supporters." He added, "There is no doubt that he well understands terrorism and slaughter. I suggest that he not preach morality to us."
As tensions rose, Erdogan, on a trip to London, met with representatives of Neturei Karta, an anti-Zionist group. Turkish Foreign Minister Mevlut Cavusoglu chimed in by saying that Israel should be tried for "massacring" Palestinians, and that an international commission should hold Israel to account for its actions.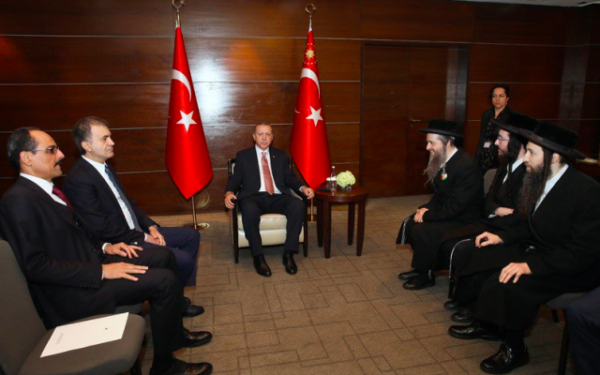 Israeli Deputy Foreign Minister Tzipi Hotovely branded Erdogan as a "dictator" and "neo-fascist" who's leading Turkey to "insane extremism." But she also called for calm. "When we have relations with Turkey, it's not out of fondness and friendship. It's about very important interests in the region. Turkey is a key state, all our aerial routes go through it, there are very deep trade relations."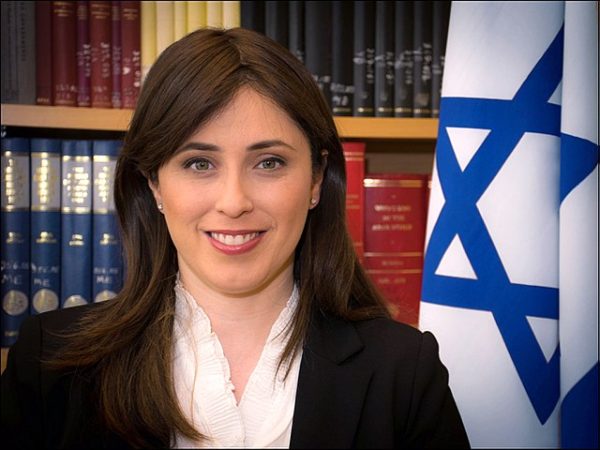 Tourism Minister Yariv Levin urged Israelis to boycott Turkey. Science Minister Ofir Akunis recommended that Turkey be isolated and that Erdogan be exposed as an antisemite.
Two Israeli parliamentarians, Amir Ohana of Likud and Itzik Shmuli of the Zionist Union, went one step further. They announced they would submit a bill in the Knesset to recognize the "genocide" of Armenians at the hands of Ottoman Turks in 1915, a very touchy topic in Turkey. Intelligence Minister Israel Katz and Education Minister Naftali Bennett said they would endorse the proposed legislation, which, if passed, would probably induce Turkey to sever diplomatic relations with Israel.
Turkey has had a mercurial relationship with Israel since 1949.
It was the first Muslim country to recognize Israel, but in 1980 it downgraded its relations with Israel for 15 years following the passage of a bill reaffirming Israel's annexation of East Jerusalem.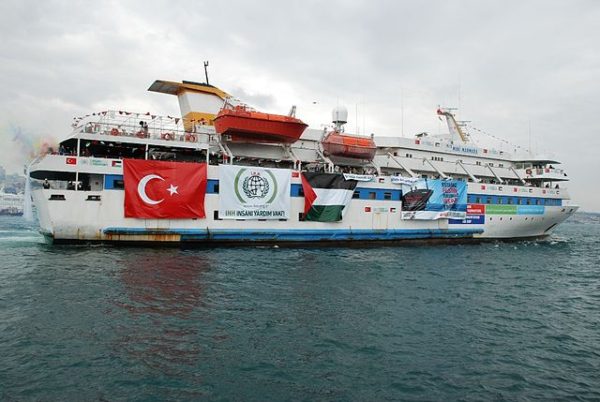 Israeli-Turkish relations flourished during the Oslo peace process, when Erdogan visited Israel on his first and only trip there. But during the first Gaza war in 2008 and 2009, Erdogan turned against Israel, condemning it a terrorist state. In May 2010, Israeli commandos stormed a Turkish vessel, the Mavi Marmara, which was attempting to break Israel's siege of Gaza, and nine Turks aboard were killed. Turkey recalled its ambassador and ordered Israel's ambassador to leave.
In 2016, after six years of on-again, off-again negotiations, Israel and Turkey finally reconciled and normalized their relations after Israel issued a formal apology and agreed to pay compensation to the tune of $20 million. Israel, however, refused to comply with a third Turkish demand — the lifting of the blockade of Gaza.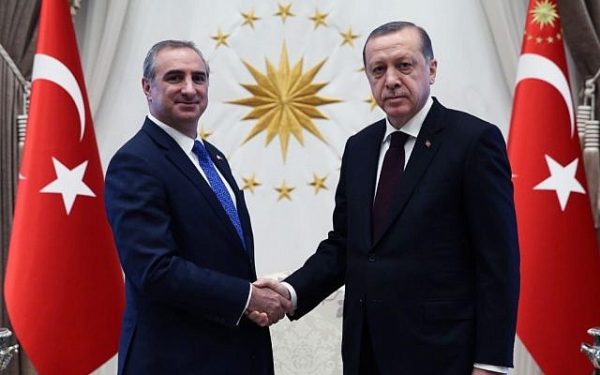 Since then, Erdogan has continually maligned Israel.
During the summer of 2017, Erdogan accused Israel of trying to "destroy the Islamic character of Jerusalem" in the wake of Israel's decision to install metal detectors at entrances to the Temple Mount in East Jerusalem.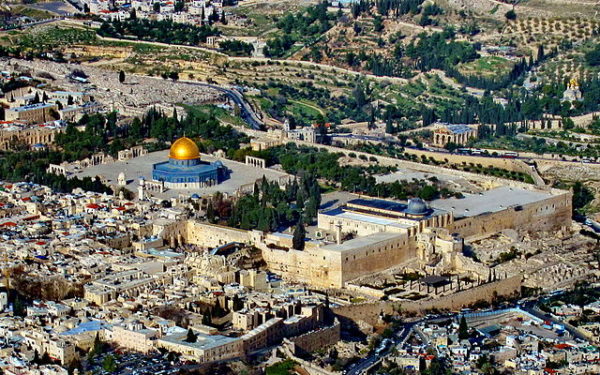 In September of that year, he warned Israel that its support for Kurdish independence in Iraq could affect bilateral relations with Turkey.
After U.S. President Donald Trump recognized Jerusalem as Israel's capital in December, Erdogan said, "Mr. Trump, Jerusalem is a red line for Muslims. This could lead us to break off our diplomatic relations with Israel."
Shortly afterward, Erdogan said he would use "all means" to counter Trump's decision. "Palestine is an innocent victim. As for Israel, it is a terrorist state, yes terrorist! We will not abandon Jerusalem to the mercy of a state that kills children."
To which Netanyahu responded, "I am not used to receiving lectures about morality from a leader who bombs Kurdish villagers in his native Turkey, who jails journalists, who helps Iran get around international sanctions, and who helps terrorists, including in Gaza, kill innocent people."
Last month, after Erdogan lambasted Netanyahu as a "terrorist" and "occupier," Netanyahu countered: "Someone who occupies northern Cyprus, invades the Turkish regions (in Syria) and slaughters civilians in Afrin (again in Syria) — should not preach to us about values and ethics."
After this testy exchange, Public Security Minister Gilad Erdan expressed regret that Israel had agreed to reconcile with Turkey. "Looking back, maybe the accord should not have been approved."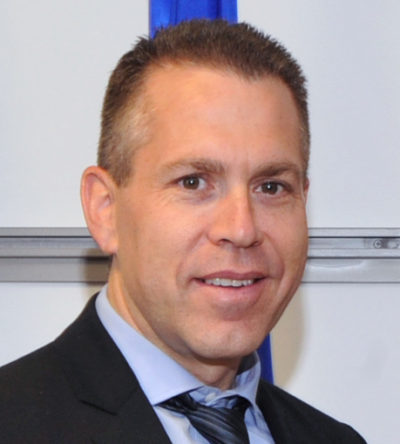 Erdan's comments were echoed by Yair Lapid, the leader of the centrist Yesh Atid Party.
Erdogan's verbal blasts notwithstanding, Israel has no intention of severing ties with Turkey. But the day may come when Erdogan will pull the plug. His base appears to be seeking a complete break with Israel.
So much for his credo that Turkey should have "zero problems" with its neighbors.