Judging by Israel's discovery and destruction of yet another Palestinian attack tunnel recently, Hamas is still very much in the business of war.
The tunnel, which started in the Gaza Strip and penetrated about 200 meters into Israeli territory, was the 15th destroyed by the Israeli army in the past year. Hamas, which has ruled Gaza exclusively since 2007, is estimated to have poured $3 million worth of cement, electrical equipment and manpower into building it.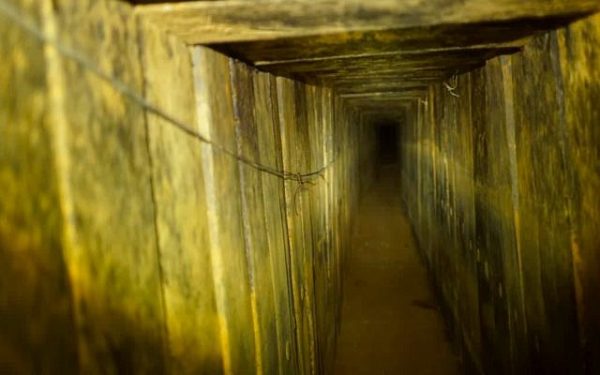 Hamas, which has spent a fortune arming and rearming itself after three border wars and countless skirmishes with Israel since 2008, is squandering Gaza's future. Instead of deploying scarce resources to transform Gaza into a showplace of progress, Hamas has focused on confronting Israel, thereby worsening the humanitarian crisis that afflicts this impoverished coastal enclave.
For the past seven months, Hamas and its sister organizations have orchestrated weekly March of Return protests along Israel's border with Gaza, resulting in lethal clashes with the Israeli army. Of late, these protests have been occurring on almost a daily basis. During these mass demonstrations, thousands of Palestinians have burned tires, thrown rocks, Molotov cocktails and bombs at Israeli soldiers, and tried to storm past the security fence demarcating the internationally-recognized border.
These incidents have caused the deaths of almost 200 Palestinians, some of whom were members of Hamas' armed wing, and one Israeli soldier, who was shot by a sniper. In the most recent incident, on October 12, seven Palestinian protesters were killed.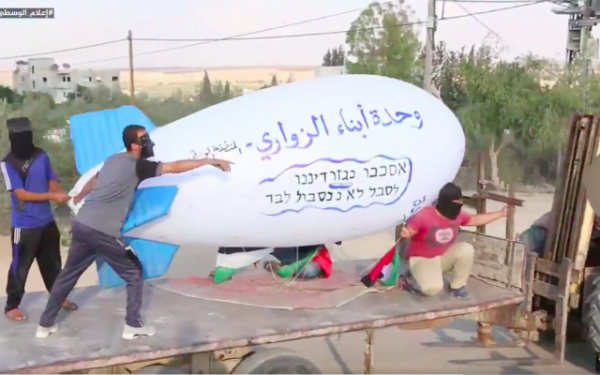 The Palestinians, in a new ploy that the Israeli army has been powerless to stop, have been sending incendiary kites and balloons into Israel, scorching thousands of acres of farmland and the Lahav, Beeri and Kisufim forests in the northern and western Negev. Some of these devices have even reached Jerusalem and central parts of Israel. Last week, the Palestinians launched their first-ever incendiary blimp toward Israel.
Hamas — which rejects Israel's existence and a two-state solution — has resorted to such tactics in an effort to break the Israeli siege of Gaza, publicize the Palestinian cause, and underscore the Palestinians' desire to return to their former homes in what is now Israel. The "right of return" is catrgorically rejected by the Israeli government, which regards it as a weapon of stealth to destroy Israel by demographic means.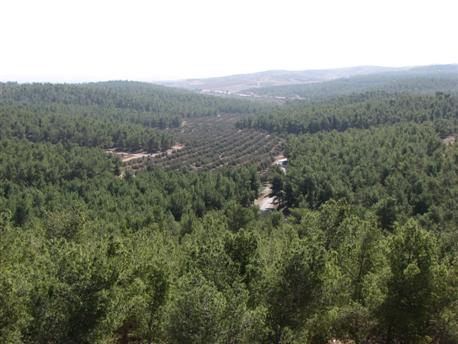 Israel, having withdrawn unilaterally from Gaza in 2005, imposed the blockade in 2007 to prevent Hamas from amassing a dangerous arsenal of weapons and munitions. Gaza is blockaded not only by Israel. Egypt's siege of Gaza, which is as rigorous as Israel's, is designed to weaken the Muslim Brotherhood, which has friendly ties with Hamas.
The PA, which lost control of Gaza in 2007, wants to restore the status quo ante. It is thus exerting pressure on Hamas by way of economic sanctions. On October 13, Mahmoud al-Habash, the religious affairs advisor of PA President Mahmoud Abbas, declared that ending Hamas' rule over Gaza is "a religious duty and a national necessity."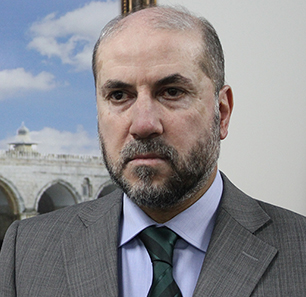 Israel is equally fed up with the constant violence emanating from Gaza.
On October 14, Prime Minister Benjamin Netanyahu warned Hamas that its provocations could backfire. "If they don't stop the attacks, they will be stopped in another way, which will be painful," he said, implicitly referring to the possibility of a new Israeli military offensive in Gaza. "We are very close to a different kind of activity that will include very powerful blows."
He added, "If Hamas has any brains, it will stop."
Israel's defence minister, Avigdor Liberman, has delivered a similar message. As he put it on October 15, "The only way to bring back the quiet, without harming our deterrence and our resolve, is a hard blow  — as much as possible  — against Hamas. And I believe that an effort like this would buy us four or five years of calm."
Liberman also said, "Until violence in Gaza stops entirely, including the launching of incendiary balloons and the burning of tires near Israeli communities, the supply of fuel and gas to Gaza will not be renewed."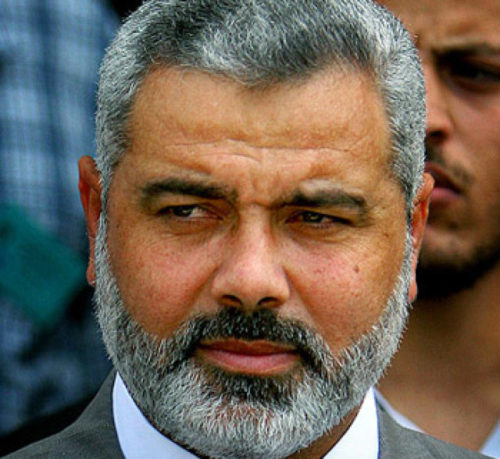 These threats appear to have fallen on deaf ears. Ismail Haniyeh, a Hamas leader, retorted that the mass rallies along the border will go on until Israel lifts its siege of Gaza.
In the meantime, the people of Gaza endure deep deprivation, as a grim report issued by the World Bank on September 25 indicates: "The economy in Gaza is collapsing, suffering from a decade-long blockade and a recent drying up of liquidity. The result is an alarming situation, with every second person living in poverty and the unemployment rate for its overwhelmingly young population at over 70 percent." Total unemployment, it noted, has reached 53 percent.
The prices of goods and services have increased, wages have decreased, purchasing power has declined, economic growth has contracted and cash flows have dropped, causing a sharp decline in personal income.
Marina Wes, World Bank director for West Bank and Gaza, writes:
"A combination of war, isolation and internal division has left Gaza in a crippling economic state and exacerbated the human distress. A situation where people struggle to make ends meet, suffer from worsening poverty, rising unemployment and deteriorating public services such as health care, water and sanitation, calls for urgent, real and sustainable solutions."
Gaza's plight, she says, is worsened by two factors — the PA's reduction of monthly payments by $30 million, and the United States' decision to cancel aid to the United Nations Relief and Works Agency, which serves the needs of many Palestinians.
At present, there is only one glimmer of light on the horizon — Qatar.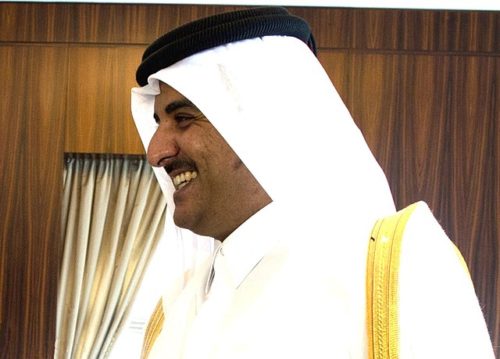 On October 11, Qatar — Hamas' ally — announced it would send $150 worth of aid to Gaza. The emir of Qatar, Tamim bin Hamad al-Thani, disclosed that the Qatar Fund for Development would provide the badly-needed assistance "to lessen the increasing graveness of the humanitarian tragedy" that grips Gaza.
Israel, which not too long ago accused Qatar of propping up the Hamas regime in Gaza, is pleased by Qatar's generosity.
The infusion of Qatari funds into Gaza might well prevent a fourth war between Israel and Hamas. In recognition of Qatar's importance to maintaining peace in the region, Liberman conferred with Qatar's emissary to Gaza, Mohammed al-Emadi, in Cyprus last June.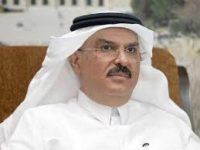 The meeting was not covered by the press and was only revealed by Israel's Channel 10 television station two months later. Emadi reportedly told Liberman that Qatar is committed to investing $350 million to bankroll certain projects in Gaza and to pay the salaries of government employees there.
The United States shares Israel's view of Qatar's role in Gaza.
Last winter, President Donald Trump's special envoy to the Middle East, Jason Greenblatt, said that cooperation between Israel and Qatar could make a difference in Gaza. Greenblatt's comment came on the heels of a comment by Al-Emadi that Qatari funds could head off another war in Gaza.
This is richly ironic, of course.
Further financial transfusions into Gaza enable Hamas, one of Israel's arch enemies, to remain in power indefinitely.