Jews who survived the Holocaust tended to be physically and mentally strong, adept at a certain skill, amazingly resourceful, or simply lucky.
David Wisnia, who owes his survival to a fine singing voice, is one such person. Sara Taksler explores his unusual story in How Saba Kept Singing, a PBS documentary. A melange of on-camera interviews, file footage and animation, it will be broadcast on Tuesday, April 18 (check local listings).
A Polish Jew known as Saba to his family, he spent two-and-a-half years in the Auschwitz-Birkenau extermination camp in Poland. Had it not been for his singular talent, he probably would have perished, his name added to the list of some 1.1 million Jews who never returned from that purgatory.
"Music was my life from the very beginning," he says. "I always sang. It saved my life."
Born in 1926 in the village of Sochaczew, Wisnia was raised in Warsaw. Taksler skims over his early years, but we're told he sang in a synagogue choir. She completely omits his years in the Nazi Warsaw ghetto, but adds that his parents and younger brother were murdered during the Holocaust.
Wisnia arrived in Auschwitz-Birkenau in March 1943, about a month before the Warsaw ghetto uprising, which was crushed by the Germans. At first, his assignment was to remove the corpses of Jews who had tried to escape. Later, he worked in a warehouse containing the clothes of murdered inmates.
He began singing for some of the prisoners and guards, who liked his voice and protected him. He also formed a romantic relationship with Helen (Zippi) Spitzer, a Czech-Jewish graphic artist of his approximate age who had an office job in the camp. "She was a very pretty girl and I liked her," he says.
By the standards of the day, they were "privileged" prisoners. She saved him from certain death no less than five times by crossing his name off a roster of prisoners who were due to be sent to camps where his chances of survival would have been virtually nil.
In December 1944, a month before Auschwitz-Birkenau was liberated by the Red Army, Wisnia was sent on one of the Nazis' dreaded "death marches." He managed to escape and found shelter in the woods and in farmers' barns. Taksler provides no details of this  harrowing period.
As he wandered through the countryside, he came upon a column of tanks on a road, fearing they were manned by Germans. To his relief, they were Americans from the 101st Airborne Division, which adopted him.
Having lost his family, he decided to leave Europe. At this point, he had no idea whether Spitzer was alive. Landing in New York City in 1946, he was reunited with his aunts, who had immigrated to the United States before World War II.
Wisnia became a cantor, married and had four children.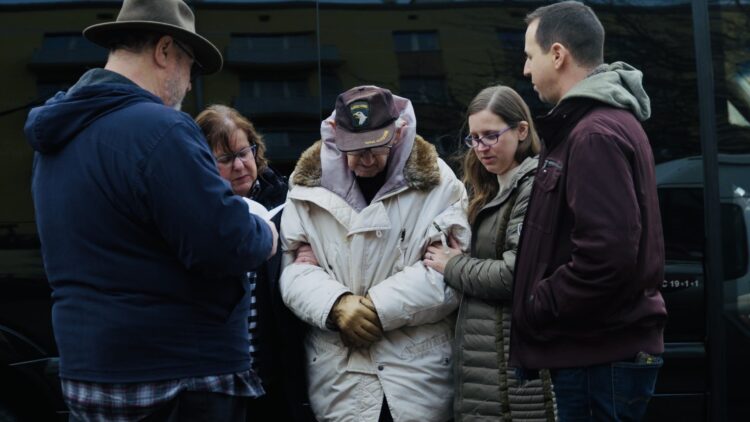 In the film, he and his grandson, Avi, visit Auschwitz-Birkenau in January 2020 on the 75th anniversary of its liberation. Wisnia, now in his 90s, does not recognize the camp, which he visited five years earlier.
As well, the pair pass by the building in Warsaw where Wisnia and his parents lived. They also perform a recital at the Polin Museum of Polish Jewish history. As Wisnia sings Yiddish folk songs, Avi, his attentive and loving grandson, accompanies him on a piano.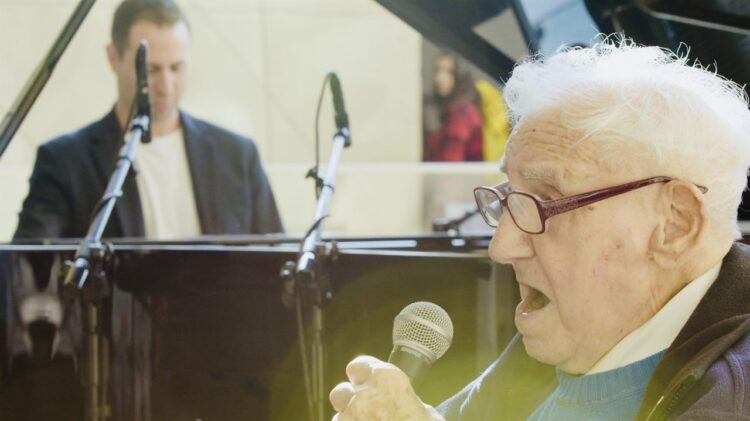 Eventually, Wisnia meets Spitzer in a reunion in New York City where they exchange stories.
The film is rounded off with a poignant observation by Wisnia that brings Avi to tears. Avi is proof that Adolf Hitler did not win, says Wisnia, dismissing the genocidal Nazi regime in a few choice words.