An Israeli cabinet minister and a member of Israel's parliament both acted inappropriately and impudently when they lambasted a recent interfaith marriage between an Israeli Jewish man and an Israeli Muslim woman.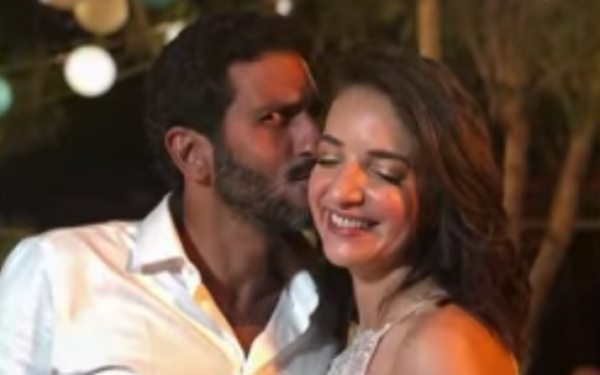 Tzachi Halevy, an actor, and Lucy Aharish, a television news anchor, had been in a romantic relationship for four years when they got married on October 10.
Since Israel has no provision for civil marriage, the couple may have been married abroad, perhaps in Cyprus, a short flight from Ben-Gurion Airport. Israeli couples from different faiths usually marry overseas if the non-Jewish partner does not convert to Judaism. Certainly, the Orthodox rabbinate, which has exclusive jurisdiction over marriage and divorce in Israel, would not not have agreed to marry Halevy and Aharish unless she had converted to Judaism in an Orthodox ceremony.
Interfaith unions are rare in Israel. In 2015, for example, only 23 out of 58,000 weddings involved Jews and Arabs, according to information I gleaned from a Google search.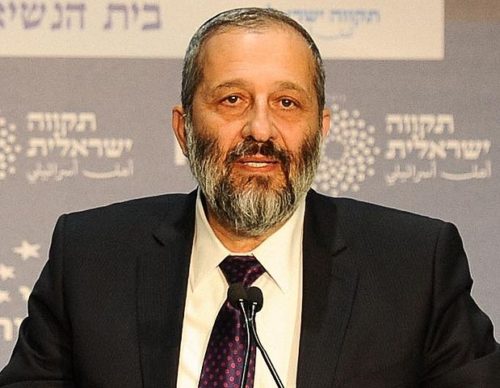 That said, Interior Minister Aryeh Deri and Likud Party Knesset backbencher Oren Hazan had no right whatsoever to criticize Halevy's union with Aharish. Claiming that "assimilation is consuming the Jewish people," Deri said they had not done "the right thing" because their children would face "serious problems" in Israel. He then urged Aharish to convert to Judaism.
Calling for an end to Jewish assimilation, Hazan said, "I'm not accusing Lucy Aharish of seducing a Jewish soul in order to hurt our nation and prevent more Jewish offspring from continuing the Jewish line. On the contrary, she's welcome to convert."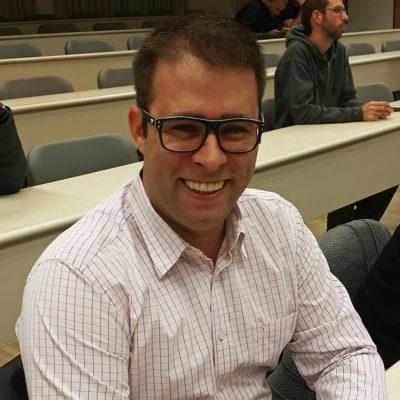 Assimilation has been a recurring theme in Jewish history, particularly in the past two centuries. I have no concerns about it. Jews who wish to live their lives according to Jewish law and customs will remain within the fold. Jews who think otherwise will blend into mainstream society. In the meantime, converts to Judaism will probably make up the difference.
In short, the Jewish people will survive. They will not disappear.
Even the loss of six million Jews during the Holocaust has not changed the demographic outlook. There are nearly as many Jews in the world today as there were in 1939, and the Jewish population is growing. This applies especially to Orthodox and ultra-Orthodox Jews.
So if a Jew like Halevy falls in love with a Muslim like Aharish, their feelings must be respected. They  should not be the subject of acrimonious public debate. Deri and Hazan had no right to pry into their privacy by pointedly questioning the validity of their marriage. By doing so, they engaged in racism.
As far as I'm concerned, a hearty Mazel Tov should be extended to Tzachi and Lucy.
One can argue that the Halevy-Aharish marriage would have been ignored had they been ordinary people rather than celebrities.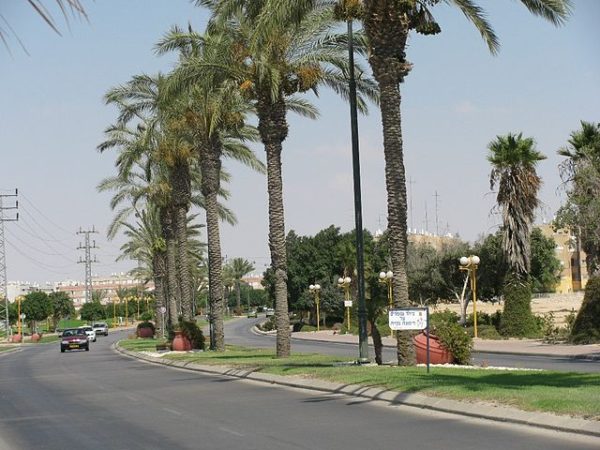 Aharish, a popular figure who has assimilated into Israeli society like very few Israeli Arabs, was born in 1981 in the Negev town of Dimona. She's the daughter of Maaruf and Salwa Aharish, who were originally from Nazareth, a mixed Arab-Jewish town in the Galilee. She attended a Jewish school in Dimona and was its only Arab student. At the age of five, she was injured by a Molotov cocktail thrown at her parent's car during a visit to the Gaza Strip.
After graduating from the Hebrew University, she studied journalism in Israel and Germany. In 2007, following a brief stint as a newspaper reporter for the Israeli daily Yedioth Ahronoth, she became the first Arab news presenter on a Hebrew-language TV station in Israel. Since then, she has worked for several Israeli stations, including Reshet 13, as a news anchor.
Although she has been outspoken in denouncing the racism and discrimination that Israel's Arab minority faces, she appears to be an Israeli patriot. Three years ago, she was one of 12 Israeli personalities chosen to light torches in an official ceremony marking Israel's 67th anniversary.
Halevy was born in 1975 in Petah Tikvah, one of the first Jewish towns in pre-state Israel, and is an eight-generation Sabra of Sephardi origin. A former officer in an Israeli army commando unit whose members disguised themselves as Arab civilians when serving in the West Bank, he hit his stride as an actor when he landed a role on Fauda, an Israeli television thriller subsequently picked up by Netflix. Interestingly enough, Halevy played an Israeli soldier in an undercover commando force assigned to ferret out Palestinian terrorists in the West Bank.
If nothing else, the Halevy-Aharish marriage has underscored the phenomenon of Jewish-Arab intermarriages in Israel.
Four years ago, 200 police officers were called to protect the wedding of Mahmoud Mansour, an Muslim from Jaffa, and Morel Malka, a Jew who had converted to Islam.
Lehava, an Israeli organization opposed to Jewish assimilation, objected to their marriage. Lehava is also against the presence of Christians in Israel. In 2014, three of its members were arrested and indicted for committing arson and spray-painting anti-Arab graffiti at the Max Rayne Hand in Hand Center for Jewish Arab Education in Israel Bilingual School in Jerusalem. Shortly afterwards, Lehava's leader, Ben-Zion Gopstein, was arrested for incitement.
Israel's president, Reuven Rivlin, has likened Lehava members to "rodents gnawing under the … democratic and Jewish foundation of Israel."
In 2015, the Ministry of Education banned Borderlife — a novel by Dorit Rabinyan about a love affair between a Jewish woman and a Palestinian man — from the school curriculum.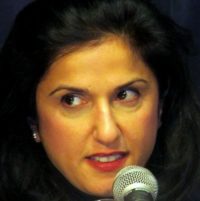 The book was the winner of the Bernstein prize, a literary award given to Israeli writers under the age of 50. It was disqualified by the ministry on the grounds that "intimate relations between Jews and non-Jews" are regarded by "large segments of society as a threat to a separate (Jewish) identity."
The education minister, Naftali Bennett, the leader of the right-wing Jewish Home Party, endorsed the decision.
Sami Michael, the author of A Trumpet in the Wadi, a Hebrew novel about a relationship between a Russian Jew and an Israeli Arab Christian woman, described the decision as "a dark day for Hebrew literature."
Last year, the father of Israeli reality star Opal Inbar tried to break up his daughter's relationship with a Muslim. "I made it clear to him that I do not reject him as a person. There is nothing to prevent us from being friends," he wrote in a Facebook entry. "We'll go out and have a good time, just like I do with anybody else, because he's a person just like I am. But there will  never be a blood relationship between us."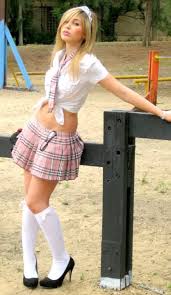 "I am not a racist, but even though I am secular, I worry about the fate of Judaism," he added.
This past June, Isaac Herzog, the former Israeli opposition leader and now chairman of the Jewish Agency, deplored mixed marriage as "a plague" for which he hopes to find "a solution."
Several days ago, the Jewish Home Party, a member of Prime Minister Benjamin Netanyahu's coalition government, was condemned for having posted inflammatory billboards in Ramle that cast aspersions on Arab-Jewish liaisons.
The billboards were illustrated by a photograph of a young woman in a hijab against the backdrop of two white candles and a wine cup. The inscription read: "Hundreds of cases of assimilation in Ramle, and no one cares. Tomorrow it could be your daughter. Only a strong Jewish Home will maintain a Jewish Ramle."
An Israeli Arab member of the Knesset, Neven Abu Rahmoun, described the billboards as racist and said she would ask the attorney general to ban them. On October 17, the billboards were removed by the municipality after many had been vandalized.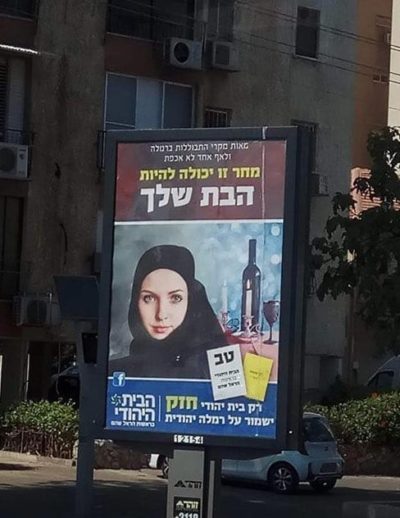 Judging by the defacement of the Ramle billboards and the controversy surrounding Halevy's marriage to Aharish, it's clear that Jewish-Arab intermarriage is a very sensitive issue in Israel and poses a problem for many Israelis.