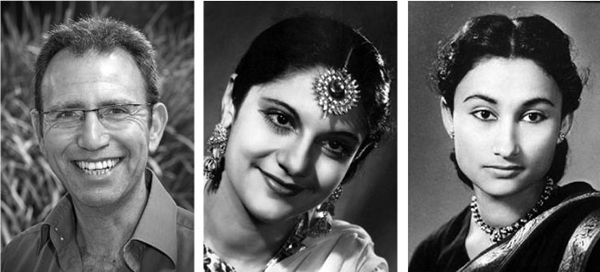 A century ago this year, Dadasaheb Phalke's Raja Harsihschandra made history, becoming the first Hindi-language silent movie to be produced in India. It was followed, 18 years years later, by Alam Ara, the first Indian talkie. They set the stage for the Bollywood film industry in India, based largely in Mumbai, formerly Bombay.
Bollywood is to India what Hollywood is to the United States. But Bollywood is far more prolific than its American counterpart, cranking out about 800 movies per year, more than twice as much as Hollywood.
Like Hollywood, Bollywood was shaped, to some degree at least, by Jews. During its  formative period, native-born Jewish actors played an outsized role in Bollywood, which specializes in lavish romantic musicals and over-wrought melodramas.
This little-known fact is at the core of Shalom Bollywood:The Untold Story of Indian Cinema, a documentary conceived and directed by Danny Ben Moshe, a research fellow at the Center for Citizenship and Globalization at Deakin University in Melbourne, Australia, whose interests run the gamut from racism to diasporas.
Six years in the making and due to open in theatres in 2014, Shalom Bollywood revisits an era when movie stars such as Sulochana (Ruby Meyers), Firoza Begum (Susan Solomon), Pramila (Esther Abraham), Nadira (Florence Ezekiel) and David (David Abraham Cheulkar), all Indian Jews, were in their heyday.
"Because of their stage names, most people thought they were Muslims," said Ben-Moshe, who holds a PhD in racist ideologies. "Few people in India even know what Jews are."
Indian Jews got involved in Bollywood by happenstance, he suggested.
In early 20th century India, a highly conservative society, Hindu and Muslim women were discouraged from taking jobs outside the strict confines of their homes, much less considering careers in Bollywood. As a result, male actors impersonated women in the earliest Indian films. Gradually, however, women popped up in movies. Some of these actresses were from the long-established Jewish community, which was generally less resistant to change than the Muslim and Hindu communities.
Meyers, born in Pune, was a telephone operator before she shot to fame as India's highest-paid actor. Working with directors like Mohan Bhavnani and R.S. Chaudhari, she appeared in both silent films – Typist Girl and Wildcat of Bombay – and talkies, most notably Anarkali,
Abraham, born in Calcutta, was crowned Miss India in 1947 and starred in 30 films from Ulti Ganga to Jungle King. She ended her career as India's first female movie producer.
Ezekiel catapulted to stardom after appearing in Aan and Shree 420, both of which came out in the 1950s.
Cheulkar, a character actor, appeared in 110 films, including Naya Sansar and Boot Polish.
"Meyers was the first female superstar during the silent era," said Ben-Moshe. "Her impact was massive." Nadira and David, respectively in Shree 420 and Boot Polish, also left indelible impressions, he noted.
Nadira and David worked with Raj Kapoor, one of India's greatest directors and producers. "The fact that they were directed by Kapoor shows that they were at the heart of the Bollywood film industry," Ben-Moshe added.
Ben-Moshe was drawn to the topic after one of his students gave him a newspaper obituary of Nadira's death, which occurred in 2006.
"I knew there were Indian Jews, but I had no idea that they had played such a prominent role in Bollywood," he explained. "I went to India to do research and see whether there was enough material to make a film on Nadira. I discovered she was the tip of the iceberg."
Although Ben-Moshe is not a Bollywood fan, Shalom Bollywood has given him a better appreciation of India. As he put it, "I've become a huge admirer of India's cultural and religious diversity."