Several years before the Israeli television drama Shtisel took Israel by storm, Srugim was drawing in a multitude of viewers.
Shtisel and Srugim ran from 2013 until 2021 and from 2008 until 2012 respectively. They unfolded in Jerusalem and were about the everyday lives of religiously observant Israelis. While Shtisel's main characters were ultra-Orthodox Jews, Srugim focused on modern Orthodox Jews in their late 20s and early 30s. The series got its name from the small embroidered yarmulkes typically worn by modern Orthodox men.
Interestingly enough, Shtisel and Srugim attracted a diverse audience of both secular and religious Jews.
Having watched and enjoyed Shtisel, my curiosity was drawn to Srugim, which is available online on the Chaiflicks service. Judging by the first eight episodes of the first season, Srugim, directed by Eliezer Shapiro and supported by an excellent cast, is high-spirited, fast-paced, unpredictable and fun to watch.
Call it, if you will, the Israeli version of Friends.
It's set in Katamon, a neighborhood favored by Christian Palestinians before the 1948 Arab-Israeli war and since populated by Jews, some of whom are upwardly mobile, unmarried modern Orthodox Jews. In Srugim, they're still in the process of establishing themselves as they seek companionship, love and, hopefully, blissful matrimony.
They're an eclectic bunch in terms of occupation and temperament, but they're all committed to the rites, rituals, customs and habits of traditional Judaism. In practical terms, they subscribe to the tenets of Jewish law, attend synagogue on a regular basis, eat only certifiably kosher food, and dress modestly.
Socially, they're conservatives and politically speaking, they tend to support right-wing parties with a hardline approach to Israel's conflict with the Palestinians and its Arab neighbors.
Dating is encouraged, since the family unit is the touchstone of their lifestyle, but touching, kissing and sex are expressly forbidden until marriage.
In the first scene, we're introduced to two Israelis at a speed dating session — Yifat (Yael Sharoni), a self-employed graphic artist who shares a flat with several friends, and Natti (Ohad Knoller), a surgeon at the Hadassah Hospital.
Their network consists of Hodaya (Tali Sharon), a university student and the daughter of a rabbi; Reut (Sharon Fauster), an accountant with a well-paying position; and Amir (Amos Tamam), a Hebrew grammar teacher at a girl's school and the only divorced and Sephardi person in the group.
During the next few episodes, a few new faces appear, namely Avri (Zohar Strauss), an archaeologist, and Yochai (Moti Brecher), a yeshiva student and Torah teacher.
Basically, they're all looking for permanent relationships that will culminate in marriages and Jewish homes filled with an abundance of children.
These goals are not necessarily easy to achieve, as Yifat discovers. In fact, they can be downright elusive. She is interested in Natti, but he's unapproachable because he's so emotionally stunted. He's acutely aware of his stark and debilitating  limitations.
Natti's friend, Amir, is at a disadvantage in the dating game because of his divorce. It would appear that divorced people are looked down upon in Orthodox circles. Amir tries courting Reut, but to no avail. He makes headway with her younger sister, but crashes into a stone wall. In desperation, he reconnects with his former wife, who's also lonely.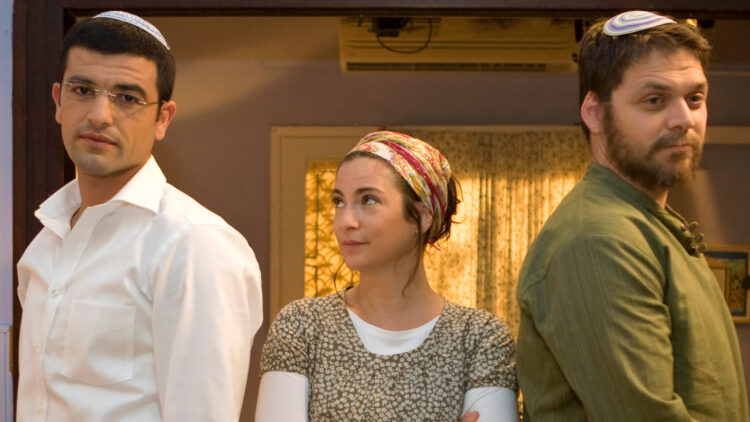 Reut breaks up with her boyfriend in the first segment. Eventually, she meets Yochai, an insulated and simple yeshiva bocher who lives with his mother and shuns TV. Since Reut is rather worldly, it's questionable whether she and Yochai are really suitable as a couple, but she is willing to try.
Hodaya initially rejects Avri's overtures, but quickly changes her mind. They may be compatible. He's thoroughly secular. She's drifting away from orthodoxy. Inexplicably, she neglects to tell him she's from a religious background, causing a tremor of tension. But he seems willing to accommodate himself to her beliefs, at least to some extent.
Every character in Srugim is tossed around by conflicting emotions, as might be expected in a highly competitive dating environment. But they're plausible and reasonably well developed, like the series itself.