Petra was on my mind.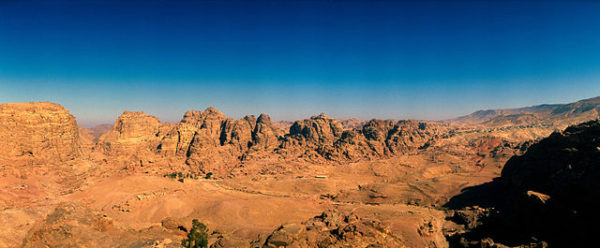 This fantastical archaeological site in southwest Jordan, set amid a remote, desolate and brooding sandstone mountain range 900 meters above sea level, had captured my imagination.
I had read about Petra in history books, watched documentaries about it, and seen tantalizing glimpses of it in Steven Spielberg's adventure movie, Indiana Jones and the Last Crusade. These portals to Petra, the desert capital of a fabulous Nabataean empire that prospered two thousand years ago, whetted my appetite for the real thing.
An opportunity to finally lay eyes on Petra presented itself after I decided to visit neighboring Israel.  Since Israel's peace treaty with Jordan in 1994, streams of visitors from Israel, Israelis and foreigners alike, have descended on Petra.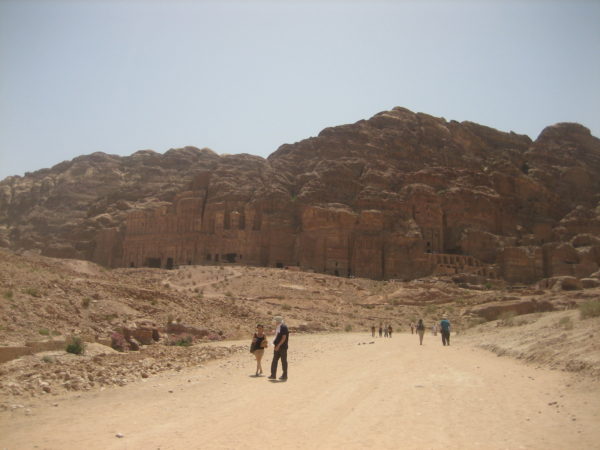 Long before Israel's rapprochement with Jordan, back in the early 1950s, scores of intrepid young Israelis, captivated by the popular Hebrew song Hasela Ha-adom, embarked on a dangerous journey by sneaking into Jordan to see Petra. Some made it back with stories to last a lifetime, but 11 were killed by Jordanians.
One of the greatest wonders in the Middle East, Petra was built by the Nabataeans, a tribe of Bedouins, around the fourth century BC. Annexed by the Roman empire, it continued to thrive for centuries. At the hub of a vital trade route connecting Mesopotamia with Egypt, Petra was a city of colonnaded streets and villas, dwellings, shops, temples and tombs sculpted into the craggy cliffs and inhabited by a melange of 30,000 to 40,000 people of Middle Eastern descent.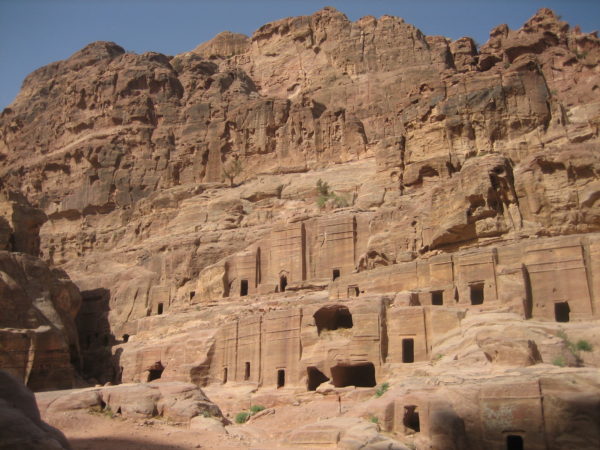 Masters of hydrological engineering, the Nabataeans created a series of dams to protect Petra from annual flash floods and provide its inhabitants with sufficient drinking water.
The glory that was Petra fell into disrepair following a massive earthquake in 363 AD and changes in regional trade routes. By the mid-seventh century, Petra was virtually deserted, lost in the mists of time. Only local Bedouins, who lived in its caves and cavities until as late as 1985, were aware of its existence.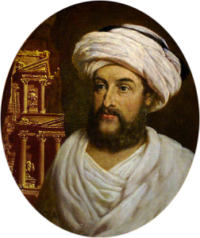 Swiss explorer and geographer Johannes Ludwig Burckhardt, dressed as an Arab and disguised as a Muslim, convinced Bedouin guides to take him to the rose-red lost city in 1812. From that point forward, Petra — an astonishing touchstone of an ancient civilization — became an alluring and unforgettable destination for travellers who could afford the cost of the trip.
On the eve of exploring Petra, Jordan's foremost tourist attraction, I spent the night in a spartan Bedouin encampment of black tents where the electricity was turned off at midnight. I shared a tent with an American man from Detroit who, like me, started his journey in Tel Aviv, Israel's lively seaside Mediterranean city. The uncommonly hard mattress left me with a sore back when I rose at about 6 a.m. At 7 a.m. sharp, following a simple breakfast of pita, jam, cheese, olives and coffee, we set off for Petra, my back still uncomfortably stiff.
The tour of Petra began at the ultra-modern Visitor Center, which leads to a sandy trail traversing the ruins of tombs and dams. The landscape was barren and forboding, a blazing sun shining down on us, a mixture of Europeans, Americans and one lone Canadian.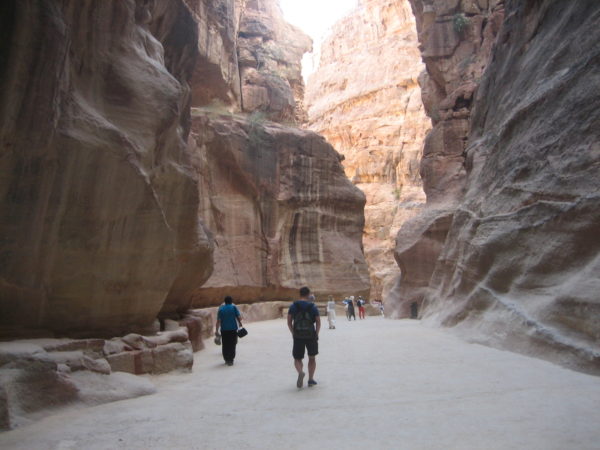 Within minutes, I reached the fabled Siq, the narrow, 1.2 kilometre gorge that leads straight to the most spectacular sight in Petra, the Treasury. As the day wears on, depending on the angle of the sun, the impressive sandstone and iron-inflected walls of the Siq turn different colors.
The majority of visitors, some clad theatrically in red and white Arab headdresses, reached the Treasury by walking. Still others were conveyed by horseback and donkey-drawn carriage.
Workers with brooms and dustpans kept the trail immaculately clean, but the unmistakable stench of animal excrement was in the air.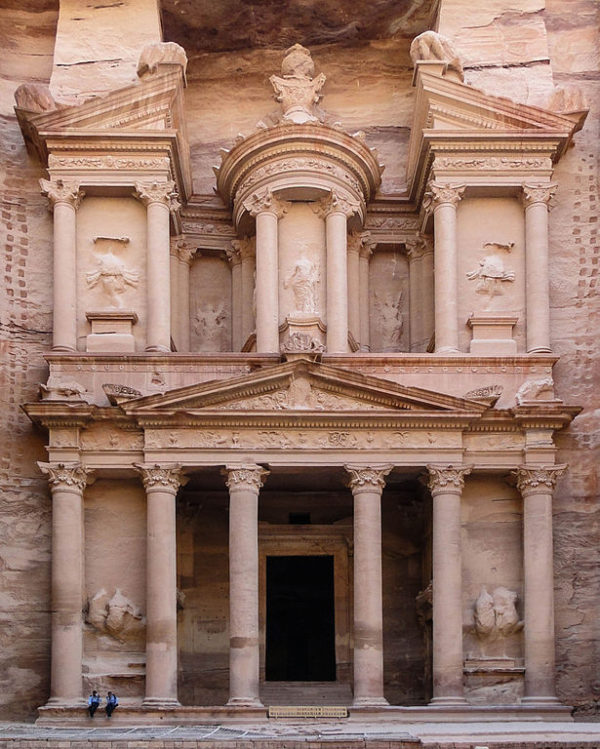 The first and certainly most stupendous monument that greets an astonished visitor in Petra is the Treasury, known in Arabic as Al Khazna. Almost 40 meters in height, it was originally the mausoleum of a first century AD Nabatean king. Carved out from the mountain, it is intricately decorated with 12 Corinthian columns, friezes and figurines and crowned by a funerary urn.
Having been mesmerized by the splendor of the Treasury, I proceeded to the Street of the Facades, the name given to the Nabataean tombs that lie beyond. Souvenir shops and kiosks line the route, its vendors selling cheap trinkets, hats, textiles and cold drinks.
Next, I climbed rock-cut steps to the High Place of Sacrifice, a plateau that was used for important religious ceremonies and now offers panoramic views of Petra.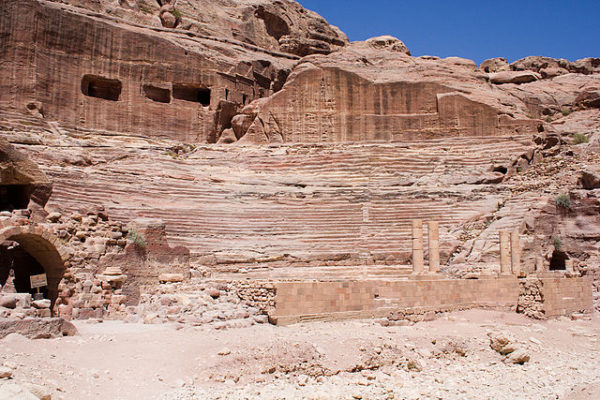 The Theater, which could accommodate 4,000 spectators, is the world's only amphitheater carved into rock. The adjacent Royal Tombs, though badly eroded, are nevertheless magnificent. The Colonnaded Street, some slabs of which are still in decent condition, was one of the main shopping streets in Petra. The Great Temple, with its stately limestone capitals, is considered one of Petra's architectural gems.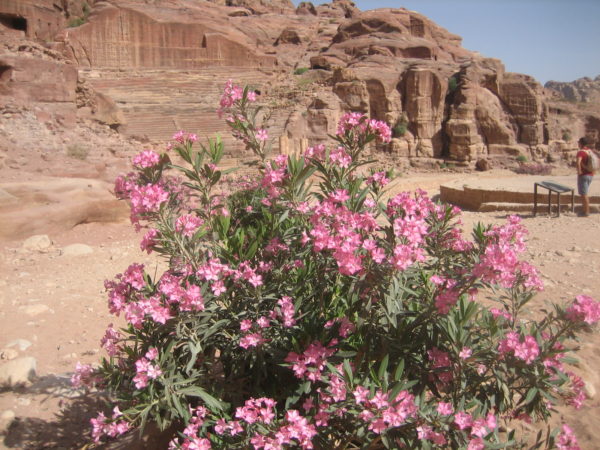 I spent approximately four hours in Petra, and while I was able to visit the principal sites, I had no time to go to the most far-flung one, Ad Deir, or the Monastery, which, in terms of design, resembles the Treasury, but is far bigger. Constructed as a Nabataean tomb, it was a church during the Byzantine era, when crosses were carved into its inside walls.
Petra, even under optimum conditions, requires a level of physical fitness that is beyond the capacity of some people. It's a big place, 264 square kilometres in size, and, unless you hire a guide with a horse or donkey, you will need to walk seemingly endless distances and climb thousands of steps to catch a glimpse of the main attractions. During the sweltering summer months, when temperatures regularly exceed 40 degrees centigrade, a big bottle of water is an absolute necessity.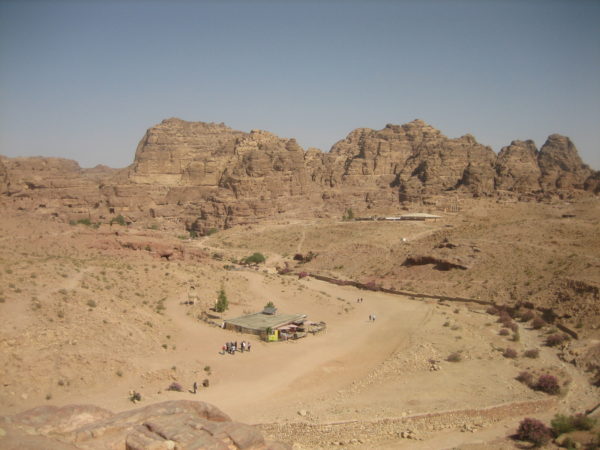 Flies can also be a problem, particularly around the scattered mounds of animal manure, but compared to Petra's overall splendor, this is a very minor annoyance that fades into irrelevancy.
Petra is indeed a must-see sight, a stunning destination that indelibly imprints itself into your memory.