Gustav Moller's Danish thriller, The Guilty, which opens in Toronto on October 19, keeps you on the edge of your seat.
Unfolding over several hours in dim-lit cubicle at a police call center, it's a well-crafted movie, exceedingly spare, focused and suspenseful.
Virtually the only character in it is Asger Holm (Jakob Cedergreen), a laconic policeman who responds to emergency calls from desperate people. Cedergreen is terrific in this demanding role. He carries the film.
As it opens, Asger takes a call from a man who shouts, "Help me." As their conversation proceeds, the caller says he can't breathe. When Asger learns he's a drug addict, he adopts a condescending attitude toward him. "It's your own fault, isn't it?" he chides him.
Cool and collected, Asger is an emotionally distant figure in a darkened room trying to make sense of crises.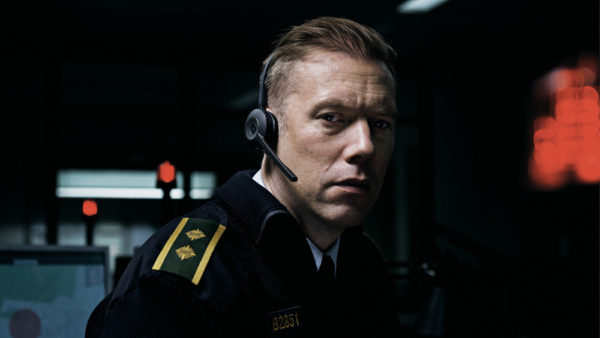 His next call is from another agitated man who claims he's been mugged by a woman. Thanks to a GPS device at his beck and call, Asger soon determines that he's used the services of a prostitute in the red light distract. He dispatches a police car to the scene, but advises the cop to take his time. "Let him sit and stew in it a bit," he says.
The call after that is from Iben (Jessica Dinnage), a distraught woman who claims she's been kidnapped by her ex-husband. It seems like a relatively routine incident, but it turns out to be something that completely consumes him.
Speaking to Iben's six-year-old daughter, Mathilde (Katinka Evers-Jahnen), who's waiting anxiously at home for her to return, Asger gradually becomes involved and invested in her safety. So much so that a colleague across the aisle reminds him he is not permitted to engage in conversations with callers. For Asger, however, the increasingly complex and puzzling situation he finds himself in is different and requires an entirely new approach.
Concerned by Mathilde's state of mind, Asger sends a police car to her house. One of the cops makes an unsettling discovery, which upends Asger's understanding and assumption about this particular case and throws it wide open.
In portraying Asger, Cedergreen displays a whole range of conflicting emotions.
He sounds institutional at first, a man performing his job in routine fashion. But as he immerses himself in Iben's plight and begins treating Mathilde as a victim of circumstance, he personalizes the case to an unprofessional degree. He bangs his fist on the table and smashes equipment in tangible expressions of anger and frustration. And at one point, he goes above and beyond the call of duty and exchanges endearments with Iben.
Asger's transformation from robotic cop to engaged human being is the most remarkable aspect of The Guilty, a minimalist film whose intensity never ceases.