Martin Scorsese has translated his fascination with the American Italian mafia into memorable movies like Goodfellas and Casino, both of which were rich in atmosphere, dialog and character. His latest film in the genre, The Irishman, based on Charles Brandt's book, I Heard You Paint Houses, conforms to this winning formula, and is now available on the Netflix streaming service.
Three and a half hours long, with a script by Steve Zailian of Schindler's List fame, it brings together three of the finest Italian American actors of their generation — Robert DeNiro, Al Pacino and Joe Pesci — and they deliver stellar performances.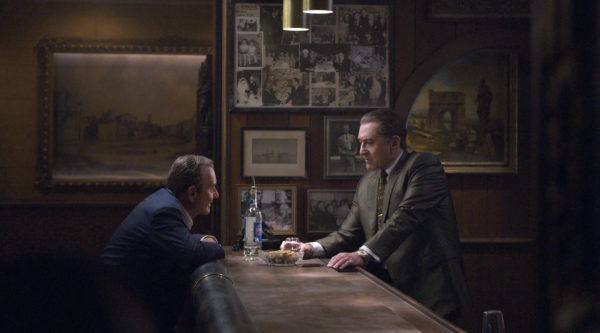 Despite its unusual length, this strong and alluring film never falters or sputters, and it attracts your undivided attention.
It begins and ends in a seniors' home, where a former mobster, Frank Sheeran (DeNiro), recalls his days as a hitman for the mafioso Russell Bufalino (Pesci). Now frail and wizened, and estranged from one of his daughters, Sheeran also worked for Jimmy Hoffa (Pacino), the president of the International Brotherhood of Teamsters, a corrupt union with ties to the underworld that the U.S. government investigated.
Sheeran is an Irish American, but he speaks Italian and is familiar with Italian culture. During World War II, he was a frontline soldier in Italy, and there he learned to kill robotically. In one of the film's early scenes, he fatally shoots two German soldiers who have just dug their own graves on his order.
Now, some years later in postwar America, he's a truck driver who delivers sides of beef. Once in a while, he makes off with a slab and sells it privately to a restaurant. After his truck breaks down next to a diner on the side of a highway, a total stranger, Bufalino, offers to fix it. When Sheeran inevitably runs afoul of the law and is charged with a crime, the canny lawyer who defends him turns out to be Bufalino's cousin.
By chance, Sheeran and Bufalino meet again, and the pair bond after an animated conversation in Italian. Soon enough, Sheeran is doing odd jobs for Bufalino and his associates. One of them instructs him to burn down a linen factory owned by "a bunch of Jews." Much to his surprise and consternation, he discovers that an Italian criminal owns 50 percent of the business. This unintended mixup has consequences.
As he's drawn deeper into Bufalino's orbit, Sheeran branches into another line of work, assassinations, and Bufalino recommends him to Hoffa, who hires Sheeran as his aide.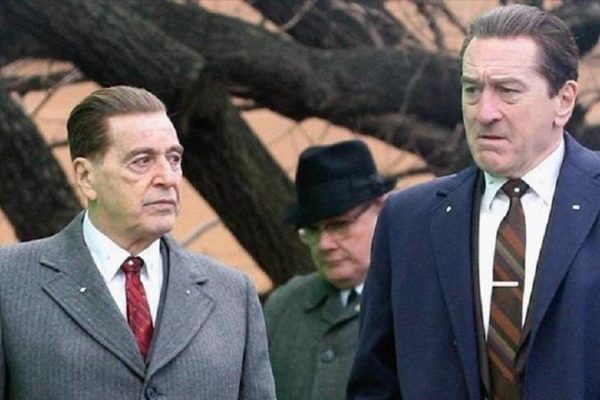 The film, in part, unfolds against the backdrop of Fidel Castro's revolutionary coup in Cuba, once a playground of the mafia, and of the Kennedy administration's probe into corruption in the International Brotherhood of Teamsters. Bufalino wants to get rid of "that Castro prick" so he can resume his shady operations in Cuba.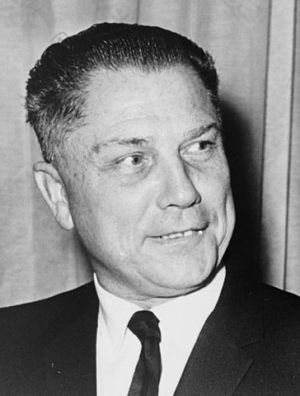 In the meantime, Hoffa's hatred of Robert Kennedy, the federal attorney-general, grows in proportion to Kennedy's intrusive investigations of the links between his union and organized crime.
Eventually, Kennedy nails Hoffa and sends him to prison. Upon his release, he mounts an aggressive campaign to regain the presidency of the union, a prospect that certain figures in the mob find troubling. Bufalino orders Sheeran to convince Hoffa to quit, but Hoffa refuses to heed his good advice. "This is my union!" he bellows.
Hoffa's refusal to play ball proves fatal. He's murdered and made to disappear. Brandt's theory that Sheeran killed Hoffa, though plausible, has been sharply disputed by some observers. Scorsese has embraced it and developed it with panache.
The Irishman, never less than atmospheric, is a tour de force by one of Hollywood's finest directors.