Long before the late Swedish journalist Stieg Larsson wrote his acclaimed, posthumous trilogy of novels — The Girl With the Dragon Tattoo, The Girl Who Kicked the Hornets' Nest and The Girl Who Played With Fire — he was preoccupied by the neo-Nazi scene in Sweden.
That right-wing extremists were active in this progressive Nordic nation may seem astounding to an outsider. But think again. As Larsson himself might have observed, every country has its dark and uninviting corners.
Larsson's preoccupation with neo-Nazis is the theme of Stieg Larsson: The Man Who Played With Fire, which was screened at the recent Canadian International Documentary Festival (Hot Docs) in Toronto. Unfolding through reenactments, file footage and interviews with Larsson's colleagues, friends and companion, the movie is an absorbing portrait of a dedicated, diligent anti-fascist political activist who died prematurely by working himself to death.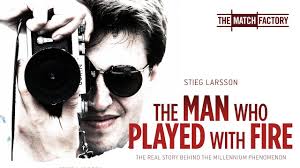 Larsson was driven by one overarching agenda — the fight against racism. He was interested not only in writing about the racists whom he meticulously monitored, but in tearing them to shreds. So thorough a researcher was he that he joined a neo-Nazi  group, the Nordic Realm Party, to gather material for his articles and his book, The Extreme Right, the definitive work on the topic.
By all accounts, Larsson was greatly influenced by his grandparents, with whom he lived in a country cottage until the age of nine. They were moved by photographs of liberated Holocaust survivors at the end of World War II.
Larsson was a feature writer at a news agency and a contributor to two publications which specialized in the coverage of neo-Nazis — Searchlight, a British magazine, and Expo, a Swedish periodical of which he was a founder. He was particularly fascinated by the rise of Sweden's most important far-right political party, the Sweden Democrats, whose anti-immigrant slogan is "Sweden for Swedes."
Initially, the xenophobic Sweden Democrats poured out their wrath on Jews, about 18,000 of whom live in Sweden. In an unsettling clip, neo-Nazis insult a Holocaust survivor by repeatedly branding her a "Jewish pig" and calling attention to her "Jewish nose." In another obnoxious clip, a member of a racist band, Ultima Thule, shouts out a neo-Nazi epithet, "Death to ZOG." This, of course, is a reference to the "Zionist-occupied government" in the United States.
The Sweden Democrats shifted course after the September 11, 2001 Arab terrorist attacks in New York City and Washington, D.C., discarding antisemitism in favor of Islamophobia. By then, Larsson's health had declined due to his workaholic routine, his sedentary lifestyle, his incessant smoking and his addiction to junk food.
He died of a heart attack in 2004, aged 50, before his three novels were published and before the Sweden Democrats had amassed enough votes to sweep into parliament.