It's never too late to fall in love. That's the premise of Leon Marr's appealing old-school Canadian romance, The Second Time Around, which will be presented by the Jewish Film Foundation's Chai Tea series in Toronto on Sunday, December 18.
There is nothing "modern" about this film (which opens in theatres in Toronto next March). It's conventionally structured, with a beginning, middle and end. It's bereft of sex, violence, abnormal behavior or cascading explosions. And it makes you feel good about human nature, which can be a source of disappointment.
Katherine Mitchell (Linda Thorson), a widow in her late 60s, falls and breaks her hip. Helen (Laura de Carteret), her busy daughter with whom she lives, can't cope and places Katherine in a seniors' home to recuperate. Katherine assumes she'll be back in the real world very soon.
At the dinner table, she meets, among others, Isaac Shapiro (Stuart Margolin), a cranky old man who doesn't trust doctors. "They use us as guinea pigs," he complains.
Isaac, a widower, is a Polish Jew and Holocaust survivor. "A needle and a thread saved my life," says Isaac, who speaks in a heavy Yiddish accent. He's a tailor who emigrated from Poland in 1968, following the Polish government's antisemitic campaign.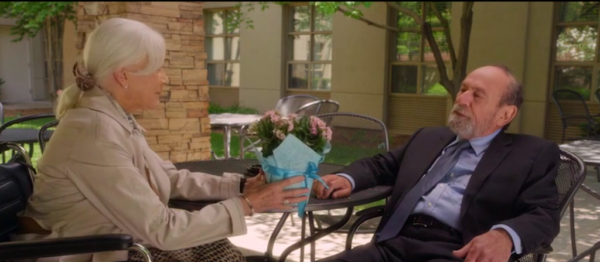 Drawn to Katherine's vivaciousness, Isaac mends her skirt. Soon enough, Katherine's granddaughter, Sarah (Alexis Harrison), takes them on a drive to a cafe and a deli, where they continue to bond.
Katherine and Isaac couldn't be more different, but they share a love for music. She's crazy about Italian opera. He was going to be a cantor until "life got in the way." In Katherine's honor, Isaac sings a Yiddish song.  She's enchanted. "That was extraordinary," she gushes.
Their budding relationship elicits envy and jealousy from the other residents, but Isaac and Katherine couldn't care less. At a Saturday night dance, Isaac croons, "The second time around is just as wonderful." She displays hesitancy about taking their friendship to the next level, but he's keen on pursuing it. "We're too old to be careful," he says, planting a kiss on her cheek.
The Second Time Around is predictable, but its weakness can be overlooked. Who wouldn't root for an endearing couple like Katherine and Isaac?
The plot thickens when Helen and her husband separate and decide to sell their home. Their separation will leave Katherine homeless should she leave the comfort of the seniors' residence. Isaac warmly assures her she won't be left high and dry.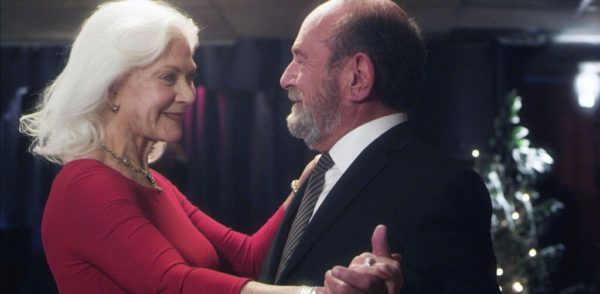 Buoyed by his positive attitude, she invites him to accompany her on a trip to La Scala and other famous opera houses in Italy. This has been her dream for decades. Isaac seems eager to be her travelling companion.
Thorson and Margolin, two seasoned thespians, deliver fine performances. cialis yvelines She's feisty yet vulnerable. He's cantankerous yet loving. And as a couple, they mesh in this endearing film.
The Second Time Around will be screened at the Cineplex Cinemas Empress Walk, 5095 Yonge St., (North York Centre subway station). Two Screenings: 12:30 p.m. and 4:00 p.m.