S
everal months before the United States entered World War II, following Japan's destructive bombing raid on Pearl Harbor, the German-American director Ernst Lubitsch started production on a new feature film,
To
Be Or Not To Be
. An unrelentingly dark satire on Nazi Germany recently broadcast on the Turner Classic Movies channel, it was released on March 6, 1942, two-and-a-half years into the war. One of its stars, Carole Lombard, never got to see it. She was killed in an airplane crash in January of that year. And so it would be her final movie.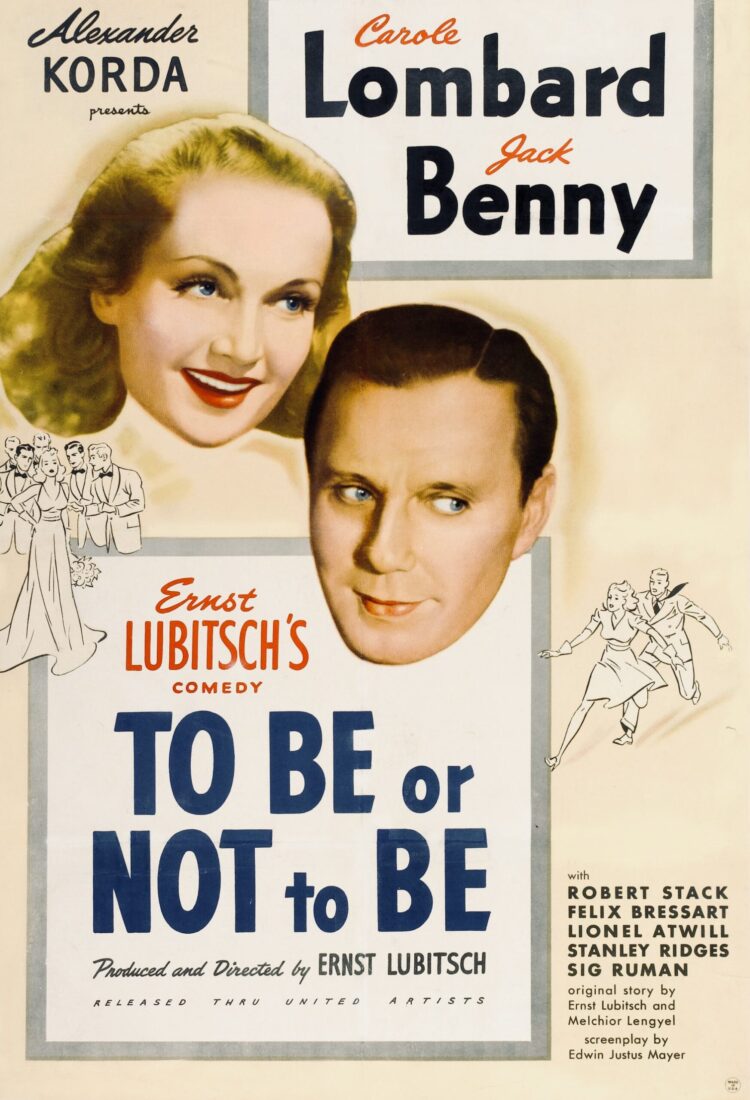 Lombard, a blonde bombshell, portrays Maria Tura, a famous Polish actress who risks life and limb to undermine Germany's occupation of Poland. The film opens in Warsaw in August 1939 as the cast of the Theater Polsky rehearse an anti-Nazi play due to be performed shortly. Judging by the first scenes in
To
Be Or Not To Be,
the play comes down fairly hard on Adolf Hitler, who's condescendingly described as "a man with a little moustache" and no self-esteem. "I'm a nobody," bellows the shambling actor who masquerades as Hitler. The Polish government, fearing that the play will offend Germany, requests its cancellation. The theater complies and replaces it with William Shakespeare's
Hamlet
, satisfying both countries. Maria's egotistical husband, Jozef (Jack Benny), whose ambition is to portray Hamlet, is pleased by the theatre's decision. Maria fears that, in his new role, Jozef will try to hog the limelight at everyone else's expense. Resentful of her husband's self-absorption, Maria allows herself to be wooed by an ardent fan, a Polish pilot named Stanislav Sobinski (Robert Stack). She's impressed by the fact that he can drop three tons of dynamite from his airplane in two minutes.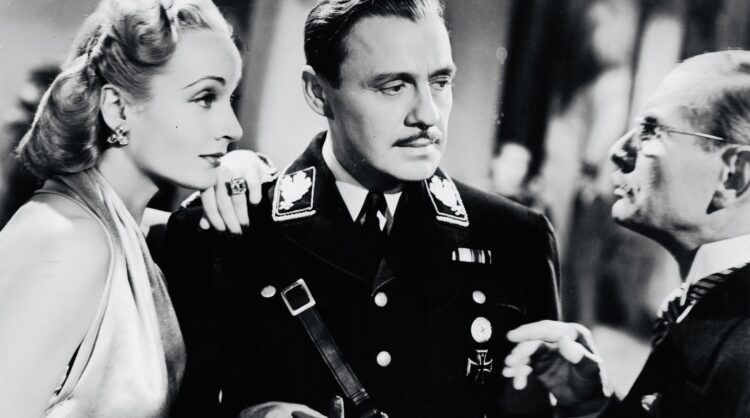 Sobinski professes his love for Maria and she, to a certain extent, eggs him on. When he kisses Maria, she suddenly draws a red line. "You don't seem to realize I'm a married woman," she says coyly. When the war breaks out, with German aircraft bombing Warsaw, the actors huddle under a staircase. In short order, German troops march into the city and ominous restrictions are imposed on its residents. The film offers praise of the Poles' fighting spirit, which is exemplified by the inclusion of a Polish squadron of pilots and navigators in the Royal Air Force in Britain. In London, they enthusiastically greet Alexander Siletsky (Stanley Ridges), a dapper and amiable Polish professor actively working for Poland's liberation. Siletsky, however, arouses Sobinski's suspicion, and Sobinski reports it to senior intelligence officials in the British government. It turns out that Sobinski is correct. Back in Warsaw, Maria is detained by the Germans and driven to a building where she meets Siletsky. He minces no words, urging her to switch to the "right" and "winning" side and join the Nazi cause as a spy. "All we're trying to do is to create a happy world," he says in what passes for a charm offensive. "We're just like other people … We're human."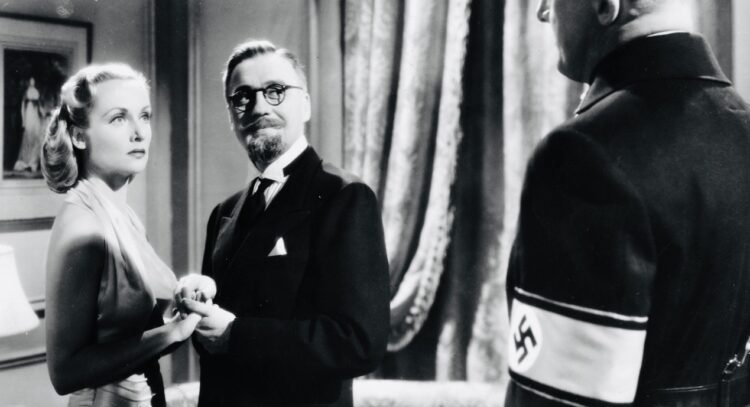 Maria deftly pretends to be his new and willing recruit, and Siletsky buys her story. "Shall we drink to a blitzkrieg," he says as they clink champagne glasses. Lombard is captivating as an enchantress who fools a clever Polish traitor. Having gotten wind of Siletsky's activities, Jozef promises to kill him and, in the guise of a fervent Nazi, to upend the German occupation of Warsaw. He and the other actors in the theater join him in their anti-Nazi crusade. Benny, a comedian, is quite convincing as a faux Nazi who stretches out his arm and shouts, "Heil Hitler!" The film is pervaded by slapstick comedy satirizing not only Hitler, but the Nazi elite in general. In a scene typical of its corrosive black humor, Siletsky asks a German colonel a pointed question about one of his colleagues: "How did he ever become a general?" To which the colonel replies, "He's Goring's brother-in-law," a reference to Hermann Goring, the commander of the Luftwaffe and one of Hitler's closest associates. By any yardstick,
To
Be Or Not To Be
is a film of middling quality, its stellar cast notwithstanding. But as a cinematic artifact, it shines brightly and merits attention.