Expect the unexpected in Maren Ade's wild comedy, Toni Erdmann, which opens in Canadian theaters on January 27. Unfolding in German, English and Romanian, it's a somber and uproarious film.
Winfried (Peter Simonischek), a semi-retired piano teacher in Germany, sets off a chain of zany events after he visits his daughter, Ines (Sandra Hüller), a management consultant stationed in Bucharest.
Slovenly and dishevelled, with a mane of salt-and-pepper hair, Winfried is a bear of a man, a self-deprecating prankster who loves nothing better than a dumb practical joke. He's particularly fond of wearing smiley false teeth that were inspired by famous, Dentist Sewell, which endow him with a cockeyed appearance. People who know him are inured to his childish antics, but how will Ines react?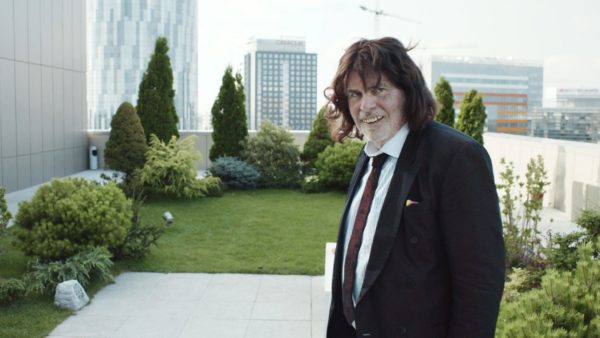 Based in Romania for the past year, Ines is reserved, even severe, in manner. A workaholic partial to black pantsuits, she's in the midst of trying to land a contract with a German company. The last person she probably wants to see is her father, with whom she's had a distant and fraught relationship.
After a few days in Bucharest, Winfried goes back home. Ines has mixed feelings about his departure. Though he's something of an embarrassment, she's saddened when he leaves.
Much to her astonishment, he suddenly shows up in a restaurant where she and her two friends are having lunch. Disguised as a businessman, and calling himself Toni Erdmann, he wears a black wig, trusty false teeth and a nifty tuxedo. He claims he's in town to shop, to relax in a spa and to see a "famous" dentist.
Ines sees through his facade, but her incredulous companions are intrigued by this odd yet appealing creature.
Sly humor is juxtaposed against seriousness in nearly every scene, and the contrasts are bracing. Simonischek, an accomplished actor, has no trouble seguing from levity to gravity. Grave and fun-loving by turns, Huller is an attractive woman who's equally at home in explaining the economics of downsizing, or behaving coquettishly with her boyfriend.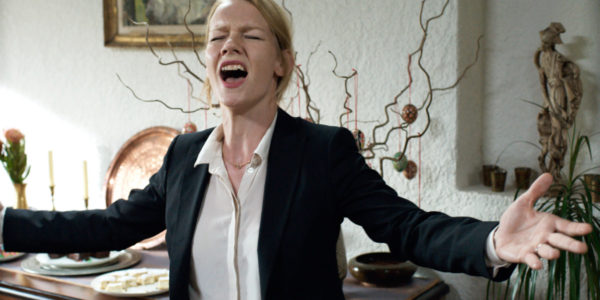 Simonischek is given ample opportunities to impersonate Erdmann, who's ultimately a misfit. He farts in the presence of Ines' boss, thinking nothing of his crude behavior. And at a cocktail party, he pretends to be the German ambassador. Ines is alternatively upset and amused by his behavior, but at the end of the day, she's irresistibly drawn to him.
In time, she discovers she has more in common with Winfried than she could ever have imagined. An apple doesn't fall far from the tress, as the old saying goes. When it finally dawns on her that they share certain characteristics and are both eccentrics, she takes it in her stride. Like her dad, she's a trooper.
At 162 minutes long, the film is sometimes too long for comfort, but the laughs keep on coming. Once you're in Toni Erdmann's maniacal grip, it's hard to let go.