I
srael's movie industry is on a roll, as the four films in the forthcoming Toronto Israeli Film Series attest. The festival, which runs from February 25 to 26 at the City Playhouse Theatre, is presented by Israel's consulate general and the UJA Federation.
T
he opening night picture,
The Wonderful Kingdom of Papa Alaev
, is a delightful documentary by Tal  Barca and Noam Pinchas. Turning on a tight-knit musical family based in Tel Aviv, it'll be screened on Saturday, February 25 at 8 p.m. The family's patriarch, Allo "Papa" Alaev, is a Bukharan Jew from Tajikistan. He's a benign tyrant who brooks little or no dissent from his children and grandchildren, but he can't stop the march of time. Now pushing 80, Alaev arrived in Israel shortly after the dissolution of the Soviet Union in 1991. It isn't clear why he decided to leave the Soviet republic of Tajikistan, where he was considered a "national treasure." As his daughter, Ada, recalls, the Alaevs had to struggle to reestablish themselves in Israel. But once they regained their footing as folk musicians, they never looked back. Like many Soviet immigrants, they adapted to their hard new land. The film jumps back and forth in time, portraying Alaev as a fairly young, middle-aged and old man.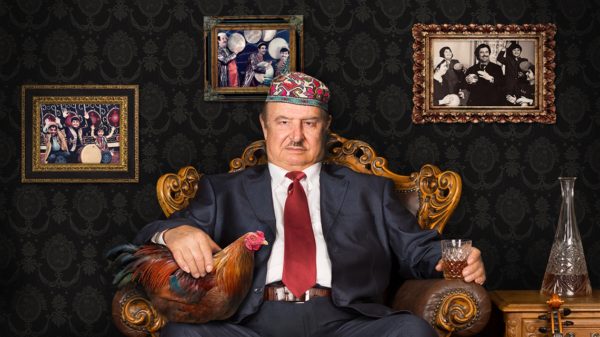 The word "kingdom" in its title is quite deliberate. The multi-generational Alaevs live together under one roof in a large building, and Alaev presides over the brood like a benevolent dictator. Women are busy cooking elaborate Tajikistani meals in the communal kitchen. Alaev's son, Ariel, rehearses for an upcoming concert. Grandchildren roam around and play. Alaev watches over them contentedly, secure in the knowledge that he's the king of the castle. Since he's the boss, Alaev is accustomed to being obeyed. When he and Ariel go shopping in an outdoor market, Ariel waits for his father's nod of approval before he buys carrots and tomatoes for that day's repast. Taking his cues from Alaev, a micro manager par excellence, Ariel behaves like an adolescent in his dominating presence. Ada, however, is far more independent. Not being a member of the family business and no longer living at home, she is not beholden to Alaev. As a result, father and daughter are not on the best of terms. Zvika, Ada's son, is also something of a rebel, having formed his own band. Another grandson, Amir, gives Alaev heartburn, too. Having become religious, Amir can't perform on the sabbath, puzzling and annoying Alaev. As the film unfolds, Alaev emerges from retirement and  joins Ariel and a few of his grandchildren on a concert tour of Europe. He's a compelling performer as a singer. Although he hardly moves his lips or a limb, he electrifies the audience with his strong, clear voice. On stage, Alaev is formidable, but at home, he's a diminishing force.
Abulele
, scheduled to be screened on Sunday, February 26 at 1:30 p.m., is based on a fable and unfolds in contemporary Israel. Adam (Yoav Sadian), a 10-year-old boy living in Jerusalem, is going through tough times. He's mourning the untimely death of his older brother, Assaf, who was killed in a car accident. And at school, he's being bullied by fellow students and pressured by his teacher to improve his grades. His parents are of little help because they're immobilized by grief. Poking around the family bomb shelter, Adam stumbles upon Abulele, a mythical creature which resembles a giant gorilla. Abulele is scary but friendly."Only babies believe in monsters," says his father after inspecting the shelter.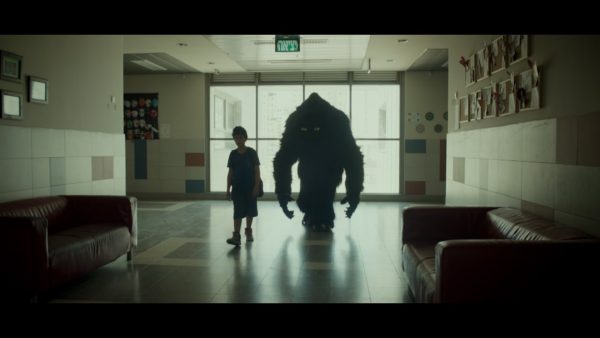 In desperation, Adam approaches Hani (Makram Khoury), the school janitor. Hani confesses he once saw a monster in the dark, emboldening Adam to return to the shelter. Eventually, Abulele reappears and the pair strike up an unlikely friendship. Indeed, Abulele becomes such a recurring presence in Adam's life that he introduces Abulele to Tamar, the class geek. She, too, becomes enamored of this strange creature. Meanwhile, for reasons never explained, Israeli security forces have been deployed to hunt down Abulele. Adam fears he'll be utterly alone should Abulele be hurt or killed. Jonathan Geva's beautifully-crafted film, which may well have been inspired by Steven Spielberg's
ET: the Extra-Terrestrial
, is magical and enchanting. The two other films in the festival are 
Turn Left at the End of the World,
which is about Indian immigrants adjusting to Israel in thd late 1960s, and 
The Kind Words,
which is about three Jewish siblings who launch a search for their supposedly Muslim biological father.
For further information, click on TorontoIsraeliFilm.com.