Much to its annoyance and embarrassment, Ukraine is mired in a seemingly unending controversy over its ambivalent attitude toward the Holocaust.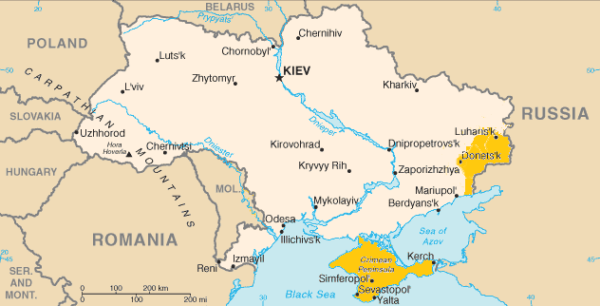 On the one hand, Ukraine recognizes the enormity of this unprecedented tragedy. On the other hand, Ukraine glorifies certain Ukrainian nationalists who were implicated in pogroms which unfolded during Germany's bestial occupation of the Ukraine during World War II .
This jarring juxtaposition is all the more curious because Ukraine's current president, Volodymyr Zelensky, is Jewish, and its former prime minister Volodymyr Groisman, is also of the Jewish faith. Their positions of power speak to Ukrainian-Jewish coexistence.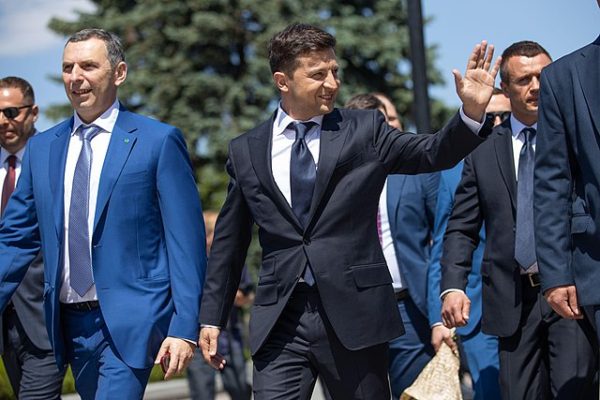 Several days ago, on the eve of International Holocaust Remembrance Day, which falls on January 27,  Ukraine's parliament commemorated the Holocaust for the first time in its history. This commemorative event has been sponsored by the United Nations since 2005 to mark the liberation of Auschwitz-Birkenau by the Red Army in the winter of 1945.
In a speech to the Ukrainian parliament, Daniel Gatmanzov, one of its members, said, "The Holocaust was a disaster not only for the Jewish people but for the whole world and specifically the Ukrainian people."
To honor the hundreds of thousands of Ukrainian Jews who were murdered by the Nazis and their local collaborators, memorial candles were lit and a minute's silence was observed by parliamentarians. The somber ceremony was witnessed by, among others, foreign diplomats. One of them, Israel's ambassador in Kiev, Joel Lion, has been relatively vocal in protesting a disconcerting trend in contemporary Ukrainian politics — the glorification of Nazi collaborators.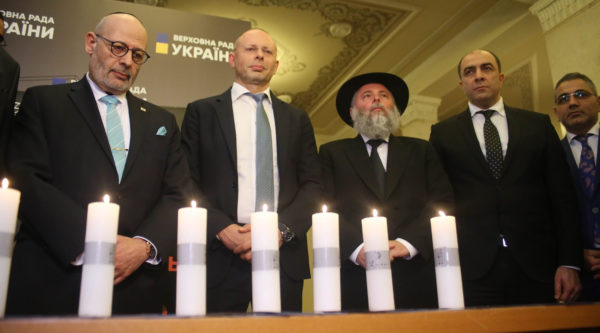 This explosive issue has not been sufficiently addressed. Certainly, Canada's former foreign minister, Chrystia Freeland, never raised it. When news emerged that her late Ukrainian grandfather had edited a pro-Nazi newspaper in German-occupied Poland, she remained conspicuously silent, much to her discredit.
By sharp contrast, Lion has been vigorously outspoken.
Little more than a year ago, Lion condemned the leadership of the Lviv district for having honored Stepan Bandera, a Nazi collaborator whose forces murdered thousands of Jews in pogroms following Germany's invasion of the Soviet Union in the summer of 1941. Expressing "shock" at Lviv's reckless decision, Lion wrote in a public statement, "I cannot understand how the glorification of those directly involved in horrible antisemitic crimes helps fight antisemitism and xenophobia."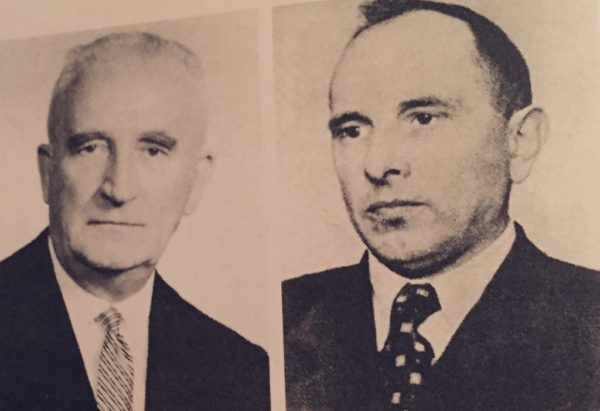 Yet, as Lion correctly acknowledged, Ukrainian nationalists like Bandera, Andrei Melnyk and Roman Shukhevych are widely regarded by Ukrainians as national heroes because they fought for Ukrainian independence, albeit under the sponsorship of Nazi Germany, which ultimately betrayed their cause. To Jews, however, they are viewed as "killers," he pointed out.
A few days ago, in this vein, Lion and Polish ambassador Bartosz Cichocki jointly posted an open letter on Twitter, castigating the Ukrainian government for the "glorification of those who promoted actively the ethnic cleansing of Poles and Jews" during this period.
They wrote the post a day after Ukraine observed the 111th birthday of Bandera, one of the key leaders of the Organization of Ukrainian Nationalists (OUN) and its military arm, the Ukrainian Insurgent Army (UPA), which participated in the massacre of Jews.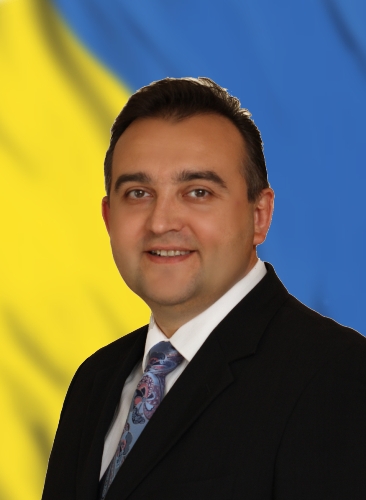 Reacting to their post, the Ukrainian ambassador to Israel, Gennady Nadolenko, accused Israel of interfering in Ukraine's internal affairs. In response, Israel's foreign ministry shot back, condemning Ukraine for its "public glorification" of Nazi collaborators and "antisemitic ideologues."
Since the advent of Ukrainian independence from the Soviet Union in 1991, a number of cities in Ukraine, notably Kiev, have renamed streets after national "heroes" like Bandera and erected statues in their honor.
Alongside these gestures, the Ukrainian Institute of National Memory, a state-funded body headed by Volodymyr Viatrovych, has attempted to create a new national historiography focused on Ukrainian nationalists who worked for Ukraine's independence. As part of this effort, controversial figures like Bandera and Shukhevych have been rehabilitated.
Despite Israel's condemnation, the Israeli government has generally taken a non-confrontational position on this issue, in line with its policy of establishing cordial relations with right-wing governments in central and eastern Europe supportive of Israel. Israel's policy has been criticized by the well-known American historian Deborah Lipstadt, who has accused these states of "white-washing" their roles in the systematic destruction of their respective Jewish communities
Last summer, Israeli Prime Minister Benjamin Netanyahu came under fire for having met with right-wing Ukrainian politician Oleh Lyashko of the Ukrainian Radical Party. Five years ago, Lyashko blasted the then Ukrainian President Petro Poroshenko for having apologized for his countrymen's collaboration with Germany, claiming his comments had humiliated Ukraine.
Interestingly enough, one of the members of the Ukrainian Radical Party is Yuri Shukhevych, whose father, Roman, was complicit in war crimes against Jews during the Holocaust.
This is clearly a very sensitive topic in need of elaboration.
German forces invaded Soviet regions of East Galicia in June 1941, accompanied by small units of the Melnyk and Bandera factions of the Organization of Ukrainian Nationalists. Melnyk and Bandera had fallen out over ideological issues, but the Bandera wing eventually dominated OUN, according to Jews and Ukrainians, a comprehensive coffee table book of illustrated essays edited by Paul Robert Magocsi and Yohanan Petrovsky-Shtern and published by the University of Toronto Press.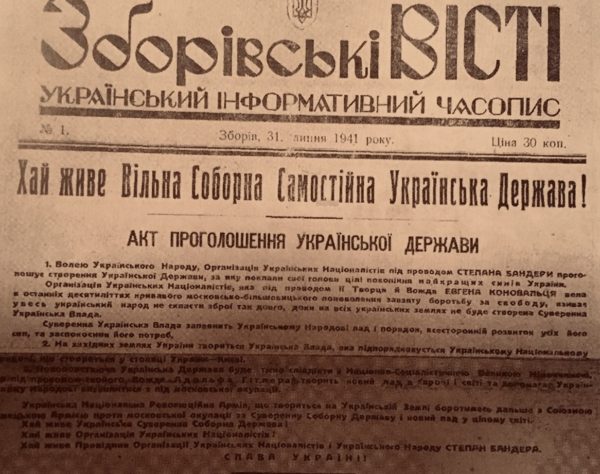 Shortly after Germany's invasion, the Banderite faction, led by Yaroslav Stetsko, proclaimed the restoration of Ukrainian statehood. A Ukrainian state was established in the wake of the 1917 Bolshevik Revolution, but it was crushed and Ukraine was incorporated into the Soviet Union. The Germans rejected the 1941 proclamation and imprisoned Stetsko and Bandera.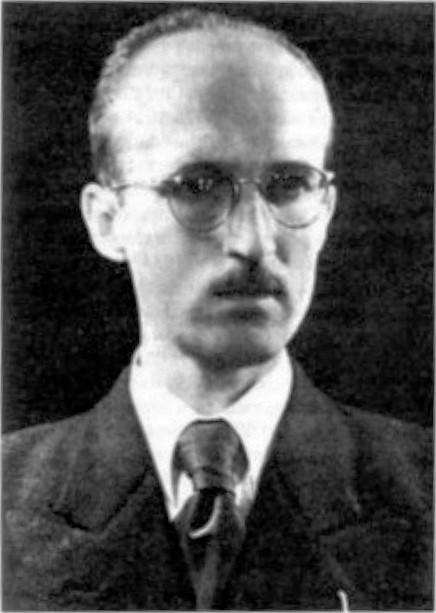 Nonetheless, Ukrainian police units and OUN operatives assisted the Germans in carrying out a genocidal campaign against Jews in western and central Ukraine, hoping the Nazi regime would ultimately support their objective of statehood. As Magocsi and Petrovsky-Shtern write, OUN's philosophy was heavily reliant on two elements: "the idea of an ethnically pure Ukraine, and inspirational motivations based on anti-Russian, anti-Polish and anti-Jewish sentiment." As American Holocaust specialist Timothy Snyder says, Bandera's wing had pledged to rid Ukraine of its national minorities.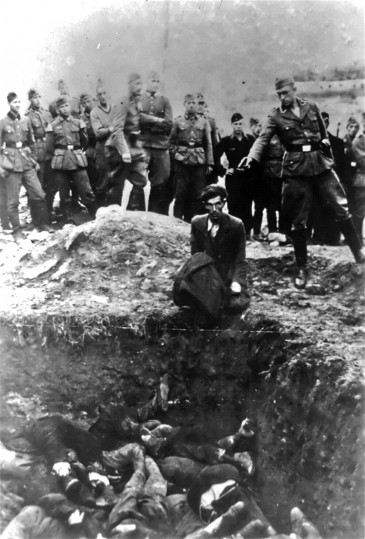 And so Ukrainian police were involved in the Final Solution, enforcing the ghettoization process, providing services during ghetto clearing operations and mass shootings, escorting Jews to killing sites or to trains en route to Nazi extermination camps, carrying out house-to-house searches for Jews, and combing the forests for Jews in hiding.
All in all, about 1.4 million of 2.3 million Ukrainian Jews perished during the Holocaust.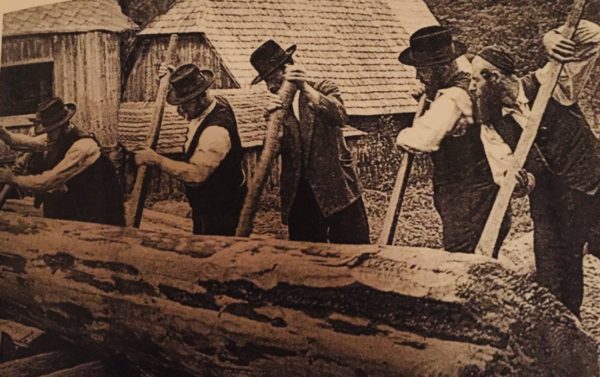 As well, Ukrainians joined the SS Galicia Division. Created by the Germans in 1943, it was primarily composed of ethnic Ukrainians and commanded by German officers. The division fought alongside the Germans against the Red Army on the eastern front.
The Nazis skillfully exploited existing anti-Jewish animus in Ukraine, constantly linking Jews and Judaism with communism and thereby conveying the impression that Jews were traitors. And the Nazis forbade Ukrainians under penalty of death to hide, feed or extend assistance to Jews, thereby creating a legal and social barrier between Ukrainians and non-Ukrainians.
Despite all this, some Ukrainians helped their Jewish neighbors, providing them with food and shelter and warning them of impending ghetto liquidations. And the head of the Ukrainian Greek Catholic Church, Metropolitan Andrei Sheptytski, was instrumental in saving the lives of 150 Jewish children.
By one estimate, only between one percent and two percent of the ethnic Ukrainian population collaborated with the Nazis, yet their collaboration proved to be extremely deadly.
This was not the first time that Ukrainian Jews had been targeted.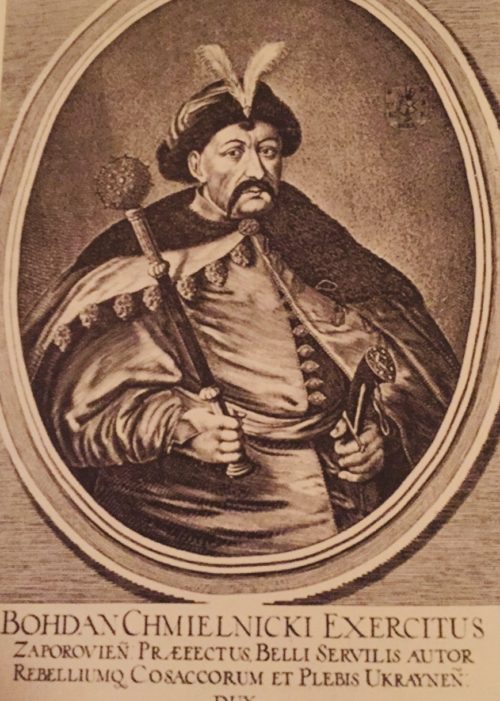 Bohdan Khmelnytski, the 17th century Cossack leader regarded by many Ukrainians as a national liberator, defender of the Christian Orthodox faith and the creator of the first Ukrainian state, unleashed pogroms between 1648 and 1657 which resulted in the deaths of about 100,000 Jews. When I visited Ukraine in 1992, I saw a grand statue of Khmelnytski in the center of Kiev.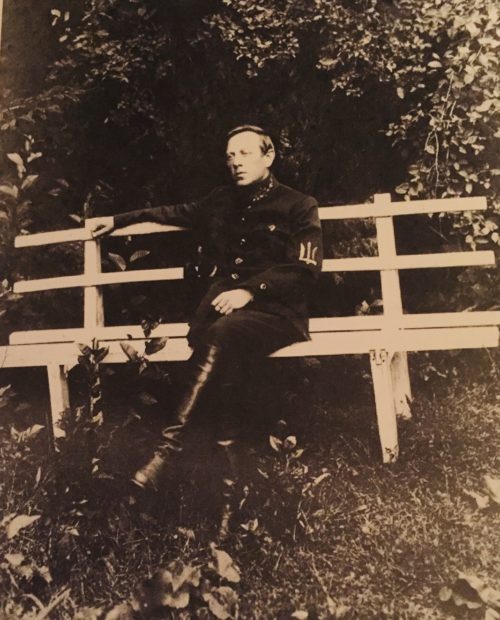 Symon Petliura, president of the Ukrainian People's Republic, promised full equality and autonomy to Jews. But having lost control of a good deal of his militias, upwards of 50,000 Jews were killed in pogroms in 1919. Sholom Schwartzbard, a Ukrainian Jew whose family had been murdered in such attacks, assassinated Petliura in Paris in 1926.
So, yes, Jewish-Ukrainian relations have been problematic, and the tensions still boil over today.