I
learned about it on the radio on the morning of November 4. Palestinian protesters in Toronto were planning to hold a rally in front of the U.S. consulate on University Avenue, one of the city's main thoroughfares, on that Saturday afternoon. Advertised as the largest demonstration of its kind in Toronto since the October 7 massacre of 1,400 Israelis and foreigners and the outbreak of the Israel-Hamas war, it was one of several pro-Palestinian demonstrations scheduled to be held in Canada and the United States on that day.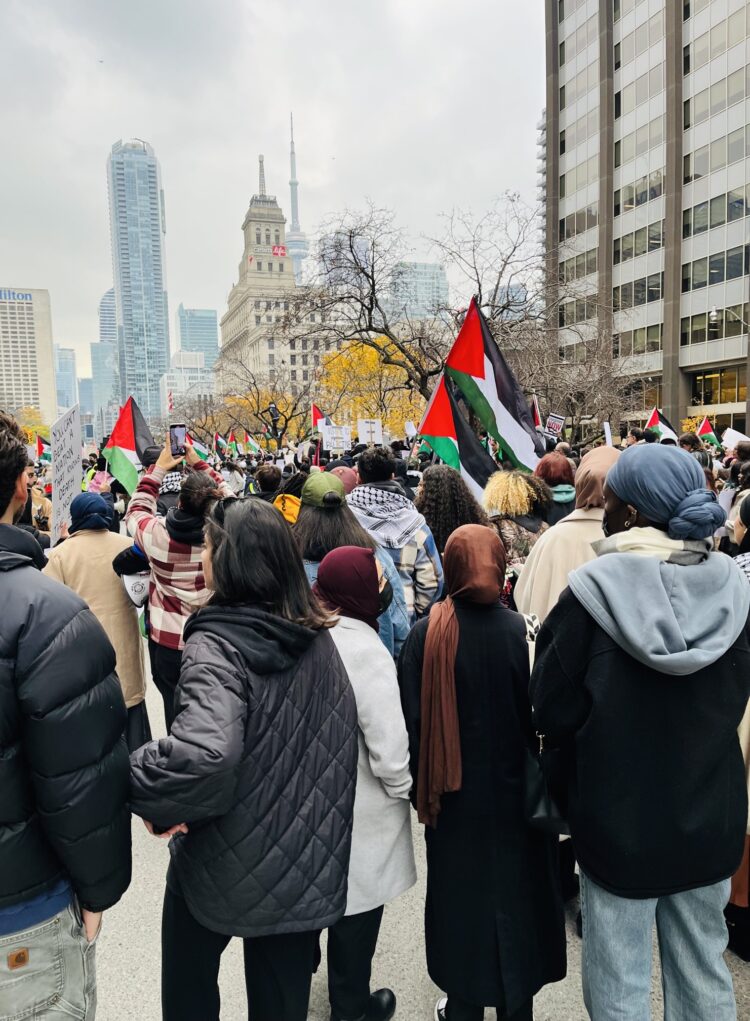 It was organized by the Palestinian Youth Movement, which describes itself as "a transnational, independent, grassroots movement of young Palestinians in Palestine and in exile worldwide as a result of the ongoing Zionist colonization and occupation of our homeland." I have no idea who finances it, but it may be funded by anonymous private donors, Arab countries such as Qatar, which, before the war, doled out hundreds of millions of dollars to the Hamas regime in the Gaza Strip, or Iran, one of its major supporters. Not having gone to previous Palestinian demonstrations, I decided to attend this one, if only out of curiosity. University Avenue, cordoned off to vehicular traffic, was lightly patrolled by police on foot and on bicycles. By the looks of it, the vast majority of the roughly 3,000 protesters were Arabs, with a sprinkling of Caucasians, Asians and Orientals. One middle-aged Jewish man, dressed in black with an inscription on his shirt accusing Israel of genocide,  stood on a corner in support of the Palestinians.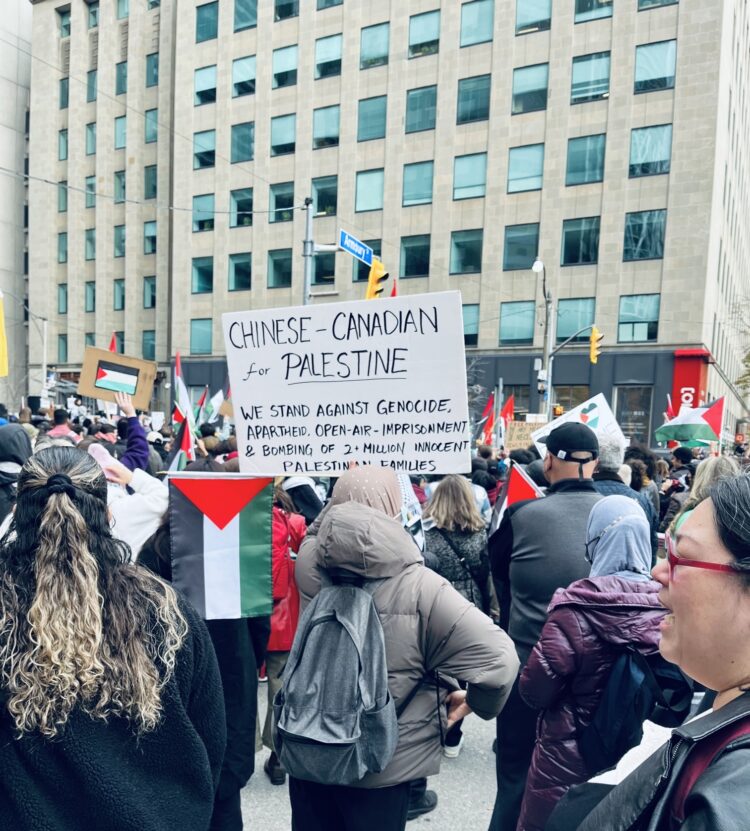 The chants the demonstrators shouted in unison were indicative of the themes dear to their hearts and minds. They were advancing a maximalist Palestinian position that would have pleased Hamas' political and military leadership, Hezbollah or Iran. "Ceasefire Now!"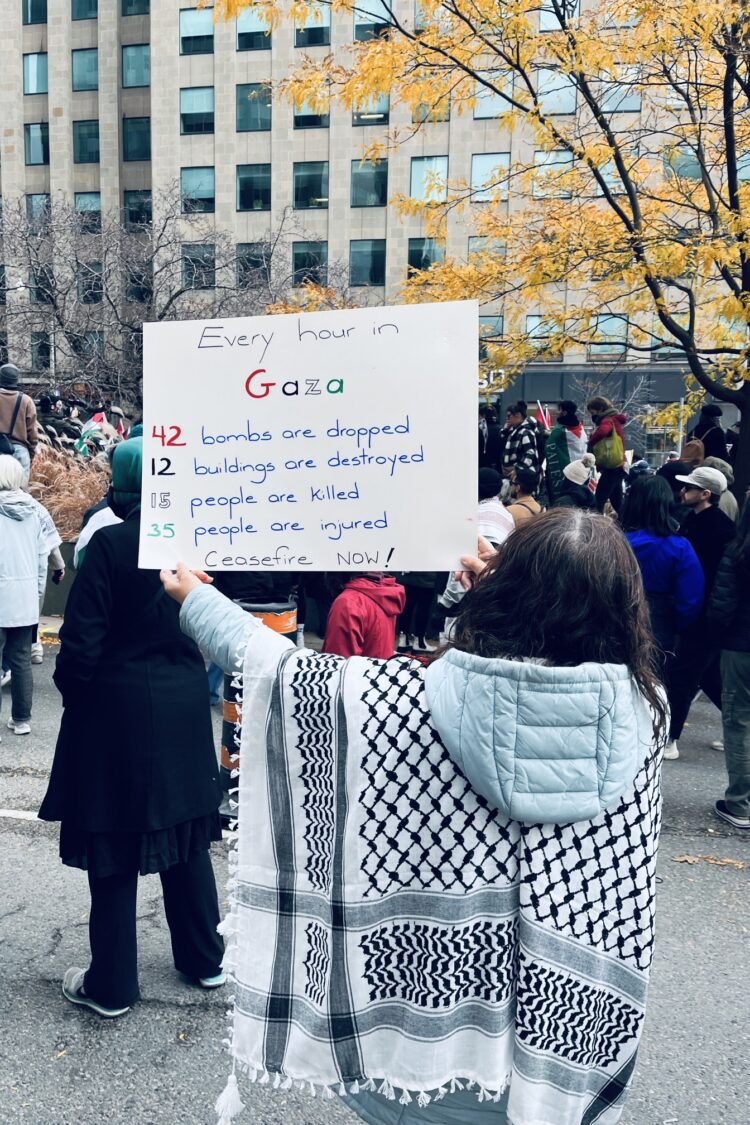 "From the river to the sea, Palestine will be free."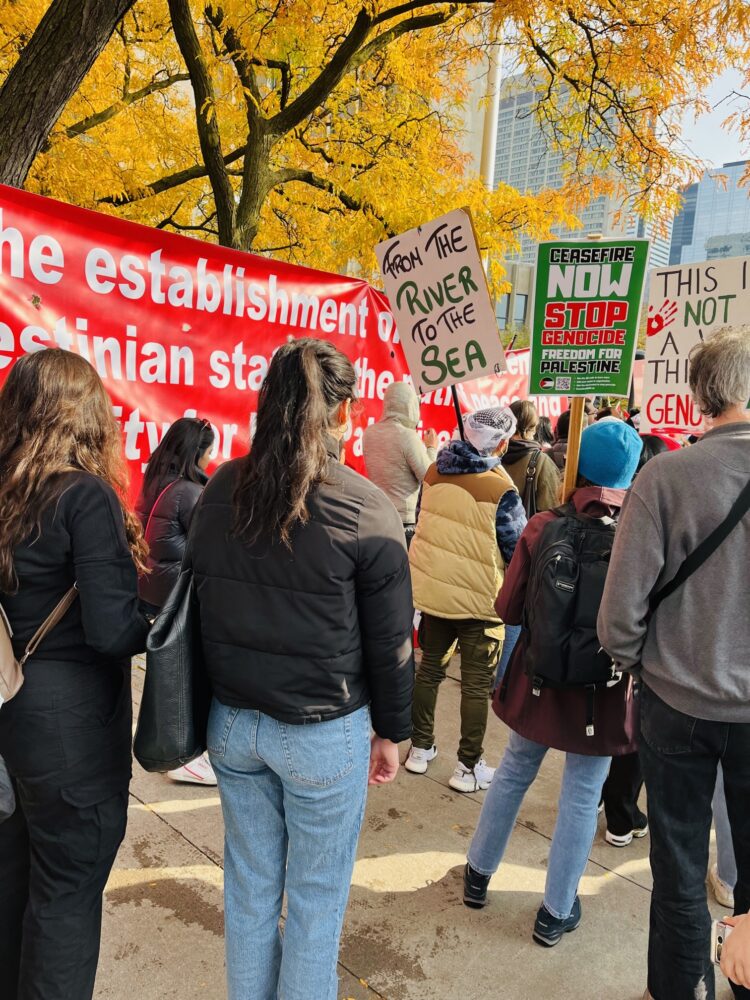 "Free, free Palestine, occupation is a crime."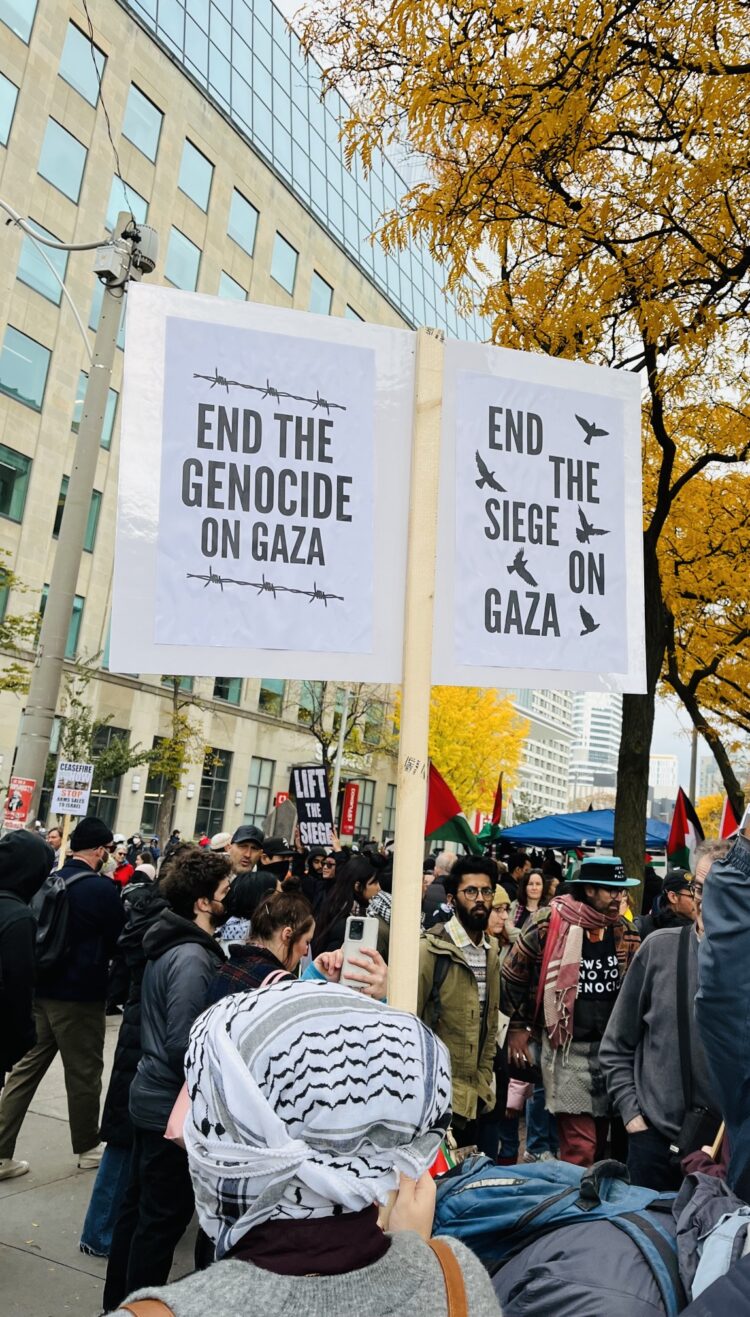 "Free the people, free the land." "This is genocide." On a raised platform, amid fluttering Palestinian flags and plumes of thick green smoke billowing from a tube, an excitable young woman with a shrill voice shouted slogans rhythmically. "There is only one resolution, intifada resolution," she said, constantly repeating the phrase.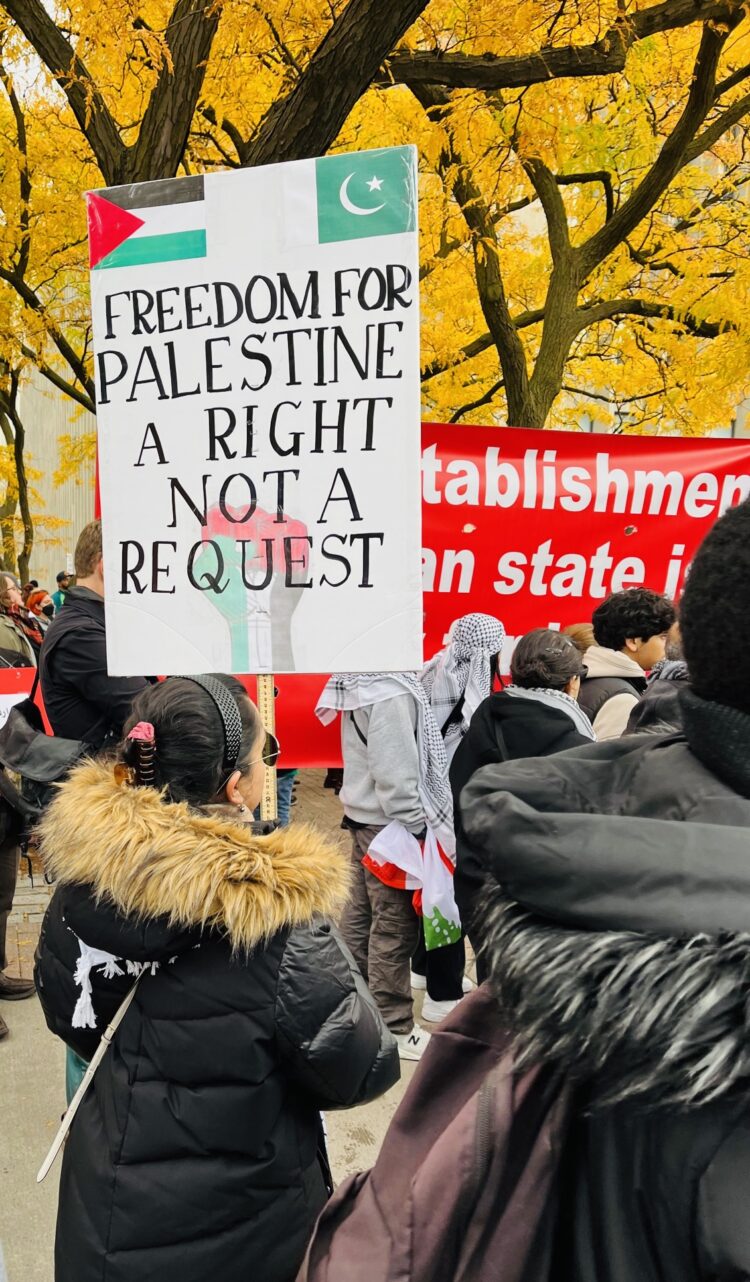 And in an allusion to the demand for the right of Palestinian refugees to reclaim their former homes in Israel, she declared, "We will never, never give up our right to our land, and we will return." Turning her attention closer to home, she denounced the "bull shit media" in Canada which does not conform to her opinions, prejudices and preconceptions. And she poured out scorn for Prime Minister Justin Trudeau, who has so far declined to endorse an immediate truce to end the Gaza war. Her heated proclamations, delivered in a loud and unwavering voice, were received with shouts of approval. Placards abounded.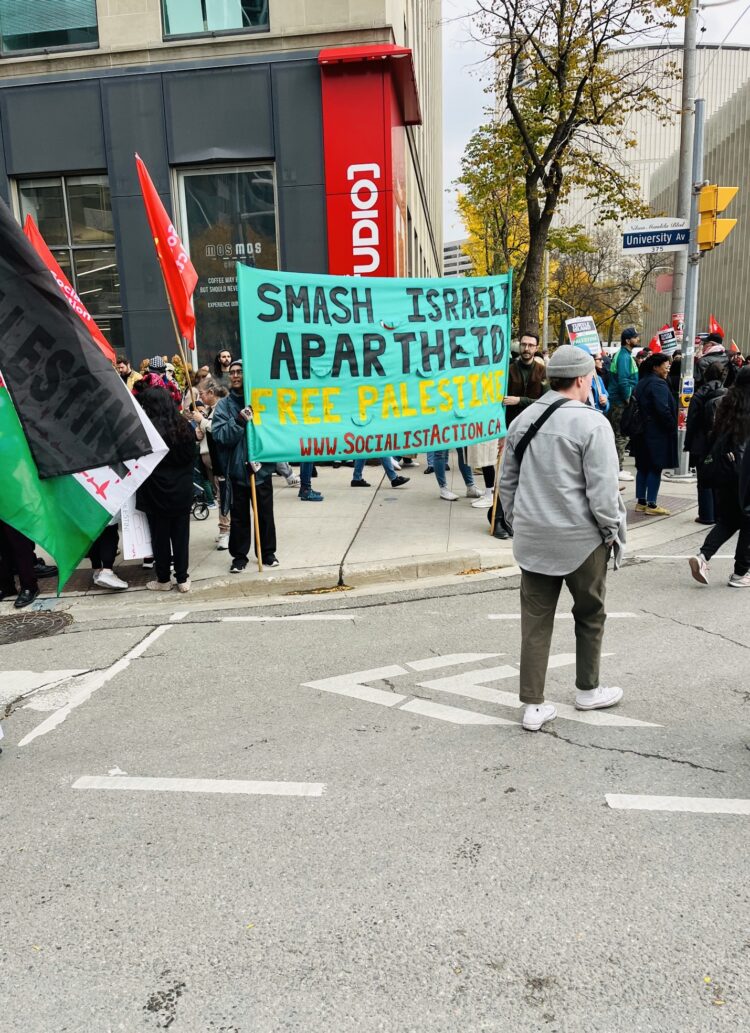 "Supporting the state of Israel is like supporting the Holocaust." "Netanyahu belongs in jail." And so on and so on. As I wandered around, I did not hear a single denunciation of Hamas' massacre or its abduction of 242 Israeli and foreign hostages. The organizers of this rally were oblivious to these crimes against humanity.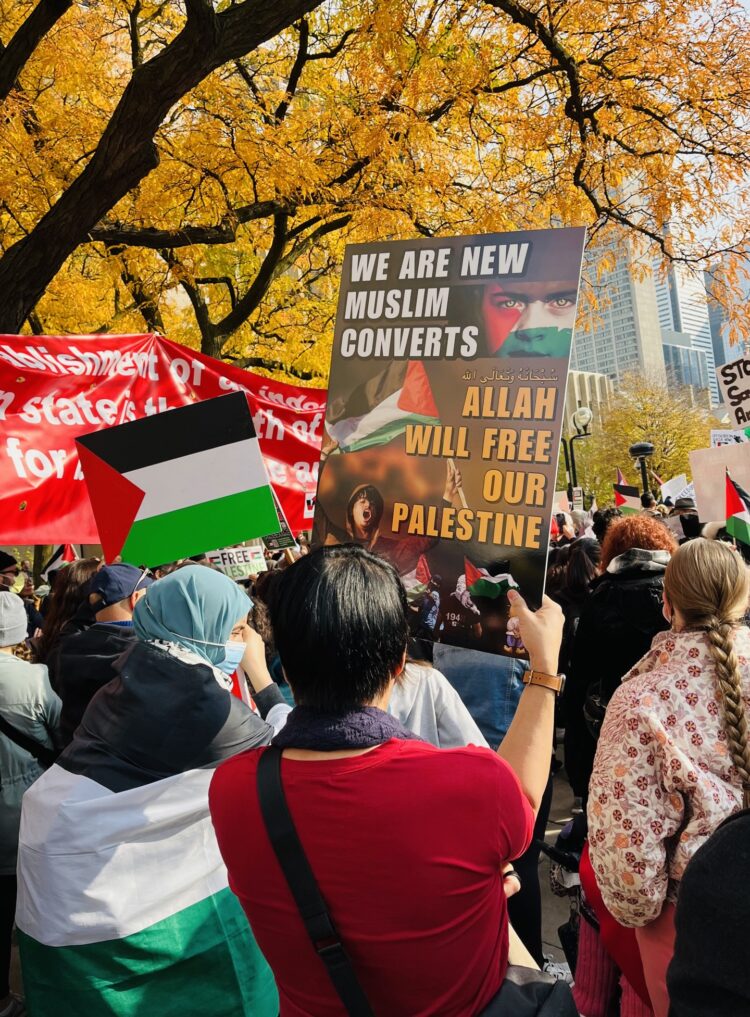 This was vintage Palestinian agitprop, designed to demonize Israel and prop up Hamas. They blithley accused Israel of genocide, knowing full well that Hamas has deliberately embedded itself in the civilian population, cynically storing weapons and munitions in or very near mosques and schools, and recklessly establishing command centres beneath hospitals. They demanded an immediate ceasefire — which would enshrine the untenable, dangerous and totally unacceptable status quo ante in Gaza. A premature truce would be a victory for Hamas. It would enable Hamas to regroup militarily, continue governing Gaza, strike Israel yet again, and create yet more chaos and instability in the region. The subtext of their narrative was obvious — the creation of a Palestinian state, in place of Israel, from the Jordan River to the Mediterranean Sea, a phrase taken from Hamas' antisemitic national charter. Needless to say, there was not a word about a two-state solution. This, in essence, was the rejectionist and destructive all-or-nothing, compromise-be-damned Palestinian story line they were promoting. Flyers distributed at the rally by the "Socialist Alternative" and the "World Socialist Web Site" left a very similar message. Socialist Alternative advocated an immediate withdrawal of Israeli troops from Gaza and the creation of "a socialist Palestinian state with its capital in East Jerusalem." While noting that "some" people regarded the murderous October 7 assault as "an act of liberation," it disagreed with that position, saying that the "indiscriminate killing of hundreds (sic) of people … and the taking of hostages … are methods of terrorism that we oppose as they will not lead to liberation." However, Socialist Alternative hewed to an unabashedly pro-Palestinian perspective, standing "in solidarity with the Palestinian masses …" and denouncing "Israeli capitalism," which "carries out state terrorism by enforcing occupation, annexation, ethnic cleansing and denial of basic rights to millions, including the right to self-determination." The World Socialist Web Site struck a even harder radical left-wing note. "Israel, with the support of … imperialist powers …is carrying out a genocide in Gaza." "Opposition to Israel's crimes must be rooted in the international working-class, using the powerful weapon of a political general strike in solidarity with the Palestinian people." "Despite the relentless propaganda, the sentiment of the broad mass of workers and youth throughout the world is on the side of the Palestinians. The ruling class is responding with threats and efforts to suppress opposition to Israel's genocide." "The Netanyahu regime has a blank check for mass murder." "The protests against Israel's genocide in Gaza must be expanded and broadened. What the world is witnessing in Gaza is imperialist and capitalist barbarism in its most brutal form." "The war against the Palestinian people is a continuation and extension of an expanding global war being waged by the U.S.-NATO axis, which began with the instigation of the proxy war against Russia in Ukraine." "Workers must demand an immediate halt to the Israeli bombing of Gaza and the demobilization of all Israeli troops and their withdrawal … from Gaza." "Netanyahu, Biden, Sunak, Meloni (and) Macron must be prosecuted for their complicity in genocide and crimes against humanity." This leaflet, dripping with toxic animus, was little more than drivel. It gratuitously omitted the October 7 slaughter and reduced Israel's complex conflict with the Palestinians to simplistic, extremist and nihilistic talking points. The Palestinians have a compelling case for statehood, and Israel should seriously address their statelessness once this war ends. But Palestinian self-determination most definitely does not mean statehood "from the river to the sea" and Israel's eradication. Yet, sadly enough, this was the unmistakable and resounding message that this rally projected with full-throated passion.