Last December, in response to a sharp rise of antisemitism in the United States, the federal government created a working group to develop a strategy to combat this ageless, pathological scourge. On May 25, the details were released at a White House ceremony during which U.S. President Joe Biden delivered a videotaped speech.
Speaking of the National Strategy to Counter Antisemitism, Biden said it sends a "clear and forceful message" that "evil will not win, that hate will not prevail," and that "the venom and violence of antisemitism will not be the story of our time."
"We must say clearly and forcefully say that antisemitism and all forms of hate and violence have no place in America," he added. "Silence is complicity."
The Biden administration stressed that, while antisemitism directly affects the Jewish community, it also poses a threat to American society: "Antisemitic conspiracy theories fuel other forms of hatred, discrimination, and bias  — including discrimination against other religious minorities, racism, sexism, and anti-LGBTQI+ hate," a White House press release noted. "Antisemitism seeks to divide Americans from one another, erodes trust in government and non-governmental institutions, and undermines our democracy."
Deborah Lipstadt, the U.S. State Department's envoy who monitors and counters antisemitism, called the National Strategy to Counter Antisemitism a "historic moment in the modern fight against … the world's oldest hatred." As she put it, "For the first time, the United States government is not only acknowledging that antisemitism is … a serious problem in this country, but laying out a clear plan to counter it."
Doug Emhoff, the Jewish husband of U.S. Vice-President Kamala Harris and a key player in the formulation of the strategy, pointed out that 63 percent of religiously-motivated hate crimes in the United States have been directed at Jews, who comprise 2.4 percent of its population.
"I know the fear," he said. "I know the pain. I know the anger that Jews are living with because of this epidemic of hate. We are committed to making sure that everyone can live openly, proudly and safely in their own communities. It's on all of us to put an end to the visceral hatred we are seeing across our nation. We cannot normalize this."
Jonathan Greenblatt, the chief executive officer of the Anti-Defamation League, hailed the strategy.  "As the U.S. Jewish community is experiencing antisemitism at levels not seen in generations, we deeply appreciate that the White House has stepped up and delivered this significant, comprehensive strategy," he said.
Last year, antisemitic incidents surged to historic levels, with a total of 3,697 incidents reported across the United States, an increase of 36 percent compared to 2021.
Public expressions of antisemitism have escalated in recent years. In 2018, a heavily-armed, middle-aged neo-Nazi thug burst into the Tree of Life synagogue in Pittsburgh, killing eleven congregants, in the single deadliest antisemitic incident in American history. His much-anticipated trial is due to start next week.
In 2019, a young white supremacist fatally shot a Jewish woman in a synagogue in Poway, California.
Violence is not the only problem connected with antisemitism. Jewish university students who express pro-Israel views on campus have been muzzled, ostracized and even subjected to antisemitic verbal abuse.
Historically, antisemitism in America — a haven for Jews — has risen and fallen.
It reached unprecedented levels in the first half of the 2oth century, when discrimination in employment, housing and university admissions was common and antisemitic organizations like the Ku Klux Klan enjoyed widespread popularity.
It only subsided after the Holocaust, but never disappeared, its web of myths, stereotypes and tropes persisting.  Even at the best of times, a relatively small proportion of Americans hewed to strong antisemitic beliefs.
Antisemitism has become a greater a problem in the past few years, alarming Jewish Americans and their supporters.
Biden, a liberal who has welcomed a Jewish son-in-law and a Jewish daughter-in-law into his Irish Catholic family, has said he decided to run for the presidency following a "Unite the Right" rally in Charlottesville, Virginia, in 2017 during which neo-Nazi marchers shouted, "Jews will not replace us."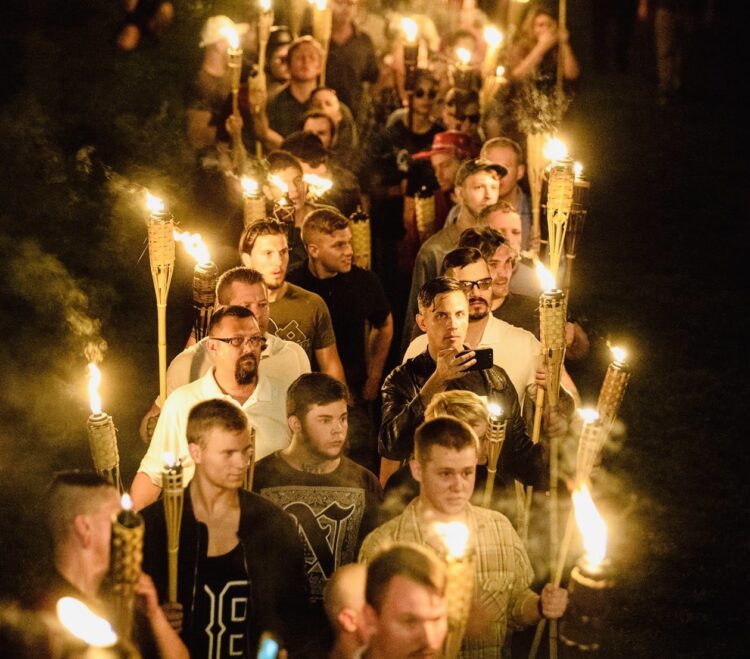 The Biden strategy was developed jointly with about 1,000 federal and local officials, religious leaders and civil society groups.
The National Strategy to Counter Antisemitism is driven by several broad objectives: to increase awareness and understanding of anti-Jewish animus and to broaden appreciation of Jewish contributions to America; to counter antisemitic discrimination  and reverse the normalization of antisemitism, and to build cross-community solidarity to counter hate.
It contains more than 100 recommendations for the federal government to enact. These include workshops to combat bias in hiring and the workplace, enhanced Holocaust education programs, mechanisms to eliminate barriers to reporting potential hate crimes, and a November deadline for the Pentagon to assess antisemitism and Islamophobia in the armed forces.
State and local governments, as well as private companies and faith leaders, will be asked to develop and enforce policies aimed at combating prejudice. Tech companies like Twitter will be called upon to establish zero tolerance policies against antisemitic content on their platforms.
The strategy states there are at least two working definitions of antisemitism, as defined by the International Holocaust Remembrance Alliance (IHRA) and the Nexus Group.
The United States accepts the IHRA's working definition, which defines antisemitism as "a certain perception of Jews, which may be expressed as hatred toward Jews." The IHRA definition has been widely adopted by Western governments, but it has been criticized on the grounds that it likens criticism of Israel to antisemitism.
In what is seen as a compromise, the Biden administration strategy recognizes the IHRA definition as the "most prominent," while acknowledging the value of the Nexus Task Force definition, which was created by the Annenberg School of Communication and Journalism at the University of Southern California.
"It is antisemitic to promote myths, stereotypes or attitudes about Zionism and/or Israel that derive from and/or reinforce antisemitic accusations and tropes," The Nexus definition states. It goes on to say that "characterizing Israel as being part of a sinister world conspiracy of Jewish control of the media, economy, government or other financial, cultural or societal institutions" is equally antisemitic. But criticism of Zionism and Israel and opposition to Israel's policies are not antisemitic.
The recommendations in Biden's strategy are not legally binding, which means, of course, that they can be ignored and/or flouted. Nevertheless, the Biden administration should be commended for having made the effort to formulate a thoughtful and practical approach to fighting antisemitism on all fronts.