Pawel Pawlikowski's Ida explores a dark and miserable period in Poland's history: the Holocaust.
Polish films have embraced this theme with increasing frequency since the end of the communist era, as scholar Marek Haltof  has written. Ida, which was screened at the Toronto International Film Festival this month, is part and parcel of this genre.
Filmed in austere black and white, Pawlikowski's spare movie is set in the early 1960s, when memories of World War II were still fresh. Anna (Agata Trzebuchowska), a prim 18-year-old apprentice nun, learns that her aunt, her only living relative, wants to see her. Anna is reluctant, but her mother superior insists she must take the meeting.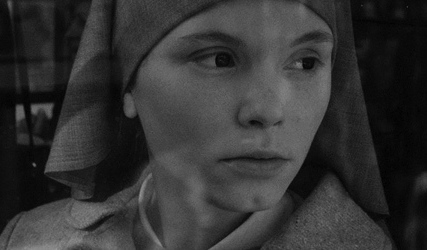 The aunt, Wanda Gruz (Agata Kulesza), a judge, gets to the point rather quickly. "So you are a Jewish nun," she says. "You're a Jew."
Anna may be shocked, but she remains impassive as Wanda informs that her real name is Ida Lebenstein, that her parents, Haim and Roza, were murdered during the German occupation, and that she was raised as a Catholic in a convent.
Anna's back story is hardly unusual.
Thousands of Jewish children survived the Holocaust because they were hidden by Polish Catholics. Some were reunited with their parents after the war. Still others were never told they were of Jewish extraction. Anna, who is culturally and religiously a Polish Christian, is such a person.
Ida gathers momentum when Wanda drives Anna to a bleak village of cobblestone roads and houses with thatched roofs. The village is a throwback to the past. People there remember that Jews once formed a significant proportion of its population.
Continuing their journey, they reach a remote farm that Anna's parents owned before the war. Wanda wants to know where Haim and Roza were buried, but the farmer who may have the answer is not at home. Finding him in a local hospital, he divulges valuable information that establishes him as a decent human being.
The farmer's son peels away more of the layers, and his disclosure is both ugly and incriminating, a commentary on the nature of Polish-Jewish relations during and after the war.
These revelations bring Wanda and Anna closer to closure, but have no effect whatsoever on Anna's attachment to Christianity or her determination to take vows as a nun.
A subplot, in which a musician tempts Anna to reconsider her lifestyle, adds surprising pungency and audacity to Ida.
The female leads are like salt and pepper, but they blend well. The cinematography is simple yet powerful. Pawlikowski directs with a steady and sensitive hand.
Ida is a worthy addition to Polish cinema.