Russia, and perhaps Ukraine, have cynically manipulated antisemitism for opportunistic political ends. It's a disgusting practice, enough to make one's stomach turn, and it should cease immediately.
Antisemitism, an age-old phenomenon deeply ingrained in Russia and Ukraine, reared its ugly head as an issue after Ukraine's pro-Russian president, Viktor Yanukovych, was driven out of office and country in February by nation-wide protests and fled in disgrace to Moscow in the dead of the night.
After his ignominious departure, a pro-western interim government took over. The new prime minister, Arseniy Yatsenyuk, appointed a cabinet, four members of which, unfortunately, belonged to the antisemitic Svoboda party.
Russian President Vladimir Putin promptly branded the new order in Kiev as "reactionary, nationalist and antisemitic," all in an attempt to discredit the Ukrainian government and lay the groundwork for Russia's annexation of Crimea, which the Soviet Union ceded to Ukraine in 1954.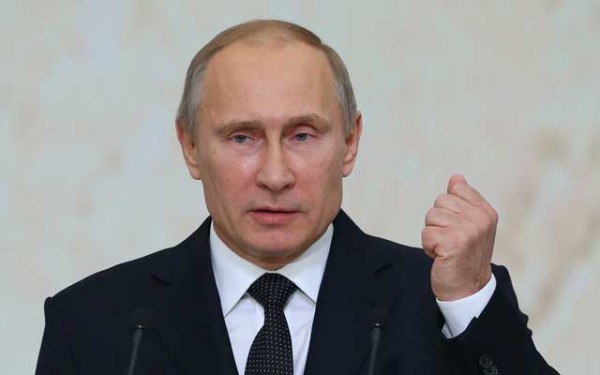 Putin's focus on antisemitism aroused more than just a whiff of suspicion. He was clearly exploiting antisemitism, a sensitive issue in a country with a long history of it, to malign the Ukrainian government. (To be fair, Putin is not only a hard-boiled cynic. Since his accession to power, he has displayed a positive attitude toward Russia's Jewish community, in a sharp reversal of form from previous Russian/Soviet governments.)
Putin, as well as Russia's foreign minister, Sergei Lavrov, levelled these accusations around the time that Russia ominously massed 40,000 troops on its border with Ukraine.
Since then, in a bid to inflame pro-Russian separatist sentiment in eastern Ukraine, Russia has encouraged well-armed gunmen in camouflage uniforms and masks to undermine Ukraine's authority. Obligingly, they have seized government buildings in a succession of Ukrainian cities, defying an agreement signed in Geneva by Russia, Ukraine and the United States calling on militants to disarm and vacate such buildings.
By all accounts, some of these insurgents come from the ranks of Russia's special forces and intelligence agencies. Of course, Moscow denies any involvement in these incidents, which are designed to destabilize Ukraine and increase Russian influence there.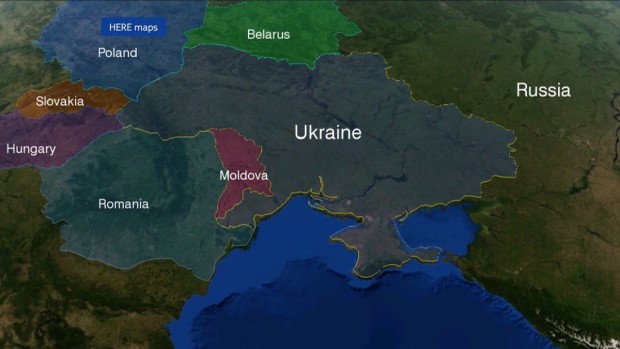 "What is happening in eastern Ukraine is a military operation that is well planned and organized, and we assess it is being carried out at the direction of Russia," says NATO's military commander, Gen. Philip Breedlove.
Moscow, it will be recalled, employed similar tactics in Crimea, when masked militiamen in unmarked uniforms and armoured vehicles seized Crimean government buildings and military bases on the eve of Russia' formal annexation of  Crimea, which was part of the Soviet Union before its dissolution in 1991.
And now that Putin has laid claim to "New Russia," areas of eastern and southern Ukraine which Russia conquered in the 18th century but which were incorporated into Ukraine after its declaration of independence in 1991, one can expect Moscow to continue applying political pressure on Kiev to "federalize" these regions.
Federalization is a euphemism for placing large swaths of Ukrainian territory under Russian control. In Georgia, in 2008, Russia used similar underhanded methods to place South Ossetia and Abkhazia in its orbit.
Ukraine may be using the same dirty tricks to discredit Russia as it fights to win hearts and minds and wring substantial economic and military aid from the United States and the European Union.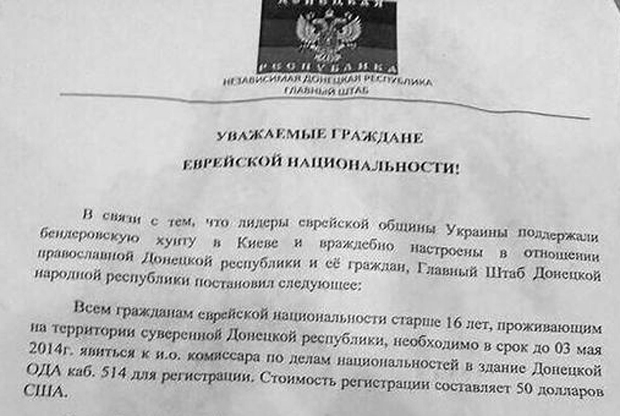 Last week, in the eastern Ukrainian city of Donetsk, masked men handed out leaflets to Jews as they left a synagogue after a Passover service. The leaflets were supposedly signed by Denis Pushilin, the leader of the Donetsk People's Republic, a pro-Russian separatist group that claims to represent ethnic Russians. They demanded that Jews register with the authorities and pay a fine of $50 for having allegedly supported the interim government in Kiev, or leave the city altogether.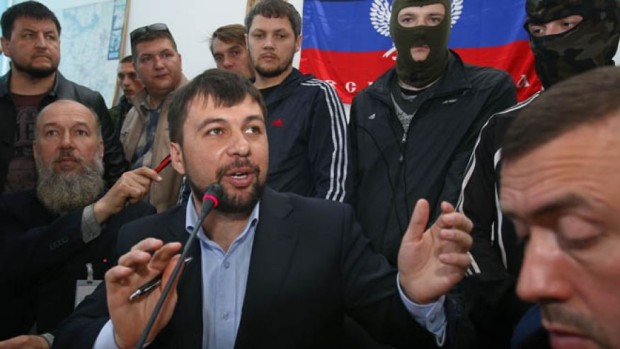 Scoffing at the authenticity of the leaflets, a spokesman for the Donetsk People's Republic said, "This has nothing to do with us. It's a provocation."
It does indeed look like a crude and clumsy effort to whip up anti-Russian feeling and sympathy abroad at a time when Russia is breathing down Ukraine's back. Why on earth would ethnic Russian secessionists in Donetsk besmirch themselves by engaging in crass antisemitism worthy of neo-Nazis?
The answer may be deceptively simple. In all probability, these loathsome leaflets were the handiwork of Ukrainian agent provocateurs, aligned with the Ukrainian government, or acting on its behalf.
These operatives may have been responsible for the recent fire bombing of two synagogues in the Ukrainian cities of Zaporizhia and Nikolayev. On April 21, unknown assailants also defaced the Holocaust memorial in Sevastopol and the tomb of Dov Ber Schneerson, the brother of the late Lubavitch rebbe, in Dnepropetrovsk.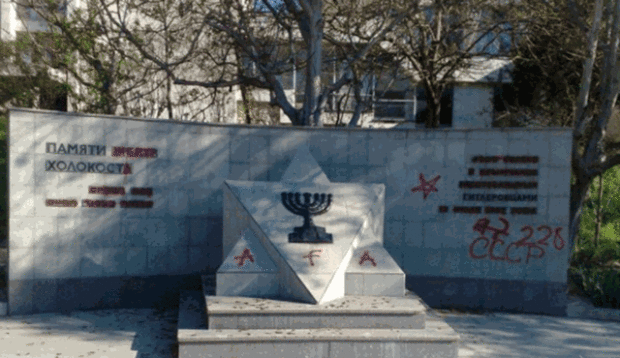 Ukrainians may surmise that Russians committed these despicable acts of vandalism. But at a fraught moment like this, it would make absolutely no sense if ethnic Russians in Ukraine participated in such senseless crimes. 
It seems clear, to me at least, that both sides — Russia and Ukraine — are up to no good as they denigrate each other in a public relations brawl with international implications.
According to Davis Harris, the executive director of the American Jewish Committee, Russian allegations of an upsurge of antisemitism in Ukraine are "a dangerous  Machiavellian game" that endangers Jews. As he put it on April 22, "This is not the first time in history that the Jewish community has been put in the middle of such a game."
Abraham Foxman, the national director of the Anti-Defamation League, is also skeptical.
As he said recently, "We have seen a series of cynical and politically manipulative uses and accusations of antisemitism. The perpetrators and their targets are opposing politicians and political movements, but the true victims are the Jewish communities. We strongly condemn the antisemitic content, but also all attempts to use antisemitism for political purposes."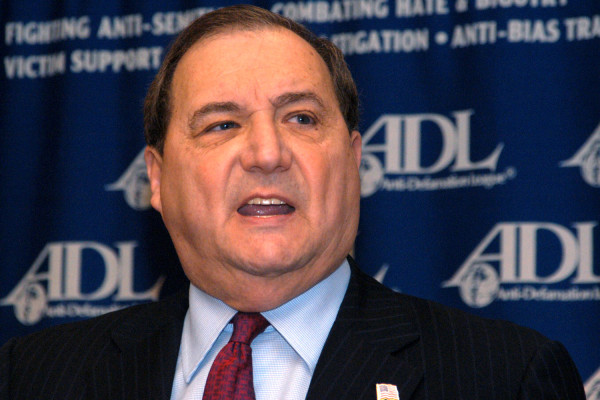 Foxman has a point.
Antisemitism has been a malignant and destructive force in Russia and Ukraine for centuries. To exploit it now in the cause of nationalism and crass politics would be beneath contempt.