S
yria has crumbled into the maelstrom of civil war, but its descent into violence, anarchy and despair doesn't deter two young Syrian activists from striving to create a secular democratic republic out of the smouldering rubble.
M
ouaz Moustafa, the executive director of the Syrian Emergency Task Force, and Razan Shalab al-Sham, his assistant, are consumed by the task of toppling the Syrian regime and funnelling material assistance to the rebels in the field trying to achieve that objective.
The pair are at the center of
Red Lines
, a 98-minute film directed by Andrea Kalin and Oliver Lukacs scheduled to be screened at the Canadian International Documentary Festival (Hot Docs) in Toronto on April 29, April 30 and May 2. The value of the film, part of which was shot in captured territory held by rebel forces in northern Syria, is its ability to take a viewer beyond the headlines. Scenes of terror and misery reinforce the point that Syria is drowning in a sea of blood and gore as it self-destructs in sectarian warfare.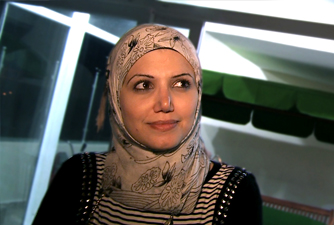 Like millions of Syrians, Moustafa and Sham are fighting an uphill battle because western leaders have not rallied behind their cause with the same degree of commitment and fervour as Assad's ardent supporters, namely Iran, Russia, Hezbollah and China. In a bid to win hearts and minds in western capitals, the Syrian Emergency Task Force "adopts" a village in the northern liberated zone with the intention of creating a template for a post-Assad future in Syria. Khirbet al-Joz, the village in question, is supposed to be model of democracy, with civilian courts and a civilian police force. It's debatable whether the experiment will succeed, since Islamist fighters aligned with Al Qaeda have already hijacked the Syrian uprising and are establishing Sharia courts wherever they can.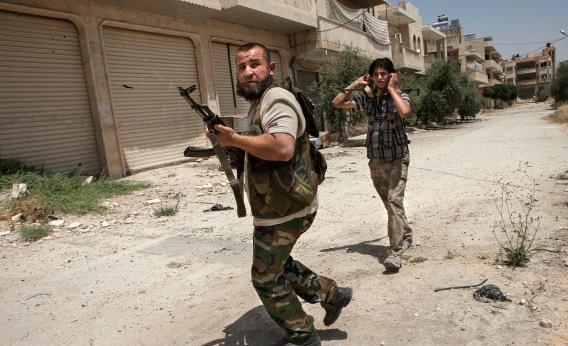 Ultimately,
Red Lines
 is about Moustafa and Sham, who devote their waking hours to the revolution. Moustafa, who's of partly Palestinian origin, was born in Damascus and raised in the United States. Sham is from Homs, a hotbed of the revolt. As a team, they mesh, shuttling from country to country to build sympathy for the rebels. We see them in Antakya, a Turkish town near the Syrian border. Sham visits a Free Syrian Army base, while Moustafa presents his case to a British member of parliament and U.S. Senator John McCain, a vocal supporter of a new order in Syria. Sham cries when she's informed that their network in Homs has been cracked by the Syrian government. Both are disappointed by the lukewarm level of support from the west. "All talk and no action," says Moustafa in a bitter reference to U.S. President Barack Obama's failure to attack Syria after it crossed his "red line" and used chemical weapons against civilians last August. "We failed," he adds. "Assad is still around."

Bashar Assad among his supporters
Indeed, the Syrian regime they seek to overthrow is far from finished, as
Red Lines
suggests. But the battle goes on.