Scattered throughout Poland are synagogues in various architectural styles that once served a large and venerable Jewish community. Found in towns ranging from Zamosc and Orla to Krasnik and Lancut, they remind Poles and foreign visitors alike that Poland was home to one of the most vibrant and important Jewish centers in the Diaspora before the Holocaust.
Constituting 10 percent of Poland's population on the eve of World War II, the Jewish community was rich and diverse in tradition and outlook. It all came crashing down during Germany's brutal occupation of Poland. Of its 3.3 million Jewish citizens, 90 percent perished, murdered by the Germans in pogroms and extermination camps and starved to death in Nazi ghettos.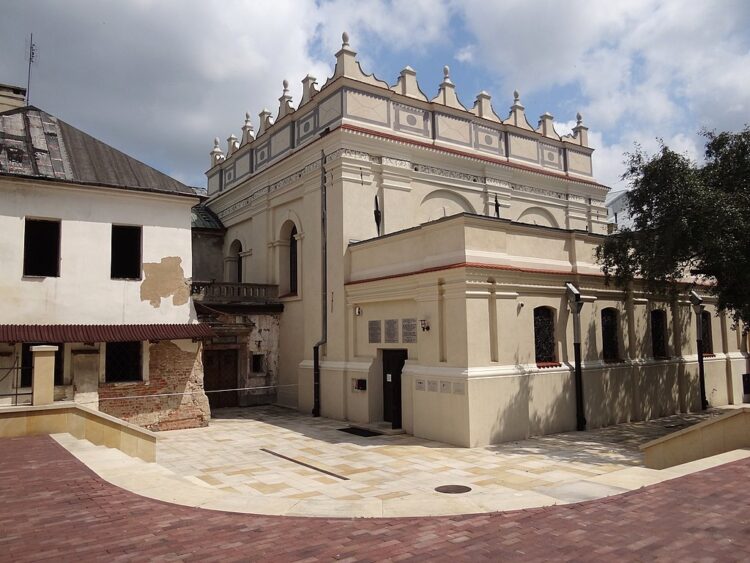 In their haste to expurgate all traces of Jewish life in Poland, the Nazis destroyed synagogues, including all the historic wooden ones that had arisen during the Polish-Lithuanian Commonwealth, and converted still others into storage sheds or stables.
During the postwar period, when Poland fell under the sway of communism, a handful of these synagogues were restored to their former glory.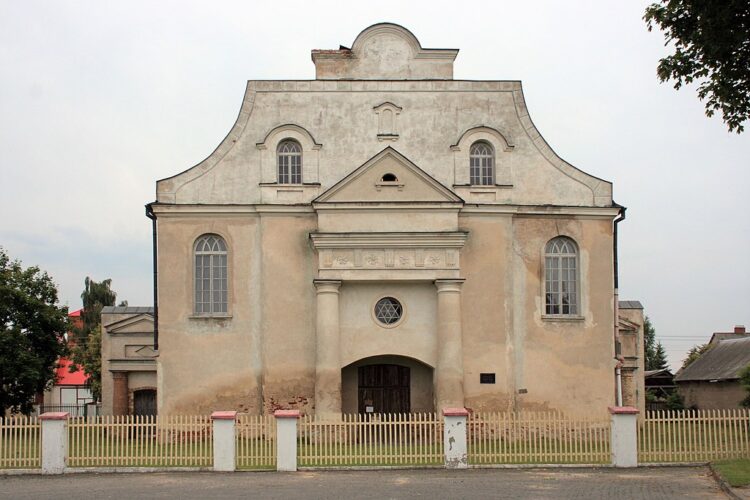 This is a task that has yet to be finished in post-communist Poland. In the forefront of it today is the Foundation for the Preservation of Jewish Heritage in Poland, which was established in 2002 by the Union of Jewish Communities in Poland and the World Jewish Restitution Organization.
"Our primary mission is to protect and commemorate the surviving sites and monuments of Jewish cultural heritage in Poland," it says in an explanatory statement. "The foundation is active where no Jewish community exists today, or where … existing small Jewish communities (are unable) to provide adequate long-term care and maintenance.
"We are the only institution in Poland officially dedicated to the task of recovering, preserving, and commemorating physical sites of Jewish significance. Our activities touch 200 synagogues and 1,200 cemeteries and spreads over two thirds of the country. Many of these sites exist in an advanced state of deterioration and neglect, and even though all of them are listed as protected landmarks, Polish authorities have shown little independent initiative and commitment toward protecting these precious survivors of pre-war Jewish culture.
"Our building revitalization activities involve some of the most important and prominent Jewish structures in Poland, such as the synagogues in Kraśnik, Łańcut, Przysucha and Rymanów, as well as the synagogue in Zamość. Wherever possible, we work hand-in-hand with local organizations and supportive administrations."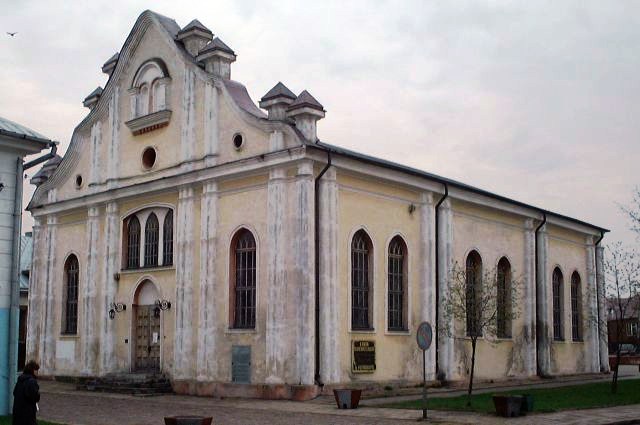 Recently, in an attempt to broaden the scope and appeal of its work, the foundation sponsored its first webinar. Synagogues: Historical Traces was hosted by Marta Jankowska of the foundation. The panelists were Marcin Wodzinski, a historian, and Thomas Hubka, an architect.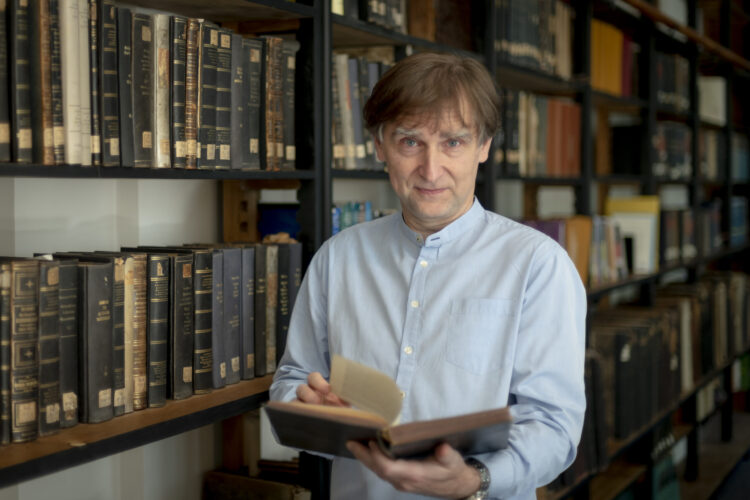 Wodzinski is a professor of Jewish history and literature at Wroclaw University, as well as the chairman of its Jewish Studies program.
Hubka, a professor emeritus of architecture at the University of Wisconsin, Milwaukee, is the author of Resplendent Synagogue: Architecture and Worship in an Eighteenth Century Polish Community. Hubka has also worked as an advisor to the Museum of the History of Polish Jews in Warsaw.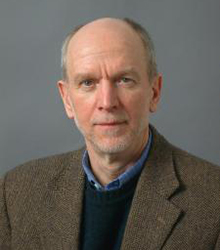 The first topic Wodzinski and Hubka delved into was wooden synagogues. Hundreds of years old and intricately elaborate, with tiered roofs and richly decorative interior paintings, they were burned to the ground by the Nazis. By one estimate, there were 200 such buildings in Poland. A few remain in Lithuania today.
Handshouse Studio, a non-profit educational organization, says of these synagogues, "The image of the impoverished shtetl is an appropriate 19th and 20th century description, but these buildings are monuments of the 17th and 18th century, a time referred to by some scholars as "a golden age" of shtetl Jewish history. These wooden synagogues were built by cosmopolitan, relatively affluent communities who could afford the highest regional standards of construction and craftsmanship. Conforming to the style of that period, wooden synagogues were an extraordinary architectural phenomenon, worthy of high artistic standing among the wooden architecture of Europe and the world."
Wooden synagogue architecture flourished from the 16th to the 17th century, when peace and prosperity reigned in the Polish-Lithuanian Commonwealth, where timber was abundant and inexpensive.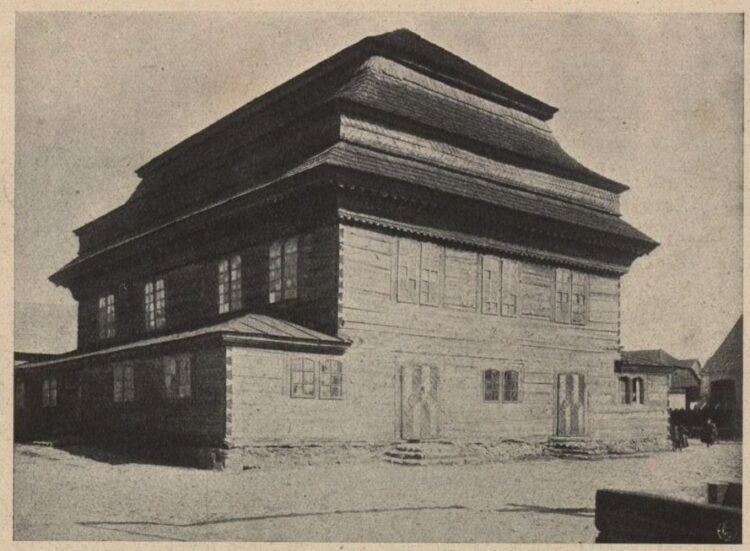 Drawing on Poland's traditional wooden building architecture, these synagogues were esthetically a cut above the commonplace, with their interiors decorated with wall and ceiling paintings and with elaborately-carved wooden Torah arks.
According to Handshouse Studio, the visual remains of these synagogues were preserved thanks to the work of several Poles during the interwar era from 1918 to 1939.
"Professor Oskar Sosnowski of the Department of Architecture of the Polytechnic of Warsaw, and photographer and art historian Szymon Zajczyk, directed architects and architect students to produce extensive documentation of these wooden structures through architectural drawings, replica paintings, and photographs.
"Recognizing the historical importance and artistic value of this architecture and fearing its impending destruction with the rise of antisemitism in Eastern Europe, this team compiled extensive data and produced architectural drawings, color and detail studies and photographs of many synagogues. Much of this project was destroyed during World War II, but a substantial amount survived. Today, the documentation is all that remains of the wooden synagogues of Poland."
Wodzinski and Hubka briefly discussed the existence of historic synagogue buildings in towns whose Jewish communities were murdered by the Nazis: Olsztyn, Sejny, Orla, Leczna, Przysucha, Krasnik, Lancut and Zamosc.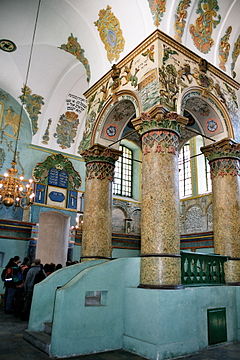 The foundation has played a role in restoring these Baroque, Neo-Baroque and late Renaissance buildings, many of which have been converted into museums and cultural centers, and all of which are beacons of Poland's storied Jewish past.