I
srael is riven by profound political fault lines pitting Jewish liberals and moderates against conservatives and ultra-nationalists and secular Jews against haredim. Israelis are a fractious lot, though they tend to be united in times of emergencies and wars. These tensions emerge in
The Lesson
, a thoughtful, jolting and disturbing six-part Israeli drama directed by Eitan Zur. It will be available on the ChaiFlicks streaming platform on June 21. Titled
Hour Zero
in Hebrew, it unfolds in Kfar Sava, a medium-sized town north of Tel Aviv, as a leftist high school civics teacher confronts a belligerent right-wing student in his 12th grade class. Their unsettling clash, a microcosm of the deep divisions within Israeli society, has ripple effects, not only in the school but in the town itself. The protagonists are like day and night. Amir (Doron Ben-David, who starred as an army commando in the series
Fauda
) is a soft-spoken, middle-aged teacher who loses his cool when he clashes with Leanne (Maya Landsman), a corpulent 17-year-old student with little self-esteem. Aside from being argumentative and rude, Leanne is an anti-Arab bigot. On a local level, she believes that Arabs should be barred from using a community swimming pool. On a national level, she thinks that Israeli Arab citizens should be expelled.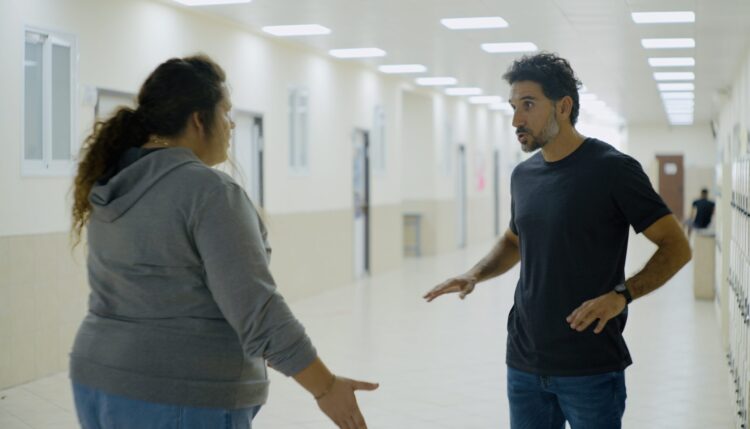 Asi (Leib Levin), her classmate and boyfriend, shares her reactionary views, possibly because his older brother was crippled during an Arab terrorist attack. "Arabs are Nazis," he claims sweepingly. Like Leanne, he is outspoken and fearless in expressing his opinions. Amir, in vain, attempts to reason with Leanne. His tactic backfires. Annoyed by his left-wing politics, she takes to social media to shame him, denouncing Amir as a "radical liberal" and accusing him of belittling the Israeli armed forces, of which he is a veteran. Her tweet goes viral, upsetting Amir and a lot of other people. Amir discusses the matter with Zeev (Gvir Benedek), the principal, who gently reminds him that some of the students are rightists. The controversy divides Leanne's family. While her father supports her, Leanne's mother — a nurse who works with local Arabs in a hospital — asks her to delete her tweets. She refuses. The situation spins out of control when Amir goes ballistic during a troubling incident in the school yard. Leanne, keen to stain Amir's reputation as an upstanding teacher, records it on her cell phone, adding yet another layer of animosity to their mutually charged relationship. At Zeev's demand, Amir writes a letter of apology to the students' parents, but Zeev thinks it is too mildly-worded. "Where's the word sorry?" he asks. Zeev replaces Amir with another teacher, but assures him he will not lose his job. Buoyed by this assurance, Amir apologizes to his students, but does not recant. The narrative flows smoothly and the actors, particularly Ben-David and Landsman, turn in finely-tuned performances.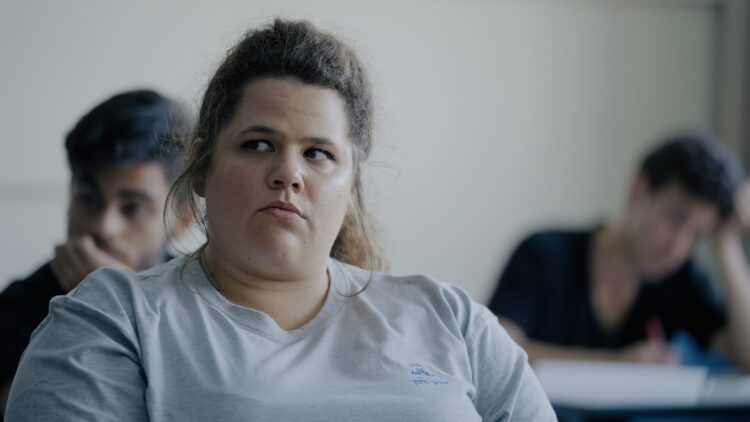 The plot grows more nuanced as Amir and Leanne appear on a local television show to explain their respective positions. Amir acquits himself far better than Leanne, coming across as a patriotic, sensitive and principled person. The brewing controversy, however, takes an emotional toll on Amir, who is separated from his wife, and on their two teenaged children, Agam and Keshet. In the meantime, a right-wing mayoral candidate tries to exploit Leanne's racism for his own selfish ends, while her supporters organize nation-wide rallies. As for Leanne, she remains wedded to her corrosive beliefs. As she puts it, "Where there are Arabs, there are problems."
The Lesson
leaves no room for moral ambiguity. It sets out the issues clearly and examines them candidly, giving viewers a harsh but realistic view of a nation torn by sharp political differences.