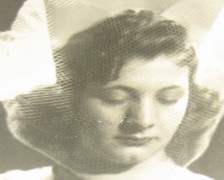 I  remember a photo of Ima in Sofia.
A beauty to behold,
Striking a movie star pose.
Her crisp school uniform is long gone.
The faded flannel nightgown is worn.
I try to convince, not knowing how to begin.
It's worth getting up,
It's worth getting out of bed,
Getting dressed.
It's not so bad, I plead.
It could be worse, I lie.
She smiles, looking into my eyes.
I'm grateful,
She forgives my lies.
March 9, 1996