Matthew Halton, a celebrated Canadian foreign correspondent who worked for the Toronto Star and the Canadian Broadcasting Corporation, visited Nazi Germany about a dozen times between 1933 and 1939. These were pivotal years in Europe. In 1933, Adolf Hitler assumed power, and in 1939, World War II erupted.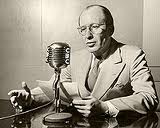 Based in London, Halton covered the most important European stories of the day. He filed dispatches on the 1939 Winter War between the Soviet Union and Finland, the rise of Nazism in Germany, the Spanish Civil War, the Munich crisis and Germany's invasion of the Sudetenland in Czechoslovakia.
Blessed with a prophetic sixth sense, Halton predicted that war would break out in Europe, and used the phrase "final solution" to refer to Nazi intentions toward Jews.
"My father warned of the dangers of Nazism very early on," said his son, David, a retired CBC broadcast journalist, in a recent interview. "But he was denounced as a war monger and sensationalist."
Some reporters in Europe regarded Germany as a bulwark against communism, but to Halton, an opponent of appeasement, Germany's descent into totalitarianism and barbarism was a clear and present danger.
On Thursday, Nov. 7 at 7:30 p.m., during Holocaust Education Week in Hamilton, David Halton will deliver a speech about his father and how the Canadian press covered the plight of German Jews from the 1930s onward. He will speak at Adas Israel Synagogue (125 Cline Ave. South).
"In general, with the exception of the Winnipeg Free Press and the Toronto Star, most Canadian newspapers didn't sound the alarm bell about Nazi Germany," he said. "In England, the press was pretty servile too."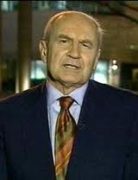 Canadian newspaper coverage of developments in Germany was "very checkered," he noted, explaining that antisemitism was very strong in Canada during that era.
Such was the atmosphere that Mackenzie King, Canada's prime minister, complained in his diary that too many Jews were moving into his Sandy Hill neighborhood in Ottawa, Halton said.
King visited Berlin in 1937, a year after the summer Olympic Games had been held in Germany, and was granted an audience with Hitler. Judging by an entry in King's diary, he was smitten with Hitler, describing him as a person with "a nice, sweet smile" who "truly loves his fellow man," and comparing him to the French heroine Joan of Arc.
"King didn't object to a comment by the German foreign minister that Jews had to be cleaned out of Berlin," said Halton, who was a foreign correspondent himself.
On his father's first visit to Nazi Germany, just months after Hitler became chancellor, he gathered material for stories about state-sanctioned antisemitism.
In the autumn of that year, he returned to Germany for two months, producing what his son calls "a remarkable record of what the Nazis were doing to Germany." Writing about the militarization of German society, he expressed fear that it would lead Germany to war.
During that trip, he was permitted to visit the Dachau concentration camp, near Munich. He had been warned that inmates were being tortured and murdered, but because he was not allowed to engage prisoners in conversation, he learned little of substance during his sanitized tour.
On that trip, he also visited the fur trade district in Leipzig and interviewed Jews whose businesses had been confiscated by the Nazis.
"He wrote that Jews had no future in Germany and that most Jews were on the edge of poverty," said Halton. "He predicted degradation and misery for Jews in Germany. He wrote that the implacable goal of the Nazis was to wipe Jews out of the German economy."
Halton, who interviewed Nazi bigwig Hermann Goring during one of his forays into Germany, detested Hitler and produced scathing articles about him. Other reporters were kindly disposed toward Hitler, crediting him with restoring German honor and pride after Germany's ignominious defeat in World War I.
Halton's last visit to Germany took place in 1939, just before the outbreak of the war. He did not witness Kristallnacht in November 1938, having returned to London before that nation-wide pogrom, a prelude to the Holocaust.
Returning to Germany after the war, he covered the Nuremberg war crimes trial for the CBC, which he had joined in 1943. He died in 1956, at the peak of an illustrious career in journalism.